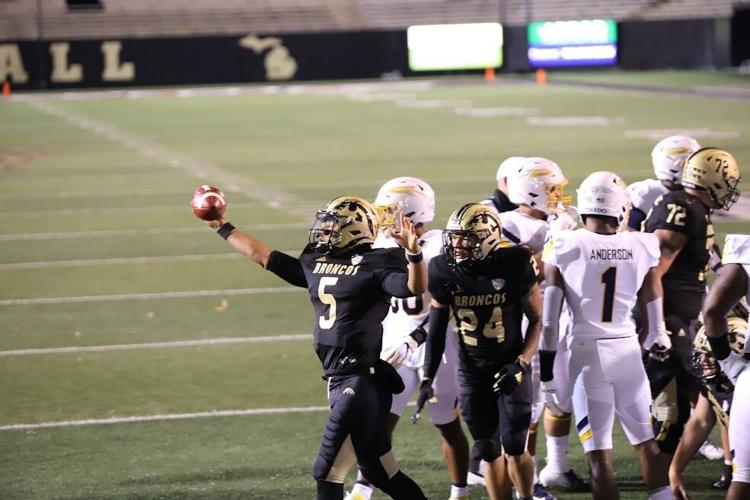 Just a couple short months ago, I thought my days of covering college football as a student reporter were over.
When the Mid-American Conference initially announced its decision to postpone football in August, I was devastated for all involved in the MAC. Student-athletes and coaches were missing out on an opportunity to do the thing they loved. Inevitably, some people who worked within the conference and the conference's teams were going to lose their jobs. Some schools were going to have to cut sports to lessen their financial blow of the implications of not having a football season.
That was all gut-wrenching to me.
And selfishly, I was also devastated that I would miss out on covering WMU football in my last semester as a college student. I have a passion for sports and take a tremendous amount of pride in the work I have done for the Western Herald and for all we have accomplished collectively as a student organization over these past couple of years.
I have been fortunate enough to make so many connections and meet so many great people throughout my time in college, and many of those relationships have stemmed from my connection with covering WMU football as the sports editor and football beat reporter.
So when the MAC announced in late September its decision to play a six-game football schedule, a reversal of its original decision, I was like a kid in a candy shop.
In a day and age where every aspect of life is uncertain with COVID and nothing is guaranteed, I do not know the next time I will be able to cover a sporting event after this fall football season. I told myself I was going to have a new level of appreciation for this once WMU's home opener came around.
I have a 35-minute commute to campus for class and football games, but those trips have been few and far between this year with having mostly online classes and with football season getting a late start.
Normally, I hated that daily drive along I-94 West. The traffic is almost always heavy. I can't count how many times I have been cut off on that highway, or how many times I have been frustrated about a semi driving 55 miles per hour in the fast lane while holding up two miles of traffic.
But in a way, I missed that drive, because that drive was a huge part of my life. To be able to make that trip to cover the WMU-Toledo game on Wednesday had a whole new level of meaning for me considering the circumstances.
Once arriving at the stadium, most everything felt right. The two teams were out warming up on the field with music blaring through the speakers before the game kicked off at 8 p.m. on ESPN.
I was almost entirely focused on work, but I couldn't help but to take a step back to realize how blessed I was to be at the stadium at all.
Most aren't getting that opportunity with students and the general public being disallowed from games in the conference this season due to the virus.
That gave me a bit of a sense of guilt, because college football isn't quite college football without the tailgating, the students, the fans, the band and the cheer squad.
Those elements were sorely missed and I will be excited when those people are welcomed back into college football stadiums across the country. But with this being the reality, I felt fortunate to be one of the ones there.
When the game kicked off, it was business as usual. I was providing my usual in-game updates on Twitter and updating my story for the Herald as the game went along.
In a standard football game, reporters generally have their stories done or close to done by the time the game ends. 
That was the case for me when Toledo running back Bryant Koback found the endzone on a four-yard run to put the Rockets up 38-28 with 2:54 to go in the game.
The Broncos had their chances but ultimately could not get off the field on third down, could not convert on offense on third down and shot themselves in the foot with penalties while catching a couple of bad breaks.
Those were my takeaways from the game in a nutshell.
Then, the final 2:54 played out.
The WMU offense went down the field in 2:09, when quarterback Kaleb Eleby snuck the ball in for his second rushing touchdown of the game, leaving 45 seconds left on the clock.
After Thiago Kapps missed an extra point, the Broncos trailed 38-34 and still needed to execute an onside kick.
And with all the rule changes to onside kicks over the years, nobody really recovers those anymore.
Except, the Broncos did recover it, as the punter of all people, Nick Mihalic, reached out to grab a loose ball at the Toledo 48-yard line after the Rockets touched the ball just before it made it 10 yards.
When the officials reviewed the play and the call was upheld, I looked on from my seat in the press box and thought to myself: "Okay, we could witness something miraculous here."
Then, it happened. Eleby pulled the classic Dan Marino fake spike play and found an uncovered Jaylen Hall on the left side of the endzone for a nine-yard touchdown connection with 17 seconds left.
Just a few short moments before that, when WMU had the ball on fourth down on its second to last drive, ESPN's win probability chart gave Toledo a 99.9% chance to win the game.
To the left of me, Robin Hook, WMU's radio play-by-play announcer, bursted out in excitement as the play unfolded. The friends/family section of the stadium erupted. Mayhem ensued on the Broncos' sideline when they saw Hall brought it in.
And I watched from the press box stunned at what I had just witnessed, while at the same time wondering what the hell to write.
The story I was ready to submit about this game was going to have to be almost entirely re-written. Which kind of sucks.
Except it didn't suck. It didn't matter that the game lasted over four hours and I would now likely be in the press box working until 2 a.m.
 Because in that moment, some sense of normalcy had somehow been restored in a situation that was far from ordinary.
If you know me, I have been a strong advocate of playing sports as safely as possible during COVID-19. Some may ask me why I have pushed so hard for sports to come back.
What happened Wednesday night is an example of why I take the stance I take.
Because I couldn't imagine life without the thrilling moments sports can bring.