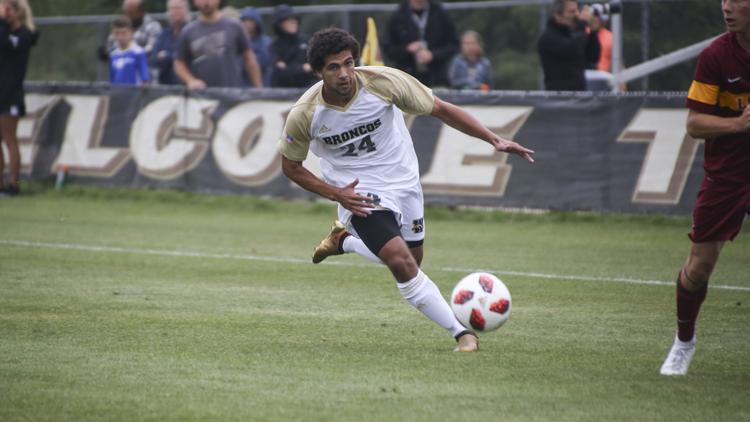 Western Michigan men's soccer dominated Niagara in their home opener winning the match 4-0. Senior forward Anthony Bowie scored twice as the Broncos earn their first victory of the season.
"The community came out in big numbers; that is fun to see," head coach Chad Wiseman said. "We had great performances from our guys today. I thought we really controlled the game and created many good scoring chances in each half."
The Broncos came out in the first half strong controlling the run of play and creating lots of chances on net. Although WMU could not find the back of the net, they outshot the Purple Eagles 10-1 in the first half. Niagara goalkeeper, Nick Burke, made some great saves throughout the half to keep the game scoreless and finished the match with 10 saves.
The Broncos continued their dominance in the second half and Bowie was able to open up the scoring in the 50th minute.  Freshmen Brennan Creek feed Bowie the ball and the rest was history. Bowie added his second goal of the contest in the 64th minute after smashing home a ball that was deflected to his feet.
"It was really nice to see Bowie take his chances; he had himself a day," said Wiseman.
Bowie added his name to the assist column after finding Creek open in the box. Creek was able to control the cross and score his first collegiate goal in the 74th minute. Dalton Michael would find the back of the net in the 80th minute to make it 4-0 in favor of the Broncos. Redshirt freshmen Antonio Rizzo was awarded the assist.
"We have some really talented freshmen and guys who redshirted last year. We're really excited for them," Bowie said. "We know they're ready for this moment. They definitely showed it today so that was really good."
The Broncos held Niagara to just three shots on net with Isaac Walker saving all three and earning the shutout. WMU's offense was in mid-season form as they tallied 23 shots with 14 shots on target and earned 10 corner kicks.
"A big congratulations to both Dalton and Brennan on scoring their first goals in a Bronco uniform," Wiseman said. "I hope our fans enjoyed the game. This team is exciting. We're going to need everybody's support all season long."
WMU will host DePaul this Friday with kickoff set for 5 p.m. before traveling to Green Bay on Sunday.