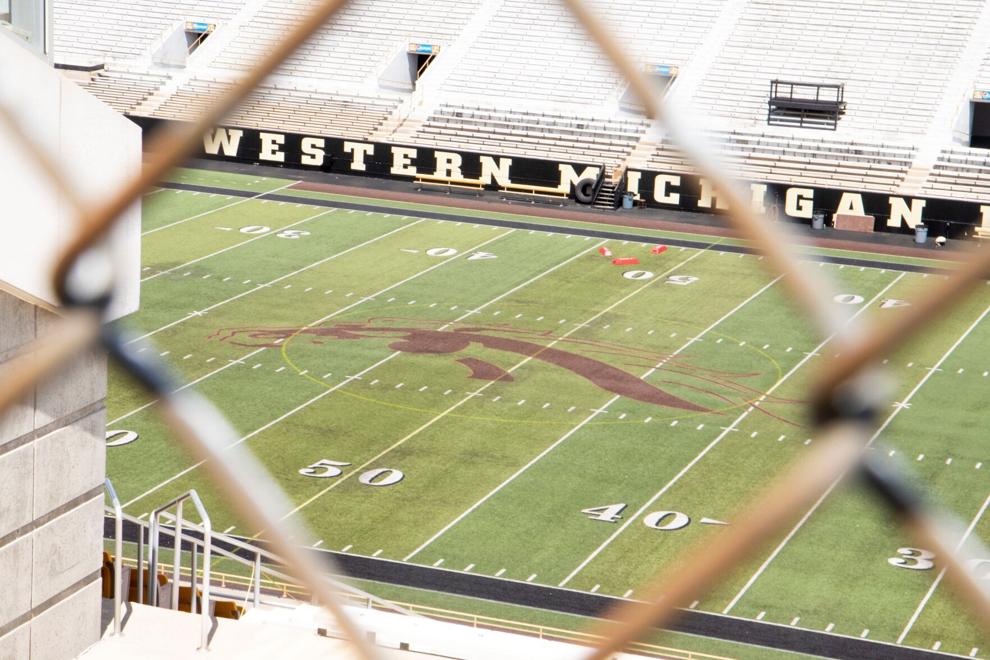 When Western Michigan University Athletics fans learned the 'circle w' logo was painted on Lawson Ice Arena, many expressed their displeasure through social media.
WMU fifth year and former WMU baseball PA announcer Sam Longstreth felt the academic rebrand was needed, but was confused as to why the new logo was being used for athletics.
"I was like wait a minute… I thought this was just an academic thing," Longstreth said. "Why is this going all the way to athletics?"
WMU Athletics Director Kathy Beauregard recalled transitioning logo licensing for WMU Athletics to Vice President of Marketing and Strategic Communications Tony Proudfoot's office soon after he was hired in 2018.
"When Tony was hired, in the first week he was here I met with him and talked to him about how we were going to transfer the logo licensing, part of what athletics was managing, to his position," Beauregard said. "(He) was then the one that was going to find the… identity."
That mission of finding one main identity of the university led Proudfoot to help lead the Think Big initiative along with provost Jennifer Bott. From there, the design process of a new logo began.
A group of graphic designers who work at WMU, including seven of whom are WMU alumni, developed the new logo. Proudfoot consulted the athletics staff, head coaches, student athletes, Fashion and Merchandising majors and Sports Management majors for feedback.
"It wasn't the whole (athletic) department," Beauregrard said of the design process. "We worked with a group (from strategic communication). We were in on (Think Big), we had athletes there, we were in on what it means to be a Bronco and what they were going to bring out of it, which is -- this came out of it."
Longstreth feels the 'circle W' isn't representative of WMU.
"This feels like someone went into photoshop and created this in five minutes," Longstreth said. "There's nothing that screams Western about the circle W."
Western Student Association President Alexis Morris described the logo as "corporate" looking.
"It doesn't really tell us who Western is or what Western is," Morris said. "It's very generic in my opinion."
Proudfoot's reason for not consulting the general student body further on the new logo was that the design was not an artistic endeavor.
"This is a technical exercise," Proudfoot explained. "It's figuring out what works well in apparel, in thread, on paper, in light on billboards."
He continued: "Talking to a relatively targeted group who can express what works and doesn't work rather than what they like and don't like is really the most helpful way to go about really targeting what's going to work for the long term."
WSA Vice President Eric Effinger wishes students had the chance to provide input before the rollout. Going forward, WSA plans to discuss the rebrand with the Office of Marketing and Strategic Communications in more depth.
"For students who are attending Western now, who are experiencing what's going on now, I think they could have provided some valuable insight into the university from a student perspective," Effinger said.
Beauregard explained how the new logo rollout was not common knowledge within the athletic department, either.
"Did I really sit down and talk to the coaches and athletes and say this was coming? No, but I think they saw it all over campus," Beauregard said. "Some were not happy at the beginning, some are still not going to be happy."
Longstreth explained how backlash made him skeptical of how many student voices within the athletic department we're consulted.
"They claim that they did talk to athletes but just seeing, especially, some of the hockey players tweet it out… it makes me a little skeptical if they did really talk to any athletes or students," Longstreth explained. "If they really wanted to get students input, they would've sent out a survey or something and said 'hey, what do you think of these new designs.'"
Well said Dr. J, us as players are extremely disappointed and not happy with the new logo at center ice, wish the president and board would turn their brains on https://t.co/kJPO1sZqly

— Ethen Frank (@efrank_98) May 30, 2021
Despite the small focus group, Proudfoot feels the design process was consultative.
"First of all it is important to remember we have engaged the entire campus community in our brand building process from the beginning," Proudfoot said. "These opportunities have been there… Our website, our publications, our ads, those are all open to a lot of opinions and anything you're going to put forward is going to be both liked and disliked both mildly and strongly."
In spite of the backlash, Beauregard was adamant that making the change was the best decision for the university and that it was the job of the athletic department to support WMU as a whole.
"One thing we do (in athletics) and I believe I've done my entire tenure is, as hard as it is sometimes, you have to make the decisions that are best for the university overall, and then figure out how we fit into that," Beauregard said.
As for her feelings about the design of the logo, Beauregard said that it expressed "pride coming out of Western Michigan University." She also pointed out that it helps people identify with the color scheme of brown and gold quoted in the school's fight song.
"The more I saw it the more I got engaged with it," Beauregard said. "The question has been now how do we identify with that and with the new spirit bronco… That's still going to take some time."
Proudfoot hopes the community will shift their passion and admiration for what the logo stands for behind the new symbol.
"The bet that we're making is in 12 to 24 months… as they start to associate more experiences with that circle W, that emotional love will transition over there," Proudfoot said. "Ultimately the logo is a mental shortcut. The love is for the students, it's for the experiences that they had here."
Going forward, the 'circle W' will be the main logo for WMU Athletics. Due to budget constraints, it's not yet clear whether the symbol will be added to the turf in Waldo Stadium in time for the fall 2021 football season.
"The Apple logo is a piece of fruit and it is the most powerful brand in the world," Proudfoot added. "It is the meaning that has been built into it. So, this is really about the long term strength of our brand and building emotion into that 'W' that is all over our campus, that is all over everything that we do."