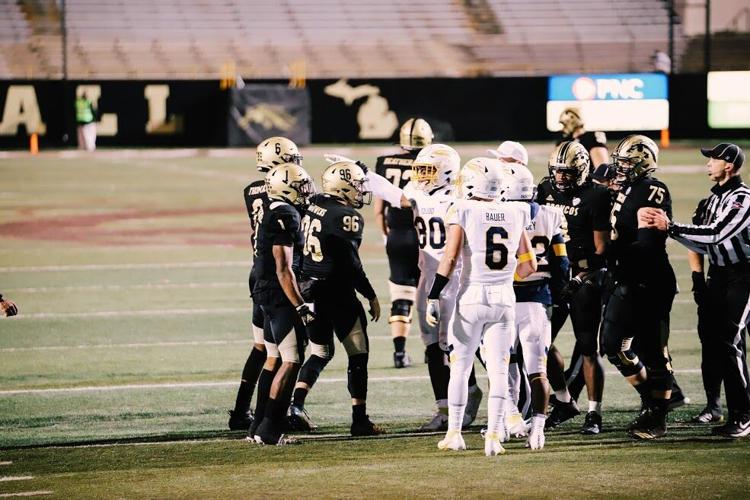 Ball State (1-1)
Ball State picked up their first win after a 38-31 win over Eastern Michigan. Senior quarterback Drew Plitt helped the Cardinals with an air assault passing for 22/31 with 232 yards and one touchdown and an interception. Senior running back Caleb Huntley ran for 204 yards on 34 attempts and two touchdowns on the ground. It was overall a high flying game with Ball State having 536 total yards and EMU with 477.  Ball State will next take on NIU this Wednesday at 7 p.m.
Miami (Ohio) (1-1)
Miami (Ohio) moved to 1-1 after being blown out by Buffalo 42-10. Not much worked on offense with redshirt quarterback AJ Mayer, throwing for 7/25 and 116 yards with a touchdown and an interception. On the ground, nothing was working as the leading rusher was redshirt senior Zach Kahn, who went for just 39 yards on the night. Miami will look to rebound on Tuesday at 8 p.m. against Ohio. 
Buffalo (2-0)
 The Buffalo Bulls went on to rally a 42-10 victory against the Miami of Ohio RedHawks last Tuesday night at home. The Bull are now 2-0 to start the year and are tied with Kent State for first in the MAC East. Some big performances on offense go to Bulls quarterback Kyle Vantrease and running back Jarret Patterson. Vantrease had 353 yards through the air along with four passing touchdowns. Patterson had 73 rushing yards on 20 carries and had two scores. The Bulls will be back on the road on Tuesday, Nov. 17 against the Bowling Green Falcons. 
Eastern Michigan (0-2)
 The Eastern Michigan Eagles lost a close game against the Ball State Cardinals on the road 31-38 on Wednesday night. The Eagles allowed the Cardinals to have a 17 point fourth quarter, which ultimately led to the Eagles' demise. This loss drops the Eagles to 0-2 to start the year. Some of the notable performers on Eastern Michigan were quarterback Preston Hutchinson and wide receiver Tanner Knue. Hutchinson had 354 all-purpose yards with one passing touchdown and three rushing touchdowns. Knue had eight catches for 121 yards. The Eagles will have their home opener on Wednesday, Nov. 18  against the Toledo Rockets. 
Bowling Green (0-2)
The Falcons allowed Dustin Crum to complete 18 of 27 passes for 271 yards and four touchdowns in the first three quarters on the way to a 62-24 loss to Kent State. Matt McDonald continued to struggle, completing just six of 20 passes to move to 14-50 on passing attempts this year. Bowling Green was a team that was thought to be improving in 2020, but at 0-2 with MAC East leading Buffalo next on the schedule at home on Tuesday, it will be difficult for the Falcons to win more than a game or two this year.
Ohio (1-1)
De'Montre Tuggle ran for 139 yards and two touchdowns, which was more points than Akron managed the whole game as Ohio picked up a 24-10 victory. The defense forced three turnovers, and the Bobcats would have won by more if not for two missed field goals by Tristian Vandenberg. Ohio travels to defending MAC champ Miami on Tuesday looking to let Tuggle continue to shine as he has over 200 rushing yards and four touchdowns, one on a kick return, this year.
Kent State (2-0)
Kent State came into this game fresh off of a home win against Eastern Michigan and as 21 point favorites and they did not disappoint. They defeated Bowling Green handily by a score of 62-24, looking dominant throughout. Quarterback Dustin Crum had four passing touchdowns in the first half, while throwing for 271 yards, completing 18 of 27 passes in the process. Running back Bryan Bradford ran for 113 yards, while Junior Isaiah Wooden led the passing attack, with 83 yards receiving and a touchdown. The Golden Flashes now sit at 2-0, sit second in the MAC East and have a matchup with the struggling Akron Zips coming next week. 
Central Michigan blew out Northern Illinois last Wednesday, winning 40-10. Quarterback Daniel Richardson threw for 196 yards and two touchdowns on 13 completions. The Chippewas were also successful on the ground game as they rushed for a total of 237 yards and three touchdowns. Lew Nichols III was the leading rusher with 91 yards and a touchdown on 12 carries. Dallas Dixon also had a solid game with 73 receiving yards and a touchdown. Central is tied for first place in the MAC West with Western Michigan entering their matchup against each other for the Victory Cannon trophy this Wednesday. The game will be aired on ESPN2 at 7 p.m.  
Northern Illinois was dominated by Central Michigan last Wednesday, losing their second home game 40-10. Quarterback Ross Bowers completed 50% of his passes for 139 yards. The Huskies' only touchdown was a 31-yard pass from backup quarterback Andrew Haidet to Dennis Robinson in the final seconds of the game. Northern Illinois is now in last place in the MAC West along with Eastern Michigan. The Huskies are on the road this week as they are set to play Ball Sate this Wednesday at 7 p.m. 
Akron (0-2)
Akron continues their losing ways after being defeated by Ohio 24-10. Akron couldn't get their offense going against Ohio but the lone bright spot of the team was Junior running back Teon Dollard, who rushed for 165 yards on 22 carries. Freshman Quarterback Zach Gibson finished with  218 yards passing, one touchdown and two interceptions. Akron will look to end their long losing streak on the road Tuesday against Kent State.
Toledo (1-1)
Toledo lost a heartbreaker against Western Michigan, 41-38. Toledo held a ten point lead with 2:54 remaining in the fourth quarter, but an onside kick and a fake spike led the Broncos to defeat the Rockets. Senior quarterback Eli Peters finished the game with 339 yards, a touchdown and an interception. Junior running back Bryant Koback had two touchdowns on the ground in addition to 78 yards. Toledo looks to get back to their winning ways on Wednesday with a road matchup against Eastern Michigan. 
Western Michigan (2-0)
Quarterback Kaleb Eleby found Jaylen Hall in the endzone after a fake spike play with 17 seconds left in the game to give the Broncos a 41-38 comeback victory against Toledo. WMU trailed 38-28 with 2:54 remaining in the game before Eleby scored on a quarterback sneak with under a minute remaining before the Broncos recovered the ensuing onside kick, leading to the game- winning score. Eleby finished 20/29 through the air for 284 yards with three touchdowns and no interceptions while also rushing for two scores. Receiver D'Wayne Eskridge led WMU in receiving with seven catches for 131 yards and a score. Sean Tyler picked up 100 yards on the ground on 12 carries. WMU plays rival Central Michigan on Wednesday for the battle for the Victory Cannon on Wednesday at 7 p.m. on ESPN2.