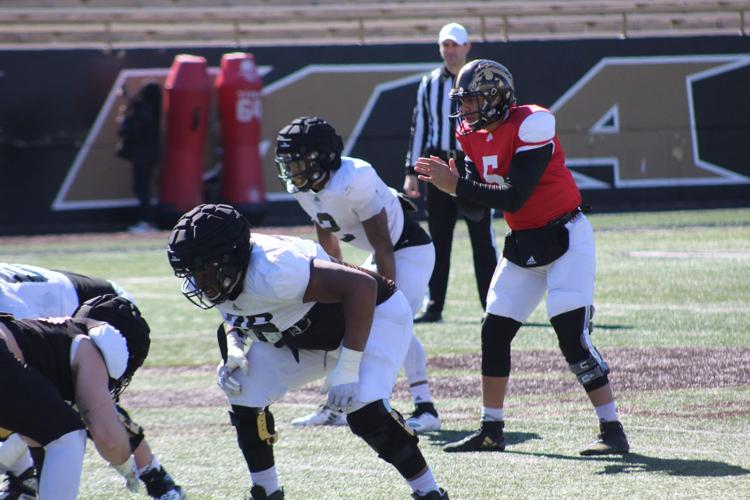 WMU football opened its first spring practice on Tuesday inside the Donald "J" Seelye Athletic Center.
The practice marks the beginning stages of the 2020 season after a disappointing 7-6 record and disappointing finish to the 2019 season.
 The Broncos lost to Northern Illinois with a chance to clinch the division title, then went on to lose the First Responder Bowl to Western Kentucky to end the year.
WMU loses both quarterback Jon Wassink and running back LeVante Bellamy, marking a new era under center and in the backfield.
 Redshirt sophomore quarterback Kaleb Eleby and sophomore running back Sean Tyler will have to step up for the Broncos to continue success on offense. 
Here are some observations from the first week.
Offense
 Redshirt sophomore quarterback Kaleb Eleby will be the guy running the show under center for the Broncos in 2020. The offense appeared to include  multiple plays that allowed Eleby to get the ball out of his hands quickly and let Eleby work with what he has athletically. 
Maybe most notably, the offense includes the play of the versatile redshirt senior D'Wayne Eskridge, who head coach Tim Lester said will be focusing more on offense this season. Eskridge made his presence known in day one, as he ran directly up the seam during 7-on-7's for a long touchdown as he blew past the secondary.
"We're leaning more towards offense now," Lester said about where Eskridge would play this season. "We'll use him on defense if we need him. We've gone back and forth with him. I wasn't upset when he said he wanted to focus more on offense. The great thing is, he knows our defense so we can always send him back there if we need to."
Quarterback Kaleb Eleby finds Skyy Moore on the far sideline for a completion (unless he was out of bounds). pic.twitter.com/ESm500WsjA

— Seth Berry (@berry_seth14) February 18, 2020
 For Eleby, Lester said he has had fun tinkering with the scheme to fit his abilities. 
"We've done some things to streamline some of the reads and make things easier. I just want Kaleb to play loose and comfortable," Lester said. "
At running back, both Tyler and transfer Jaxson Kincaide, who played in 38 games and rushed for 894 yards and six touchdowns at Nevada, both saw a good amount of touches.
The Broncos only loss on the offensive line from last season includes center Luke Juriga, but redshirt senior Wesley French will move from the defensive line to fill in at center in 2020.
French began his career as an offensive lineman before flipping to defensive line in the spring of 2018.
In 2019, French missed the entire season due to injury.
"Having Wes back on the offense is fun," WMU senior guard Mike Caliendo said. "He is a great personality who brings energy every day."
Defense
The defense, going into their second full season under coordinator Lou Esposito, brings six starters back.
At linebacker, the Broncos lose both Alex Grace and Drake Spears, but still have plenty of talent and depth at the position.
Treshaun Hayward is back coming off his MAC Defensive Player of the Year season to lead a core with potential.
"For this year, the goals don't change," Hayward said. "The top goal is still the MAC championship. One thing I really learned last year was maintaining discipline and being consistent. I think that's a thing for all linebackers to have."
Redshirt sophomore Corvin Moment is back in the mix after missing every game but the bowl game last season. 
Moment was declared academically ineligible in August, but regained his eligibility for the bowl game, where he made two tackles in the loss. 
Junior Zaire Barnes is another linebacker looking to take his game to the next level after a promising 2019 campaign.
"He has really gotten better," Hayward said of Barnes. "He has done so much work and it's hard not to notice."
On the defensive line, Ali Fayad and Ralph Holley, who combined for nine sacks last season, are both back.
An area of concern may be the secondary, losing safeties Stefan Claiborne and Justin Tranquill as well as cornerbacks Kareem Ali and Anton Curtis.
A play of note on Tuesday was sophomore safety Harrison Taylor making a nice play on a ball over the middle when he was in man coverage as he was able to break a pass up.
Redshirt sophomore safety Harrison Taylor showing some athleticism getting his hand in between the ball and the ball receiver. pic.twitter.com/z3upmUTSgm

— Joseph Zurek (@joseph_zurek) February 18, 2020
At cornerback, the Broncos will need to continue to see growth from young players, especially if Eskridge is mainly going to play offense.
Patrick Lupro, who filled in for Eskridge after he broke his collarbone last season, got some valuable playing time last season, which would only seem to help going into this year.
Graduate transfer Therran Coleman from Pittsburgh played 34 games in the past three seasons as a Panther, may give the Broncos some added depth there as well.