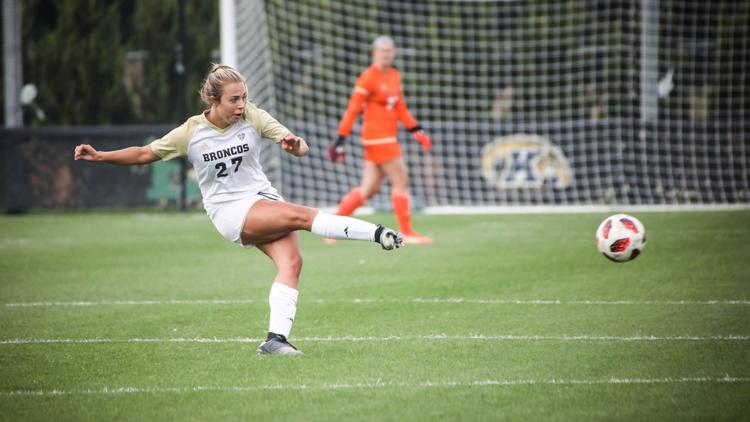 Western Michigan women's soccer fell short in their home opener against Notre Dame. After taking the early lead, the Broncos were unable to hold off the Fighting Irish losing the match 2-1.
The Fighting Irish went on the attack early in the game, as junior goalkeeper Maggie Rogers was called upon to make a point blank save just five minutes into the match. As the game moved along, the Broncos started to gain momentum of their own.
WMU opened the scoring in the 34th minute as sophomore forward Morgan Otteson scored her first goal of the season. Bailey Korhorn flicked on a cross to Otteson who then smashed the ball into the left corner giving the Broncos the 1-0 advantage heading into halftime.
Notre Dame came out of the gates fast in the second half, finding the game tying goal in the 48th minute. After absorbing some early pressure, the ball found Autumn Smithers at the top of the box and she was able to curl the ball past Rogers. Smithers finished off the Broncos in the 76th minute with her game winner. She received the ball at the top of the box yet again and placed the ball in the left corner giving ND the 2-1 advantage.
WMU pushed players forward late in the game looking for the tying goal. However, they struggled to place shots on target and would lose the home opener 2-1.
Bronco goalkeeper, Rogers, made a career high seven saves in the match. ND outshot the Broncos 17 to five with nine shots on net compared to WMU's two shots.
The Broncos will travel to face Cincinnati in non-conference action on Sunday at 6 p.m.