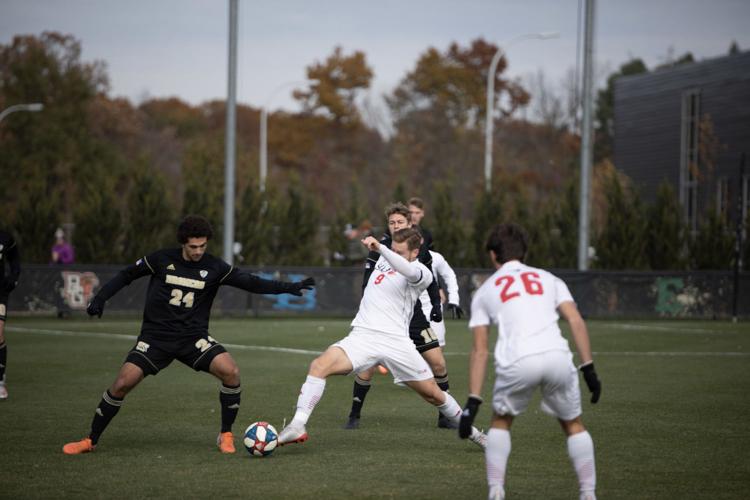 Western Michigan (11-5-2, 2-1-2 MAC) fought to a 1-1 overtime draw with Southern Illinois University Edwardsville in the regular season finale at the WMU Soccer Complex.
"We had a lot of the possession today, but lacked that killer instinct in the attacking third," head coach Chad Wiseman said via press release. "SIUE is a good team and I thought we did a fantastic job defensively on their two talented forwards. We were aware of where they were on the field and sent help when needed."
The Broncos came out of the gate strong, controlling much of the game early in the first half. However, it was SIUE who struck first with a goal in the 30th minute by Jake Meier. After a ball bounced in the box, Meier gained control of the ball and tucked it into the bottom right corner for his first goal of the season.
Western started the second half down by a score but fought back with good defense and once again controlled much of play. The Broncos were able to finally breakdown the Cougar defense and evened the score at the 62nd minute. 
After earning a free kick, Paul Liagre sent a ball into the box and found Eric Conerty who was able to head the ball home for his fifth goal of the season. 
The Broncos continued to play well but could not find the game-winning goal. After two overtime periods the match ended in a 1-1 draw. 
"It's now tournament time and we need to elevate our game to another level," Wiseman said. "We have the talent, we just need to get more focused and pay attention to all the details. I'm looking forward to seeing what this team can achieve in the postseason."
The Broncos outshot the Cougars 15-11 and 7-4 with shots on goal. Western also posted 13 corner kicks throughout the match. Bronco goalkeeper Isaac Walker earned three saves. 
"Congratulations to our six seniors as making it to senior day in college athletics is one of the toughest things to do," Wiseman said. "These group of guys are great young men with strong character and represent our great university well."
It is still to be determined what seed the Broncos will claim in the MAC tournament which starts on Tuesday, Nov. 12 as quarterfinals begin.