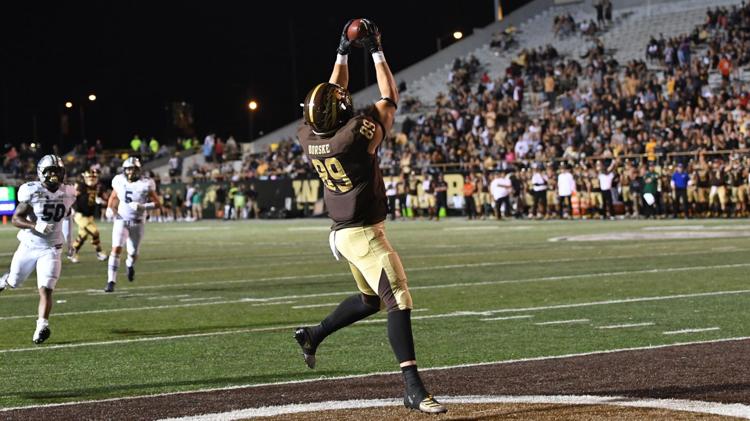 Western Michigan football's offense has the potential to break out in 2020 for a big season.
 With the return of a plethora of talented receivers and a quarterback in Kaleb Eleby who is eager to take over the reigns as the starter, the ceiling is high for the Broncos offense.
But in order to reach that potential, it will still have to fill some holes while losing NFL talent at key positions from the 2019 season.
One of those positions happens to be at tight end, as Giovanni Ricci has moved on and is now with the Carolina Panthers as an undrafted free agent.
Ricci became a key piece to the Broncos offense in 2019, hauling in 51 catches for 642 yards and eight touchdowns. He was a size mismatch in the passing game and a player quarterback Jon Wassink and head coach Tim Lester could trust to make a play in critical third down situations.
This season, the tight end position is going to look different without such a big threat in the passing game such as Ricci.
Between the three tight ends that Lester mentioned in a recent interview with the Western Herald, they have a combined 110 yards receiving on seven catches to go along with two touchdowns. That production pales in comparison to what Ricci was able to give the Broncos through the air.
However, Lester has had experience previously with tight ends who were traditionally better in the blocking game than through the air and said he is confident about the flexibility his offense presents  to fit each player's strengths.
Let's look at where the Broncos stand at the position heading into the upcoming season.
Brett Borske (Redshirt Senior)
Borske is likely the most recognizable tight end on the 2020 roster to Broncos fans, as two of his three receptions last season went for touchdowns.
He is not as agile as Ricci in terms of his route running, but his size alone makes him a threat through the air at 6-foot-6 and 275 pounds. If Eleby can find a way to get the ball to WMU's receivers on the perimeter and in the short game, Borske is a perfect candidate to slip a seam over the middle for a big gain when defenses have their eyes on the Broncos other offensive weapons.
Lester compares Borske to Donnie Ernsberger, who played at WMU from 2014-17 because of his ability to be solid in all phases just as Ernsberger was.
Tanner Mathias (Redshirt Junior)
Mathias is the "bruiser" of this year's bunch as he excels primarily as a blocker.
At 280 pounds, Mathias can be used in ways where he is practically a sixth offensive lineman, which bodes well in certain styles of run plays within Western Michigan's offense/
Lester said Mathias reminds him a lot of Odell Miller, who was a Bronco from 2015-18 and played a similar style.
Much like Miller, Mathias is not likely to be going out for too many passes, but should play his role effectively as a blocker who can help the Broncos pick up tough yards on the ground.
Luke Sanders (Senior)
Sanders is moving to tight end from wide receiver in 2020. Lester said at 220 pounds, he is still putting on weight and is not where he needs to be yet in that aspect, but his skill set compares to Ricci the most of anyone of the three.
In his career, Sanders has caught four passes for 59 yards so far for the Broncos, but did not have a reception in 2019 while appearing in just three games.
If Sanders can continue to put on weight, he could be a dark horse candidate to make some type of impact for the Broncos this season.
Other tight ends listed on 2020 roster
The two other tight ends listed on the roster are redshirt sophomore Anthony Torres and redshirt senior Wade Buckman. Torres has played in one career game in 2018 against Delaware State in a year he was redshirted, while Buckman appeared in 11 games on special teams in 2018.