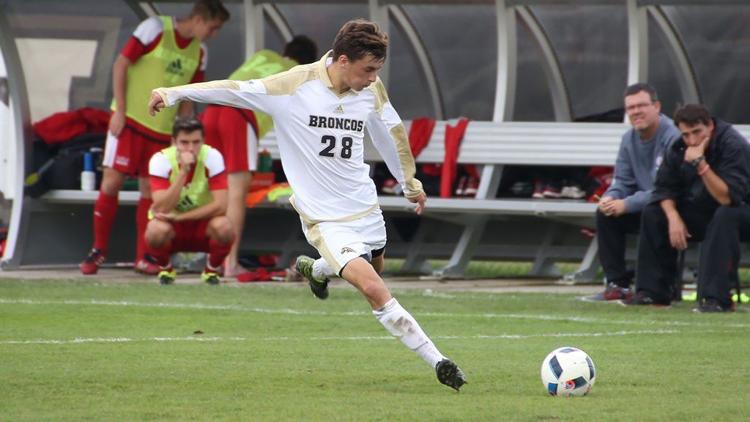 Western Michigan men's soccer travel to face No. 9 Notre Dame on Aug. 26 to finish out their exhibition matches as the regular season approaches. The game at Alumni Stadium is set for a 5 p.m. kickoff.
The Broncos were victorious in their first exhibition match against Wright State last week, winning 1-0. Freshmen Brennan Creek was able to score the game winner in the 42nd minute after a misplay by the Wright State goalie. Sophomore goalkeeper Lukas Von Lienen played the entire 90 minutes and was awarded one save.
The Fighting Irish will be a strong test for the Broncos as they finished the 2018 season No. 8 in the United Soccer Coaches poll and lost in the NCAA Tournament quarterfinals. Notre Dame lost their top two scorers from last season but return 15 upperclassmen including 9 seniors. Ian Aschieris might be their best returning player as he finished last season tied for third in points with 11. Senior goalkeeper Duncan Turnbull also returns after posting a 6-2-2 record last season.
Notre Dame fell 2-1 in their second exhibition match against Marquette earlier last week. Aschieris was their main point of attack and scored the teams only goal in the 35th minute. However, Connor Alba scored the game winner for Marquette in the 49th minute after he curled a shot past Turnbull.
The Broncos will start regular season play on Aug. 30 when they travel to face the Butler Bulldogs. Last season the No. 9 ranked Bulldogs traveled to Kalamazoo and won the match 2-0.