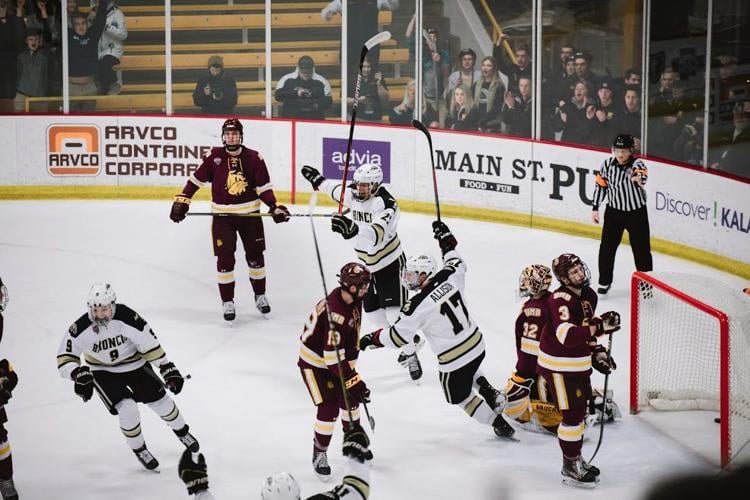 On Thursday, the National Collegiate Hockey Conference released a statement announcing over a month delay to the scheduled start of the 2020-21 season.
The conference stated it is planning to start the season on or after Nov. 20.  WMU hockey was originally scheduled to face off against Ferris State on Oct. 6.
NCHC commissioner Josh Fenton said he expects the conference to play this year and that the conference has a responsibility to hold competition in a safe manner.
"The health and safety of all involved across the campus communities, particularly our student-athletes, is the top priority," Fenton said in the statement. "We fully expect NCHC hockey to be back this season. As COVID-19 continues to have an impact on higher education, we have an obligation to host athletic competitions in a safe and responsible manner. We are committed to doing everything we conceivably can to provide competitive experiences that our student-athletes deserve. This delay affords us valuable time to continue formulating plans to start the season successfully."
During the off-season, campus constituency groups have been involved with gathering fees back from the NCHC's member institutions. The NCHC has reached out to student athlete leaders, presidents, athletic directors, head coaches and medical professionals when trying to figure out how they can make the 2020-2021 campaign happen.
The NCHC has also met on numerous occasions to discuss safety protocols. Besides the conference and institution protocols, the NCHC member schools will need to refer to and follow the current and future NCAA Resocialization of Collegiate Sports standards for practice and competition. 
Even though the NCHC plans to start on or after Nov. 20th, numerous start dates are still being considered.  Teams will be able to start in-season countable athletically related activities with their student-athletes based on existing NCAA rules and in conjunction with local, state, and institutional restrictions and guidelines for various types of activity.