Michigan State coach Mark Dantonio sent a message to his offense at his press conference earlier in the week. 
That message seemed well received right from the start of the game as No. 19 Michigan State cruised past Western Michigan on Saturday night at Spartan Stadium.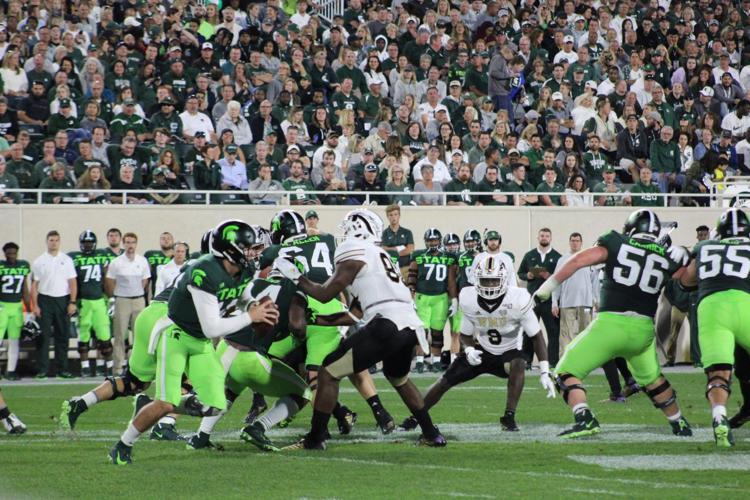 On the first play of the game, quarterback Brian Lewerke connected with Darrell Stewart for 33 yards and the Spartans marched quickly down the field to take an early 7-0 lead after a five-yard touchdown reception from Matt Dodsen. 
The Broncos did their best to counter that drive, but they stalled at the MSU 31 and Thiago Kapps pulled a 48-yard field goal wide left. 
Michigan State got the ball back and on their second drive they marched right back down the field. The Spartans capped a nine-play, 69-yard drive with a two-yard score from La'Darius Jefferson as he went into the end zone untouched. 
But the Spartans weren't done yet in the first quarter. They got the ball right back and Lewerke found Stewart wide open down the middle of the field for a 42-yard score. Just like that, Michigan State took a 21-0 lead and scored on their opening three drives of the opening quarter. 
"Falling behind isn't the end of the world but falling behind 21-0 against the number one defense in the country is hard, Western Michigan head coach Tim Lester said. "I was important for us to make sure we put drives together. We had a little bit over 17 minutes of possession in the first half, which was the plan. Unfortunately, they scored too much in the 12 minutes they had it."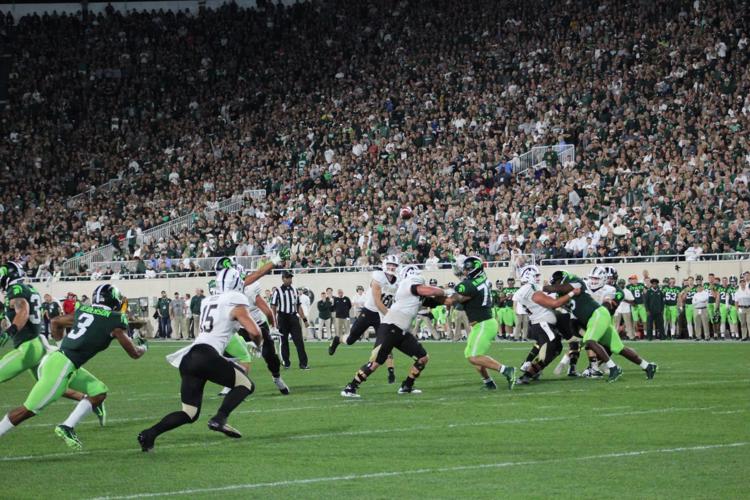 The Broncos were finally able to get on the board on their first drive of the second quarter as Jon Wassink found his roommate Giovanni Ricci for a 14-yard touchdown on a big fourth-down play to cut the deficit to 21-7. 
Western's defense came to life after the offense scored, as linebacker Najee Clayton came up with an interception after D'Wayne Eskridge got his hand on Lewerke's pass. 
The Broncos put together another good drive after the turnover, but the drive stalled deep in Michigan State's territory as Kapps missed his second field goal of the game, this time from 27-yards out. 
MSU would take full advantage of that as they marched right back down the field for a nine-play, 80-yard scoring drive capped off by a Cody White touchdown reception from two yards out, giving Lewerke his third touchdown pass of the night. That would be the last touchdown pass on the night for the senior quarterback, who finished the game 23-of-32 for 314 yards. 
Western would have a chance to cut into the MSU lead after the Spartans fumbled deep in their own territory as Antonio Balabani forced the ball out. But Jon Wassink threw an interception in the end zone trying to fit a ball through traffic as MSU corner Xavier Henderson came down with it. 
"It's definitely disappointing to feel like we left some points on the table," WMU tight end Giovanni Ricci said. "But Michigan State played really well." 
Michigan State would come up with one more scoring drive late in the half as Matt Coghlin drilled a 38-yard field goal to push the Spartans lead to 31-7 going into the locker room. 
In the second half, the Spartans were hungry for more points. Their first two drives of the third quarter consisted of two more Matt Coghlin field goals as the Broncos defense held deep in the red zone on both drives. 
The score held at 37-7 at the end of the third quarter before Michigan State extended their lead to 44-7 on a one-yard touchdown run by La'Darius Jefferson less than two minutes into the fourth. 
Western would tack on a field goal about midway through the fourth as Thiago Kapps was able to connect from 31-yards out to make it 44-10 after missing his first two kicks. 
Lester said it was important for Kapps to make that last kick for his confidence moving forward. 
"He's got the leg," Lester said of Kapps. "He just needs to get comfortable; he's obviously never played in front of this many people before. His first two kicks weren't good but his last one was." 
The Spartans would add a touchdown late after taking advantage of a Keith Mixon muffed punt to stretch their lead to 51-10. 
It was the end of the day for both starting quarterbacks as time wound down, as Lewerke and Wassink were relieved by their backups late.  
Western would add a late touchdown to make it 51-17 as backup quarterback Griffon Alstott hooked up with tight end Ryan Selig from 15 yards out for the first touchdowns of their career. 
Wassink finished 23-of-37 on the night for 252 yards with a touchdown and two interceptions. 
The Broncos had times where they moved the ball, especially in the first half, but the two failed red zone attempts late in the first half hurt. 
Still, Lester was overall pleased with the way Wassink handled himself but does wish he would have made different types of throws on the interceptions. 
"I think he did a good job. Those two (interceptions) kill me because I wish he would have thrown a different type of ball. He needs to rip those in there as opposed to just kind of babying them," Lester said. "But he made reads and he made throws. He was diagnosing the blitzes and getting rid of it before he got hit."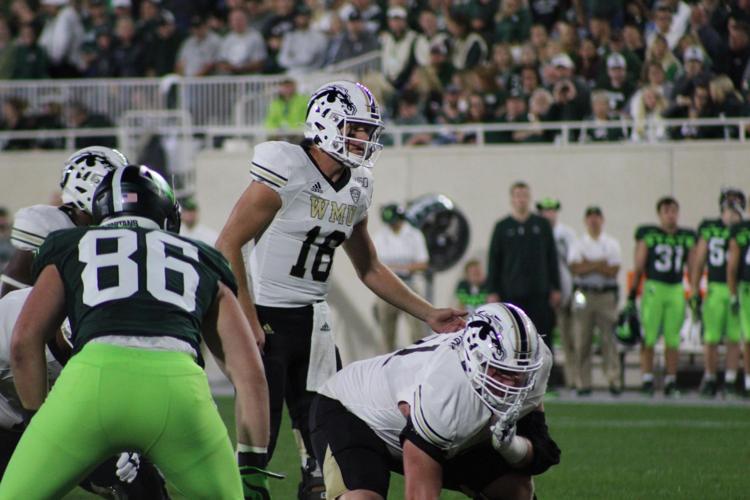 Wassink had support from Giovanni Ricci, who ended the night with six catches for 53 yards and a touchdown. Keith Mixon Jr., the transfer from Mississippi State, also hauled in four passes for 71 yards. 
On the ground, WMU got 44 yards on 15 carries from LeVante Bellamy and four carries for 31 yards from Sean Tyler.  
For Michigan State, they got great production from Elijiah Collins on the ground, carrying it 17 times for 192 yards. 
Through the air, Darrell Stewart had a monster night, catching 10 passes for 185 yards and a score.  
Western Michigan will travel back home next to face Georgia State at Waldo Stadium on Saturday, Sept. 14 at Waldo Stadium. Kickoff for that game is at 7 p.m.