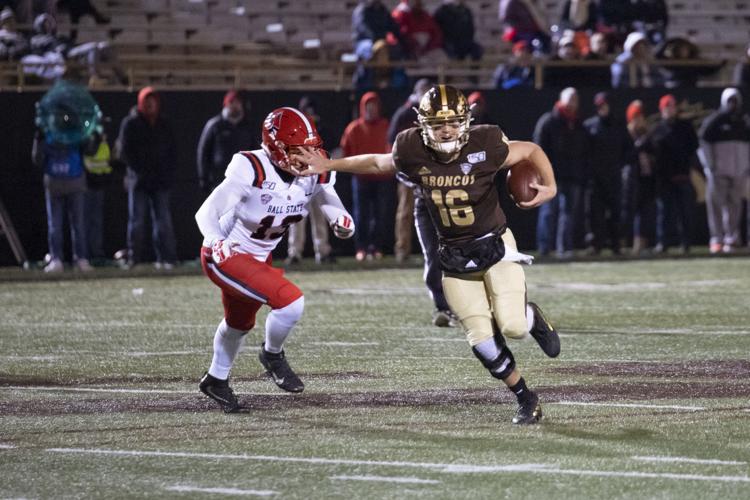 Western Michigan football's Mid-American Conference title hopes were on the line against Ball State on Tuesday night at Waldo Stadium.
Trailing at two different points late in the fourth quarter, the Broncos turned to their best offensive player, LeVante Bellamy, to put the team on his back. And he delivered.
Bellamy scored from 16 yards out with 5:42 to go, then again with 1:57 left from nine yards out to help push the Broncos to a much needed 35-31 win over the Cardinals, putting them in a first-place tie in the MAC West division with two games remaining.
"I knew we needed a win, I knew we needed a touchdown," Bellamy said when asked what was going through his mind late in the game. "I don't mind putting the team on my back when it's needed. I know the o-line does that all the time for us."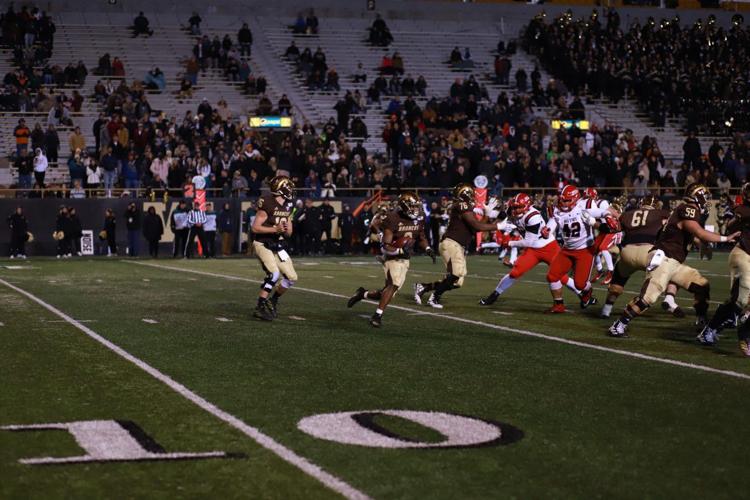 Early on, the game had the feeling of a shootout as both teams would score on their opening possessions. 
The Ball State defense was fooled two different times on Jon Wassink keepers, as his 60-yard scamper on a read option play set up a one-yard LeVante Bellamy touchdown, his first of three on the night. 
The Cardinals would respond on their opening drive to make it 7-7 on a Caleb Huntley five yard touchdown run after a nine-play, 74-yard drive.
In the second quarter, Wassink would fake the Cardinals defense out again, faking the handoff and running off the left edge to run past the Ball State defense to make it 14-7 Broncos with 13:26 to go in the second quarter.
With the two long runs, Wassink started the game with two carries for 106 yards. He ended up icing the game late with another run and became the first WMU quarterback since 1973 to record a 100-yard rushing game. Paul Jorgensen had 128 yards against Northern Illinois that year. 
Wassink is the third quarterback in Bronco history to accomplish the feat as Ted Grignon went for over 100 twice in 1969.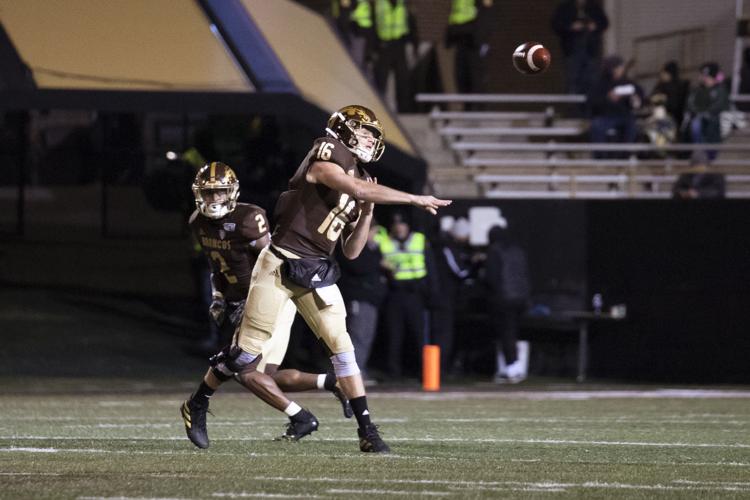 Total, Wassink finished with 131 yards rushing on six carries and was 13-of-24 for 124 yards throwing the ball.
Ball State would respond with a field goal after the Wassink score to make it 14-10 on a 44-yard make from Ryan Rimmler, but WMU's offense didn't waste much time extending their lead.
Set-up by a 33-yard touch pass over the middle from Wassink to Giovanni Ricci, wide receiver Keith Mixon took a reverse play to the house to push the Broncos lead to 21-10.
On the play, Wassink got out in front to be a lead blocker and knocked a Ball State defender to the ground, helping Mixon find the end zone.
"I think that's really my first time lead blocking on a reverse this year," Wassink said with a smile. "I was just pretty glad that I stayed up and didn't get knocked to the ground and I think he (the defender) fell."
Ball State was held to a three-and-out on their next series as defensive end Andre Carter sacked quarterback Drew Plitt to force a punt.
But the Broncos could not take advantage of the stop as Thiago Kapps pushed a 33-yard field goal attempt wide right as the Broncos took a 21-10 advantage heading into the half.
Any first half momentum the Broncos had was quickly taken away as Ball State's Malik Dunner ran back the opening kick of the second half 100 yards for a touchdown to cut it to 21-17 Western.
The Broncos offense managed just 58 yards of offense in the third quarter after gaining 323 yards in the first half.
"On offense we were having a rough third quarter," head coach Tim Lester said. "We had a three play stretch where Bells ran outside and gets out of bounds, shouldn't have done it. Next play Jaylon Moore takes a bad first step and gets beat across his face and we lost a yard. Then we get a bubble and we miss a block. We just weren't executing and in the first half I thought we executed fairly well on offense."
Luckily for WMU, the defense pitched a shutout in the third, including getting a big stop on a fourth-and-1 play when Ball State was driving deep into Broncos territory. For the game, the Broncos allowed 409 total yards and 261 on the ground and generated two sacks.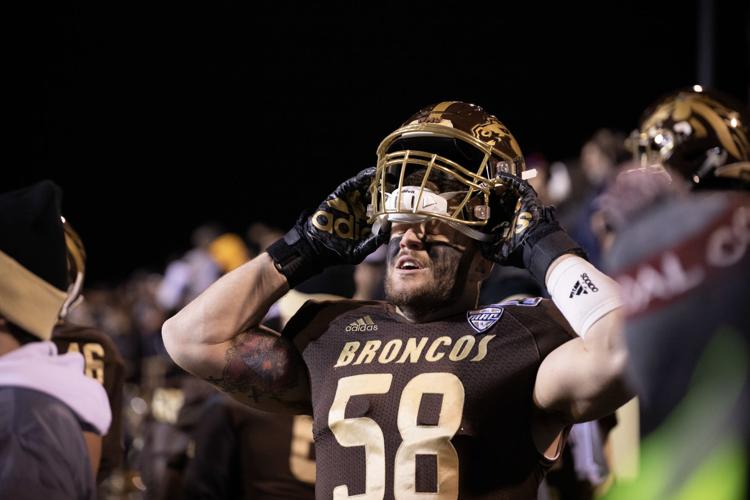 The Broncos held onto a narrow four point lead going into the final quarter of play.
With 11:03 to go in the game, Ball State would get their first lead of the game on a Drew Plitt quarterback sneak from a yard out to make it 24-21 Cardinals.
After Bellamy's second touchdown run of the game, the Cardinals would regain the lead again late on a four-yard run from Walter Fletcher to make it 31-28 Ball State with 3:24 to go on a six-play drive where the Cardinals ran it every single play and marched it down the field 76 yards.
But Bellamy and the Broncos offense were too much to handle for the Cardinals, as Bellamy's game winning touchdown gave him his 19th rushing touchdown of the season, which leads all of college football.
He finished the game with 157 yards rushing on 31 attempts to go along with the three touchdowns.
As a team, WMU ran the ball for 382 yards against the Ball State defense.
Lester said the plan was to attack the edges early on and get Ball State's defenders running "sideline to sideline."
"I wanted their d-linemen to run," Lester said. "They don't have a lot of two's and we wanted them to run sideline to sideline and start creasing them inside more and more."
The Broncos have seen previous games where they have come up short in the fourth quarter in critical situations, particularly at Toledo and at Eastern Michigan this season.
Lester hopes this win in a close game can get his team over the hump as he said he was proud of the resiliency his team showed late in the game.
"A lot of it is just staying calm and continuing to play," Lester said. "I kept telling them 'play until they turn the scoreboard off.' I wish I could build a huge billboard on the sideline so we can't even see what the score is and just keep playing. Because so many things can happen in the last minute of the game. Even them with a minute left, they have all the ability in the world to go down and score in a minute."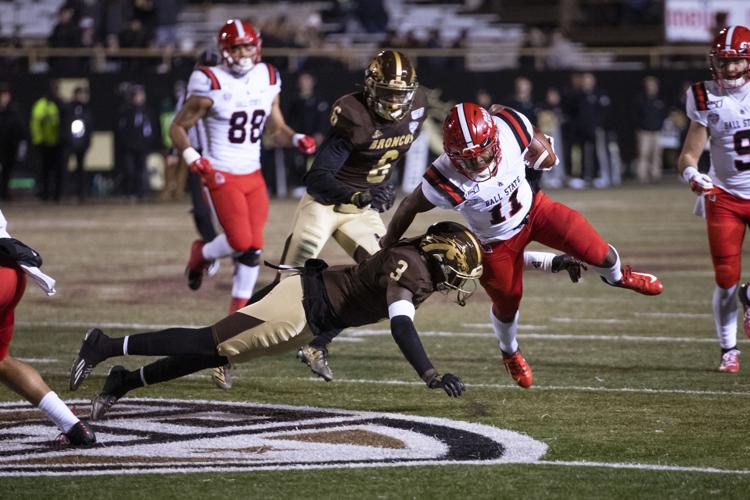 For Ball State, Plitt ended his night 14-of-22 through the air for 148 yards while adding a rushing touchdown. Caleb Huntley led Cardinals in rushing with 120 yards and a touchdown, with Fletcher gaining 72 yards with a score.
The Broncos will play in another Tuesday night "MACtion" contest next Tuesday, Nov. 12 at Ohio. That game will kick off at 7:30 p.m. and will be televised on ESPN2.