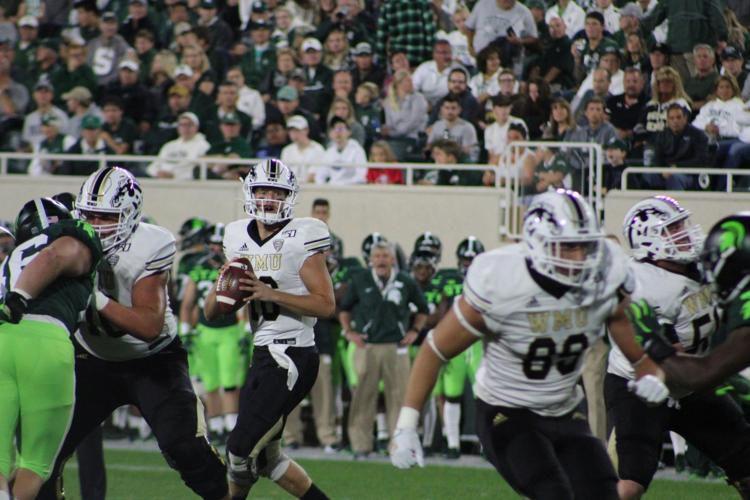 This past Saturday the Broncos went into East Lansing looking to put up a fight against the #18 Michigan State Spartans and they did not look like a threat to their Big Ten opponent. The Broncos left Spartan Stadium losing 51-17 and now gear up for a home game this Saturday against the Georgia State Panthers who have looked impressive to start the year.
At the weekly press conference, head coach Tim Lester touched on the good and bad against the Spartans and what they need to do to get ready for the Panthers.
From the defensive side of the ball, Lester mentioned that the Broncos tackling and communication needs to improve heading into Saturday's matchup.
"We got to tackle lower, [Georgia State] have 230 pound running backs," Lester said. "We're not going to face a lot of 230 pound backs, but when we do we gotta sweep tackle."
It was also a loud atmosphere in East Lansing which worried coach Lester about communication on the defense, but it was missed translations among the unit that caused issues.
"The communication of the defense wasn't as smooth," Lester said. "We had too many times where we didn't get the same translation for the back side safety to the strong-side linebacker."
As they prep for the Panthers, Lester and his team are ready for the challenge and excited for the crowd on Communivercity Night.
"It's the one game you look forward to every year," Lester said. "Everything is going on, the fireworks and tailgating, I'm excited for the community to come out."
Lester also stated how good Georgia State is this year as they opened the year with wins against Furman and at Tennessee.
"Georgia State is fired up and as hot as just about any team in the country," Lester said. "They're going to have a lot of confidence and we have a heck of a challenge."
The one thing that coach Lester stressed to his defense about Georgia State is to hold their quarterback to as little production as possible.
"Their quarterback is dynamic, he can run and he can throw," said Lester. "He's as good as we're going to see at that position."
Georgia State has relied heavily on their quarterback, Dan Ellington, for offensive production. Through the first two games of the year, he has 501 passing yards along with seven passing touchdowns. Ellington also has 147 rushing yards and one touchdown on the ground.
The game is scheduled for a 7 p.m. kickoff this Saturday, Sept. 14th at Waldo Stadium. Fans who can't make the game can listen on the Bronco Radio Network or watch it on ESPN+ with a subscription.