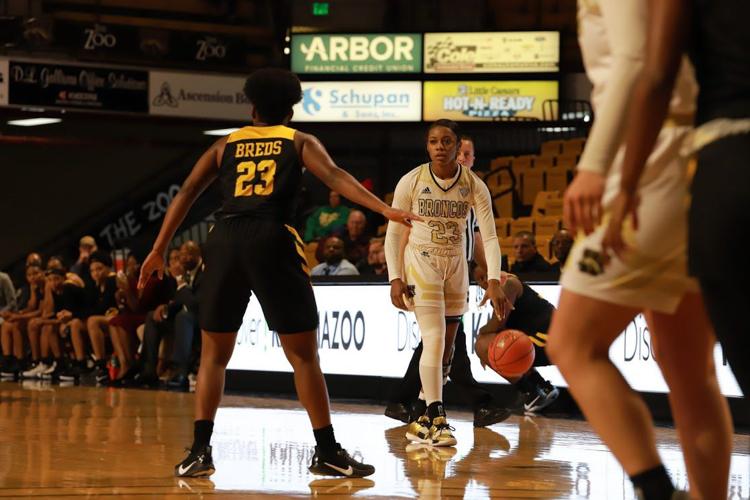 Western Michigan split its Thanksgiving tournament this past weekend in El Paso, Texas, losing their first game to UTEP by the score of 76-46, then turning around and beating New Mexico State in a tightly contested game against the Aggies 79-76, moving it season record to 3-3.
In the first game, not much went right for Western as they collectively shot 28 percent from the field. However, three players were in triple digits for the Broncos including redshirt senior Breanna Mobley, junior Leighah-Amori Wool and redshirt sophomore Jordan Walker all with 11 points. 
Defensively for the Broncos, Mobley led the way again with two of the teams three blocks. The team did not have the best defensive play letting the Miners shoot 49 percent from the field. 
For the Miners, it was freshman Arina Kholpkova who had a team-high 14 points and threw in two rebounds on the night. Senior Katarina Zec nearly carded a double-double registering 12 points and eight rebounds. 
Day two of the tournament went the Broncos way as they pulled off an exciting three point victory over New Mexico State 79-76. Western was led by Walker putting up 26 points and seven rebounds and Wool grabbing a double-double with 22 points and 15 rebounds. The Broncos shot the ball better in the final day of the tournament as they totaled 45 percent from the field. 
On the other end of the court, Western had 1 block from Wool, but outscored the Aggies in points off turnovers, 23-11, despite only having three less turnovers in the game (18-15). Shooting 8-for-27 from three point land also helped propel the Broncos ahead late in the game. 
The Aggies were led by senior Gia Pack who had a double-double with 29 points and 12 rebounds. Also helping NMSU was freshman Soufia Inoussa who contributed 12 points and nine rebounds on the day. 
The Broncos now turn their sights to the University of Illinois-Chicago as they finish their three-game road stretch in Chicago on Sunday, Dec. 8 at 3 p.m. EST.