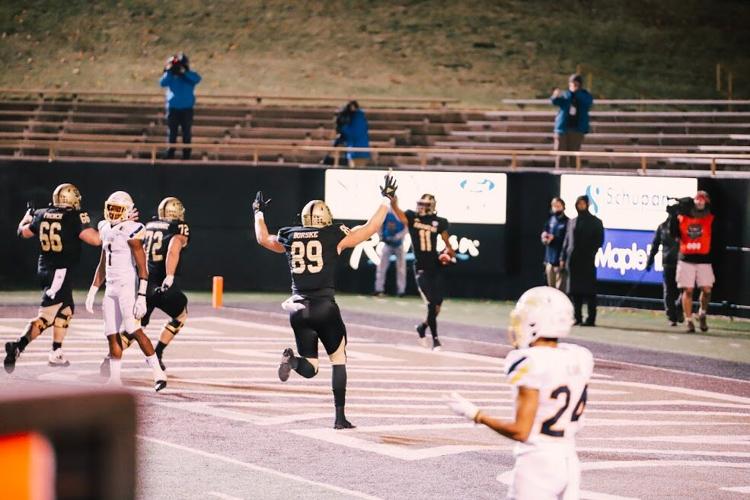 The major storyline coming into Wednesday night's game between Western Michigan and Toledo was well documented on the WMU side of things.
Head coach Tim Lester was asked multiple times in his weekly Zoom press conference leading up to the game about his 0-3 record against the Rockets.
After Wednesday's miraculous, last-minute comeback, the Broncos can breathe a sigh of relief as Lester's team was finally able to get over the Toledo roadblock with the 41-38 win after being outscored by a combined 119-58 by the Rockets in Lester's first three games against Jason Candle's program.
Lester downplayed the sentiment that the win was a signature win for him personally, but credited his team for being able to find a way at the end of the game.
"I love the way we played," Lester said. "We didn't quit. We did things to get in our own way, I think we had some flags that didn't go our way and we just never quit playing."
Lester also brought up the Broncos' execution down the stretch of the game, pointing to situational football as an area the team needed to get better at from last year to this season.
"If you're gonna go on a run, you've gotta have those last second victories," Lester said. "We've talked about situational football so much. You all saw how the last season ended. Our situational football had to get better, and we've been working on it and obviously we had a lot of situational football today (Wednesday)."
A reality of Wednesday's game is that the Broncos had multiple areas in which they didn't play well.
The offense was just 2-of-10 on third down conversions for the night, while the defense allowed Toledo's offense to convert 9-of-16 on third down while giving up over 500 total yards.
WMU also had a difficult time executing in short yardage situations on offense, which was exemplified when Lester made the decision to go for a 4th-and-1 when the Broncos were at their own 40-yard line midway through the second quarter, only to see La'Darius Jefferson get stuffed at the line of scrimmage and fumble.
Penalties were also costly to the Broncos as they committed nine for 102 yards on the game with several of them coming in crucial situations, albeit a few of those flags were questionable calls.
In an appearance on the Doug Gottlieb Show on Thursday, Lester acknowledged the negatives that took place in the game that will need to be corrected.
He also pointed out that sometimes teams have to win games even when they aren't playing their best to compete for a championship, which is what happened for the Broncos on Wednesday.
"When it comes to the coaching aspect, we watched film this morning and there's a ton of stuff we can get better at," Lester said. "I think the one thing you learn quickly about teams, championship teams that we all wanna be, is you've gotta win games when you don't play well, find a way. We did, but man ,when you watch the film, there's a whole lot of things we can get better at."
Another reality of WMU's miraculous win, which is the only one that ultimately matters, is they found a way to win against a quality opponent in a game with MAC West title implications.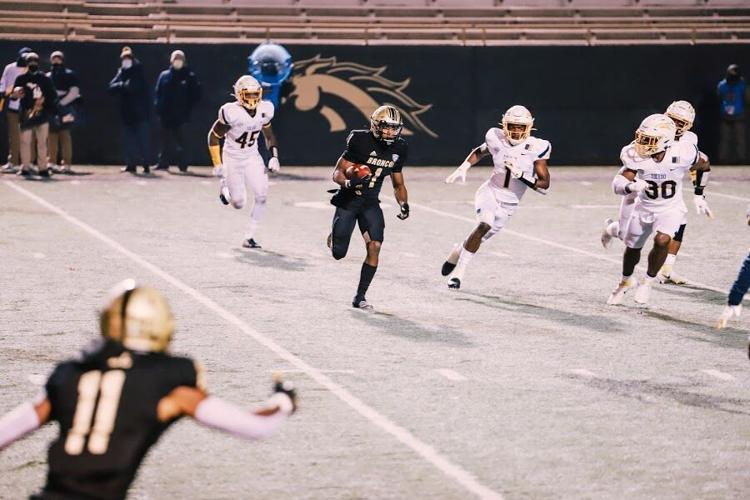 And it certainly wasn't all bad, especially on the offensive end for WMU.
The Broncos were almost forcing the run game in the first half, running the ball 20 times compared to eight throws on 28 total plays, with a good chunk of those plays being run-pass options.
When La'Darius Jefferson and Jaxson Kincaide went down with undisclosed injuries in the backfield, it was up to Sean Tyler to carry the load in the backfield. He did a nice job of that, carrying the ball 12 times for 100 yards.
But when the Broncos' backs were against the wall, they had no choice but to let Kaleb Eleby "cook" in the passing game by letting him push the ball down the field to playmakers like D'Wayne Eskridge and Skyy Moore. And when the Broncos opened things up in the passing game in the second half, that only helped the run game and put the Rockets' defense on their heels.
Eleby said he was making reads based on what Toledo's defense was giving him, which late in the game included the Rockets dropping eight into coverage and Eleby continuing to find holes in the zone.
"I really was just taking what the defense gave me," Eleby said. "I'm just out there trying to execute, trying to play and that's really it.  The only thought process I had was trying to win this game."
WMU had to overcome plenty of adversity on Wednesday as well. Along with losing Jefferson and Kincaide to injury, defensive end Andre Carter did not see any action after seemingly getting banged up at Akron last week. Perennial pass rusher Ali Fayad also suffered an undisclosed injury in the Toledo game, forcing the Broncos to try to find a pass rush from other sources.
Receiver DaShon Bussell was ejected in the second quarter for targeting for a hit on Toledo receiver Ronnie Blackmon on a special teams play, putting WMU down an offensive weapon as well.
But at the end of the night, WMU completed the improbable victory on a memorable night at Waldo Stadium, with Lester getting the weight that was Toledo off his shoulders.
Whether the Broncos can carry that momentum forward and correct their mistakes from the last game will be found out when WMU travels to Mount Pleasant on Nov. 18 for a showdown with Central Michigan (2-0) for the battle for the Victory Cannon.
The game will kick off at 7 p.m. and will air on ESPN2 and the Bronco Radio Network.