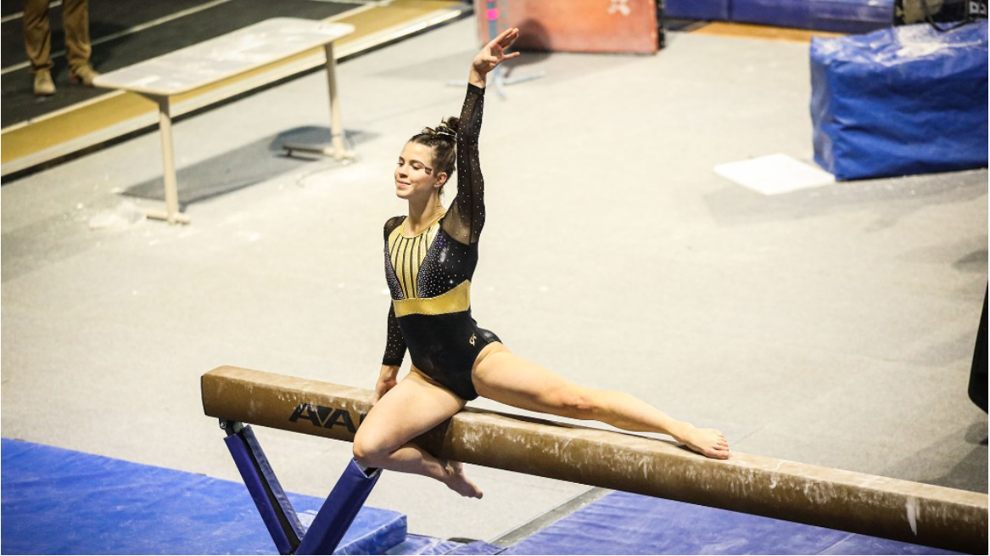 Payton Murphy had a record-setting dual meet and helped lead Western Michigan to a victory against Eastern Michigan on Senior Day, 196.025-195.975.
Murphy set the school record for the all-around with a score of 39.375 while tying the school record on the beam with a 9.950. Head coach Penny Jernigan sees Murphy only going up from here.
"I'm not surprised at all. I've been saying since she showed up that she is going to be a legend here. She's following in the footsteps of Rachel Underwood, who was a phenomenal all-around gymnast for us for four years. They're both from Illinois, so our recruiting is getting really lucky in Illinois. Payton's a rock star. She's just going to continue to improve and improve," Jernigan said.
Along with Murphy, the Broncos were all over the leaderboard in this meet, including taking the top spots in the vault. Sarah Moravansky took home first place with a 9.825, and Stacie Harrison, Carissa Ludwig and Murphy tied for second with a 9.800.
Western Michigan had two gymnasts tie for third place on the bars with Moravansky and Harrison scoring a 9.825. The Broncos also tied for first place on the floor with Murphy and Ludwig scoring a 9.925.
This win also marks the final home meets for seniors Alexis Olivier, Sarah Shirley and Stacie Harrison, who were honored after the meet. Jernigan conveyed what these three gymnasts mean to the program.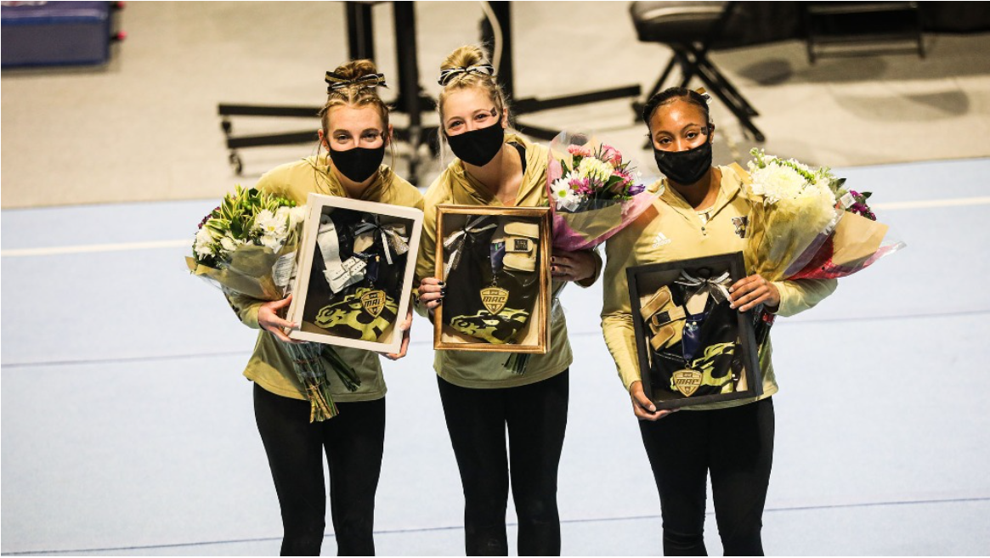 "They've meant so much to our program. They've been part of a huge culture change for us. They're really positive and happy. They bring joy to the gym every single day and I can't tell you how important that is. They've been incredible students, incredible leaders on the team and I can't say enough good things about them," Jernigan said.
The Broncos will finish the regular season on the road, first traveling to Ball State for a dual meet Sunday before finishing the regular season off with a quad meet at Mount Pleasant against Central Michigan, Eastern Michigan and Ball State March 13.