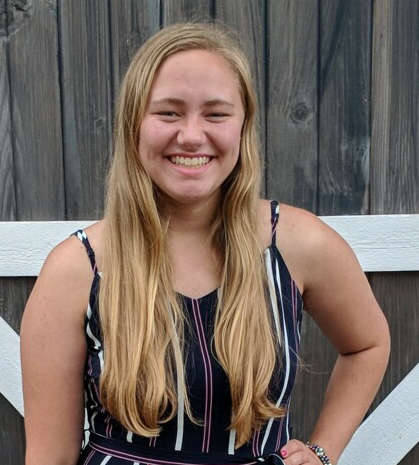 I have never been a fan of goodbyes in any form, even those necessary. Like many of my coworkers over the last few years, I too have drafted, scrapped and rewritten these words. In JRN 1000, we were taught to catch the reader early on in the piece. So here it is: I'm leaving the RSO I've been a part of since freshman year now, and not when I graduate in December.
No one wants to join an RSO they don't see themselves sticking with. I first stumbled upon the Western Herald months before my freshman year, and attended my first meeting during my first week at Western. My plan was to join so that my parents thought I was adjusting to change with ease during a time when I definitely was not, but then I really did get involved. In my first year, I covered travel bans, interviewed Chloe Grace Moretz, wrote about sexual assault awareness, started the short-lived WMyou Instagram account, and received the Journalist of the Year award from my editors. The next year I became the news editor, and the following was selected for editor in chief.
Being the face of a publication has been incredibly stressful. In addition to editing and staff meetings, I've juggled knowing what 10 different editors are doing, communicating with the publisher on a weekly basis, sending off payroll biweekly all while trying to improve the pieces of the organization those before me left behind and maintaining my spot in the honors college. I say juggling because I have little experience with it. And when those who don't juggle try to, usually everything comes crashing down and scatters in different directions. The last few months were when that happened for me.
Those close to me know that my mental health quickly became a priority this year simply because it never was before. It's easy to take pride in your work. But, when you're the last in line to make sure everything falls into place and things don't, it can be just as easy to take sole responsibility. I have answered phone calls well past midnight about breaking news, and I have slept through them too. I've dealt with disagreements that turned into screaming matches, and I still have my alarms set for 20-minute nap sessions between homework and deadlines. The last few months have been unpredictable and inconsistent to say the least, and as someone trying to make healthy habits to combat anxiety and depression with counseling, I did the best I could with the available circumstances.
That being said, there are moments that make me proud of this campus newspaper that's held my byline for three years. My priority has been so focused on getting the paper out on time that I often forget its impact. Thankfully, many classmates, professors and community members have reminded me that they're reading it, and enjoying it. Other student leaders have reached out at campus events to check in on me and share a brief venting session about student leader life. This year we had our first consistent photographer, writers who were excited about their work, and our first decent attempt at a social media effort. It's easy to overlook all of these things in the thick of deadlines and chaos, but I am pleased with the results compared to where we started. To every editor and reporter on board this year, I appreciate all you did to help me with our publication.
As a journalist, it's important to note the things people say, and the details of every situation. The more specific, the more invested the reader is. In my personal life, I've found that I have a knack of remembering in great detail the things people say to me — for better or worse depending on who you are asking. Lately, I've been reflecting on the advice I've been given.
I've been reminded that there is nothing wrong with taking a new direction if I don't see myself growing. This is a large reason why I feel it is time to hand the Herald off to someone new. To Samuel Robinson, you've got big ideas and the passion to make them a reality. I look forward to seeing what you do with the Herald, and promise to follow every social media account that you revamp.
Whatever I accomplish as a journalist, I owe every bit of it to Pen Campbell and her general life advice. When I was deciding between WMU and MSU years ago, I sent her a scatter-brained email asking her thoughts, and what she would tell me if I were her daughter. She told me it was good for us to do hard things.
"You're going into a field that breathes take-a-chance, that will leave you awash in new, scary situations. Or we sure hope it does. We can't afford a press made up of pajama bloggers patchworking our daily diet of information together from a bunch of other pajama bloggers. That means you're looking at a life of taking chances, of putting yourself out there, doing hard things."
My year at the Herald has been mentally and emotionally taxing, but I've learned so much about my leadership skills and how I work under pressure. In two weeks, I'll be moving to Mackinac Island to report for the Mackinac Island Town Crier for the summer. My life is in boxes as we speak. It's the farthest I've ever lived from home, and it's terrifying. I suppose that means I am headed in the right direction. Much love and "Moses Supposes" to you, deartest Pen.
Quite a few additional thanks are in order, and those who know me know that it's never just "a few" with me. To my family, thank you for accepting what I want to do as a career, and supporting me through it. I promise I'm reading the DUNAJ6 group chat even when I'm not responding. To my roomates over the years, Izzy, Jen and Emily, thanks for tolerating the loud typing when you just wanted to sleep or hangout, and all the tea talks about work that turned into late-night bathroom chats. Elissa, Jordan, Zoe, and Emma: I am so thankful to have found a girl gang by such serendipity in one small office space in the basement of Faunce. Thanks for the support, laughter and group chats, but most importantly the memes. I'm beyond proud of each of you, and can't wait to see what you do next. To Tommy, I may never listen to Tyler, the Creator, but at least my first news-breaking all nighter was memorable. Satan stars and many thanks to you. To Glen, I hope you spend every single day "livin' the dream" — you deserve it for what you put up with at work. Thank you. To Kayla and Spencer, my film buddies, I look forward to the day we can talk about modern-day hipsters ruining a perfectly good hobby outside of a pitch meeting and not in hushed tones. Be on the lookout for more judgey texts about creative film. Mrs. Hunter, thank you for always making me feel at home in the pub lab, even three years after my Nutella jars resided at the corner desk. To Ray Gustafson, thank you for giving me my first internship. I hope you'll forgive me that my next one is in the "dying industry" of print and continue to root for me regardless.
Lastly, I'd like to offer some advice to the current journalism students. There are only two accredited journalism programs in the state. Neither of them are the one you're enrolled in. It's easy to fall into the comparison trap. People ask me all the time if I wish I went to MSU. But, if I hadn't ended up here, I wouldn't have gotten the editorial experience I have as quickly as I did. I wouldn't be graduating in three and a half years either. Join the Western Herald, get some clips and participate in class. This program is what you make of it, and the work you are doing is more necessary than ever. Ask the hard questions, tell the stories people care to hear and settle for nothing but the truth. To Professor Christian, Dr. Steinke and Leona, thank you for making yourselves readily available to the students wanting to push themselves, the letters of recommendation and the career chats. I'd have no shot at any internship or job if not for your help and influence.
When I return in the fall, I have freelancing to seek out, an entire honors thesis to complete and a few more memories to make. I've gotten into film photography lately, and in that world, we use the negatives to develop. I'm not sure what the final picture looks like, but I know I'm much closer to seeing it thanks to my time at the Western Herald and WMU.