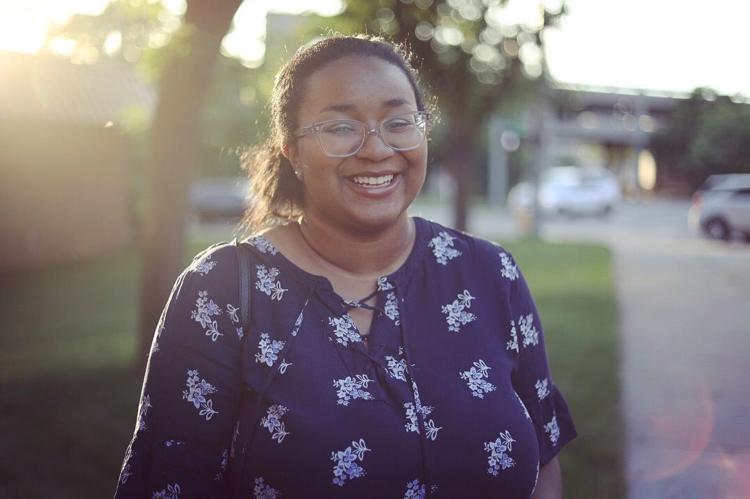 My college career has been fast and furious. I have been impatient, and unsatisfied with the status quo. I have known what I wanted, and I have fought tooth and nail to pursue my goals and dreams.
Before I even started at Western Michigan, I knew that the Western Herald was going to be a big part of my college career. I had spent much of high school as a reporter and editor. I couldn't imagine doing anything different. I'd emailed an editor and secured a spot before classes had begun.
I started as a staff reporter, covering topics like politics and student government. I knew that I would eventually rise through the ranks to garner more journalism experience, but I wanted it then. I wanted to do more within the crazy career I'd chosen, and I was unsatisfied with the number of journalism classes I was able to take. I was fired up. Instead of simply steaming about it, I channeled my energy into a competitive fellowship application.
I got in. I got in, and I traveled to the National Association of Black Journalists 2017 convention in New Orleans. There, I was exposed to amazing journalists and the empowering feeling of being surrounded by journalists that looked like me. I returned to Western that fall, as assistant news editor, even more inspired than I had previously been.
In my new leadership position, my passion for the Herald and student media slowly became tinged with the realization that everything was not perfect. Our news gathering skills needed improvement, our social media presence was lacking, our website was stuck in the 20th century, and we aren't as diverse as we should be.
Notably, I lead the Herald's effort to join the national Save Student Newsrooms movement, which highlighted the importance of campus newsrooms, and the value in continuing to support them with funding and readership. Not everyone was a fan of the 'airing of dirty laundry,' if you will, but I believed, and believe, that an entity cannot get better without acknowledging that it needs help. Early this year, we learned that our editorial placed first in the Michigan Press Association college newspaper contest, over editorials from other larger newsrooms.
Last summer, I secured my first internship at The Flint Journal, an experience that rivals the Herald in terms of professional and personal growth. I was able to run around town with my notebook and a multitude of pens, telling stories outside of the context of student media. I covered a day of the Flint water crisis hearings, I wrote a fun story about a swearing, drinking yoga class that was shared more than 12,000 times, and I wrote about a local skatepark in disrepair. I had the time of my life, and coming back to campus wasn't easy.
I was back, this time as news editor, but between my internship, and a short-term study abroad experience I'd embarked on earlier in the year, it wasn't the same. I kept my head down, worked closely with our e-chief Mikhayla to keep the lights on, if you will. I am especially proud to have worked with our next e-chief Sam on improving the Herald's digital presence, something that was sorely needed. I'm proud of the stories I wrote too, but much of my pride came from finally getting my news section closer to where I believe it needs to be.
As you read this, you may be wondering why I am saying goodbye to the Herald. If you know me, you may know that I am a junior, with a year left until graduation. I am saying goodbye because I am spending this fall semester studying abroad in Barcelona, Spain. Leaving the Herald was not an easy decision. Despite all of the flaws, I love what I do, and how it has allowed me to be part of the fabric of Western. I know it caught many people by surprise that I wasn't staying with the organization, or seeking a higher position. But I had to make this decision for me, not for anyone else.
There is little I love as much as journalism, besides travel. Thinking about exploring old streets, looking at Spanish architecture, and learning the language makes my heart feel light. I'm going to miss the Herald so much. The amazing friends I've made, the stories I won't be there to tell. But I have done everything in college so quickly, without looking back. I spent time in three positions at the Herald, I sped through classes for my major and minor. I was lucky enough to jetset to three journalism fellowships across the country, and I will be embarking on my fourth in May. Then, I'll intern at the Star Tribune in Minneapolis this summer.
Sure, sometimes it feels a little weird to think that I won't be involved with student media anymore. It's all I've done for nearly seven years now. But I am happy to have this opportunity to take it slow for once, finally. So now it's time to say thank you.
Thank you Western Herald-ers, past and present. I am thankful for past editors like Sarah C., Brendan, and Sarah D., who all made their mark. Special thanks to folks like Mikhayla, Elissa, Jordan and Emma, friends that I was also lucky enough to be able to work with. Thank you to my reporters for doing such kickass work this year, I am so proud of you all. I am so excited for the Herald's future, and I have so much confidence in my current assistant William, and Sam, our future e-chief. That you to our Glen, our trusted advisor who is always willing to question our actions and hold us accountable.
Thank you to the journalism professors here who have supported me and my desire for more. I know I'm not graduating quite yet, but thank you to my parents and family for always supporting me. Thank you to my friends and roommates, and thanks in advance for not forgetting about me while I'm gone.
To the journalism and communications students who come after me: join the Western Herald, be a part of the Student Media Group. Trust me when I say that the experiences you will have, professionally and personally, will have a deep impact on your future. Adding to your portfolio for jobs and internships, and adding to your friend group will benefit you in so many ways. However, know when to take a break, to take a step back. Breathe, and enjoy the wealth of experiences available to you at WMU. You don't want to miss a thing.