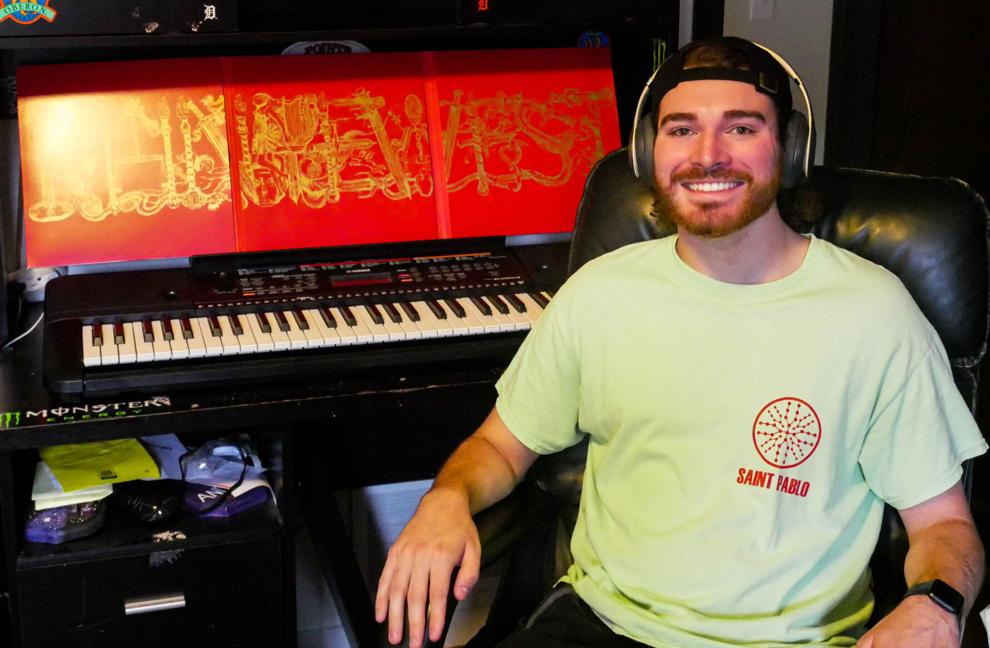 The blank, all-black cover art captures the essence of Donda. Kanye West's latest full-length project is a dark, complex soul-search in tribute to his late mother, Donda West. Described by Donda as "decidedly different," Kanye embraces these words with a raw display of his mind frame.
A fully clean release acts as further commitment to Kanye's spiritual journey. Coming full circle from religious themes of his debut album The College Dropout, Donda is a return to the values his mother raised him on.
Donda could use some trimming, running at 1 hour and 49 minutes across 27 songs. However, Kanye's return to a full-length project features some of the most intimate work of his career, capitalizing on his God-fearing pilgrimage through the pandemic, divorce, and unfathomable fame.
The incomplete ideas from the 2019 album Jesus is King are refined, renewed and often executed to perfection. With so much to unpack, Kanye carries listeners through his struggles and the struggles of a star-studded list of features.
Rating: 8/10
Favorite tracks: Jail, Off the Grid, Hurricane, Praise God, Jonah, Believe What I Say, 24, Moon, Heaven and Hell, Lord I Need You, Pure Souls, Come to Life.
Least favorite tracks: Junya, New Again.
---
Here's a recap of some of the most notable tracks on Donda:
Donda Chant
"Donda Chant" starts as a prayer of sorts, seemingly summoning the inspiration of Kanye's mother. Fans have theorized the cadence of the chant represents Donda's heartbeat on her deathbed.
Jail
"Jail" breaks open the long-awaited album with thunderous guitar chords and a high-pitch, distorted intro as Kanye boasts his newest mastery of sound. Ironically, a rush of freedom exhales from the final line of the chorus: "God gon' post my bail tonight." Jay-Z delivers a clever verse highlighted by a not-so-subtle diss of Kanye's previous support of Donald Trump. "Told him 'Stop all of that red cap, we goin' home.'"
God Breathed
"God Breathed" is an eerie insistence on putting trust in God. However, similar to a point made by music reviewer Anthony Fantano, there are moments throughout the album where the meaning behind Kanye's interpretation of God is as murky as sounds he produced.
Off the Grid
"Off the Grid" snaps back with a modern banger. Kanye's lo-fi chorus draws from the current scene of rap, detesting the public eye. Playboi Carti mimics sounds from his 2020 album Whole Lotta Red, while his demonic aesthetics serve as a fitting parallel to previous religious themes. Fivio Foreign stamps his name into the feature list with a relentless verse that impresses for nearly two minutes.
Hurricane
"Hurricane" finally makes its release as several versions have been previewed in the past. The Weeknd opens with signature vocals, referencing the conditions of a hurricane and the story of Jesus' walk on water. Lil Baby and Kanye open up about addiction and the people they have lost to it. Both look back on hard times, triumphing by staying true to themselves. Perhaps trying to find beauty in destruction, these experiences are compared to elements of a tropical storm. This may be a reference to Kanye's 2005 live-television criticism of the portrayal of Black people in media and George Bush's response to Hurricane Katrina.
Praise God
"Praise God" follows with a gospel-trap hit introduced with spoken word from Donda, taking an excerpt from Gwendolyn Brooks' poem "Speech to the Young: Speech to the Progress-Toward." The poem is included in her 1987 book "Blacks," a collection of critically acclaimed poems spanning more than three decades. This dedication to Brooks further emphasizes Kanye's lifelong efforts to uplift Black creatives who paved the future for the Black community, his mother, and ultimately himself. Following the intro, Kanye and Travis Scott synergize for a trudging anthem. Baby Keem offers a multi-faceted, energetic verse as he dips into his upper register to push new sound.
Jonah
"Jonah" features a minimalist opening chorus from Vory, tapping into the world's contempt for the feeling of isolation. Lil Durk drops a heartbreaking verse detailing the loss of many close friends to gun violence. Durk promises to care for the children of the late King Von, his best friend. Kanye shares the same sentiments on gun violence, taking a shot at a familiar phrase: "Smoke a opp pack ain't funny like that."
Junya
"Junya" is a classic, goofy entry ripping off contemporaries in the trap scene, featuring another verse from Playboi Carti. Although comedic value can be found in this track, there is little substance that ties into the themes presented at this point. Although intentional, the poorly constructed beat and repetitive lyrics fall flat.
Believe What I Say
"Believe What I Say" rides on the upbeat change of tone from "Junya" with a groovy sample from Lauryn Hill's "Doo Wop (That Thing)." M-Live reporter Sam Robinson expressed his disappointment for the removal of the piano from the sample, which appeared in a previous snippet of the song.
24
In collaboration with the Sunday Service Choir, "24" is a tribute to basketball legend Kobe Bryant, one of nine people killed in a helicopter crash in January 2020. Sorrow flows from Kanye's vocals as he opens his verse with "Exhausting, never the right time to go," potentially serving as further memorial for recent legends lost. In the song's outro, wailing organ chords dance in-and-out as he belts "We gonna be okay," and the Sunday Service Choir sings "God's not finished."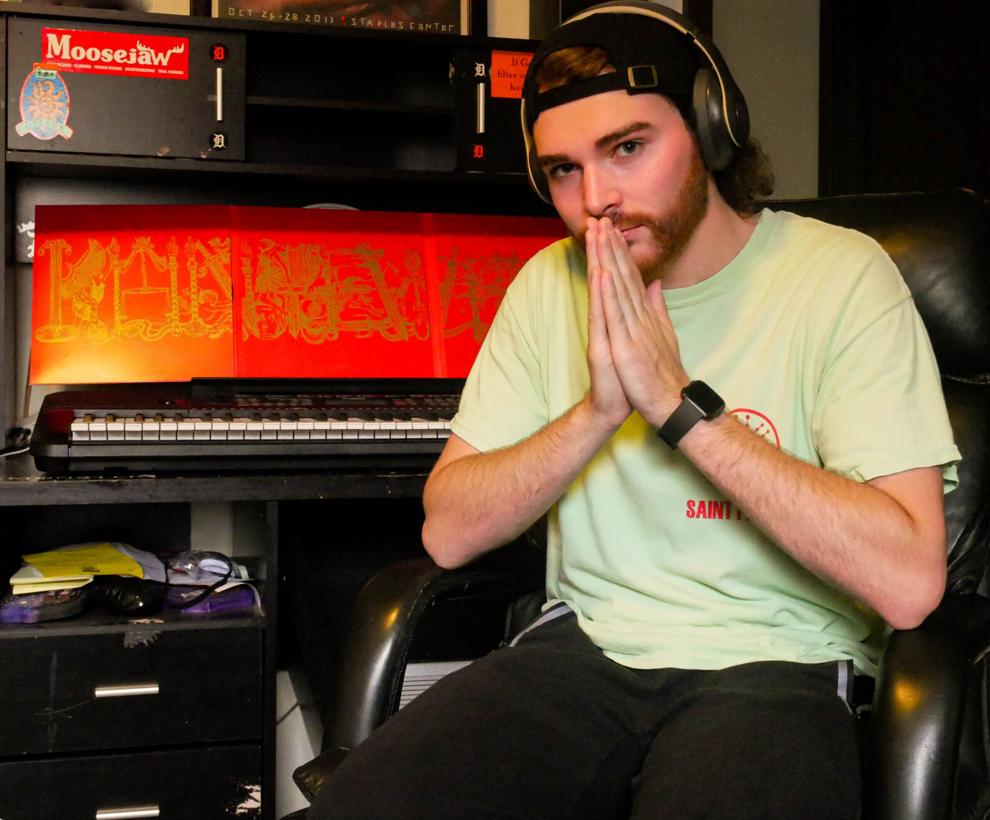 Remote Control
"Remote Control" is a return to the album's tones of darkness. Kanye references the advancement of technology, the control it holds over the world and infers God's power as remote control. Young Thug features a verse and background vocals. In likely the oddest moment of the album, Kanye samples The Globglogabgalab from the 2012 Christian animated film "Strawinsky and the Mysterious House." This is both a reference to an old internet meme and a parody review of the album where YouTuber VideoGameDunkey uses The Globglogabgalab to make a joke about "leaked" Donda song "Golden Money" featuring Pitbull.
Moon
"Moon" is an interlude of perfect harmony featuring a falsetto chorus from Don Toliver. A subsequent verse with signature moans by Kid Cudi pairs with Kanye's vocals. "Moon" is a mystical masterpiece capturing the internal dialogue of a soul-search, staring into the night sky.
Heaven and Hell
"Heaven and Hell" brings back the aggression as Kanye again airs his frustration with the public eye. The beat builds before he commands "This that level, make devils pray now." Obscure synths and demonic background vocals explode, representing the forceful influence of temptation as he rises above it. Contrasting to many scores in the album that pair organ chords with choir background vocals, Kanye's lyrics emulate heaven as the beat behind him raises hell. As the song ends, he screams an imitation of a firing gun, similar to "Feel the Love" from his collaborative project with Kid Cudi, Kids See Ghosts. 
Donda
"Donda" is an interlude to the project's final stretch. Kanye includes spoken word from his mother from a 2007 address at Chicago State University. The address celebrates the life and work of Brooks, previously featured in "Praise God." Referencing her 2007 book "Raising Kanye: Life Lessons from the Mother of a Hip-Hop Superstar," the excerpt "The man I describe in the introduction as being so decidedly different. My son," lovingly tributes the importance of family in her memorial album.
Pure Souls
"Pure Souls" heavily features Roddy Ricch whose repetition of the phrase "I cannot sell my soul" is anthemic to resisting sin and staying true to himself. Kanye pays tribute to younger memories and previous songs, celebrating his accomplishments. "I was one of them weirdos of the pure soul that would go to the flea market to buy fake clothes," he raps on the track. Shenseea's outro repeats Ricch's phrase "The truth the only thing you get away with," reminding there is no escape from God's omniscient power singing "He know every side of you."
Come to Life
"Come to Life" is a gut-wrenching magnification of Kanye's feelings and regrets through his divorce with Kim Kardashian, wishing he had listened to her more. The chilling statements "I don't wanna die alone," "I get mad when she gone," and "Floatin' on a silver lining" offer an authentic look into his psyche. The song features a beautiful piano score from Mark Williams & Zen Micheline Hung.