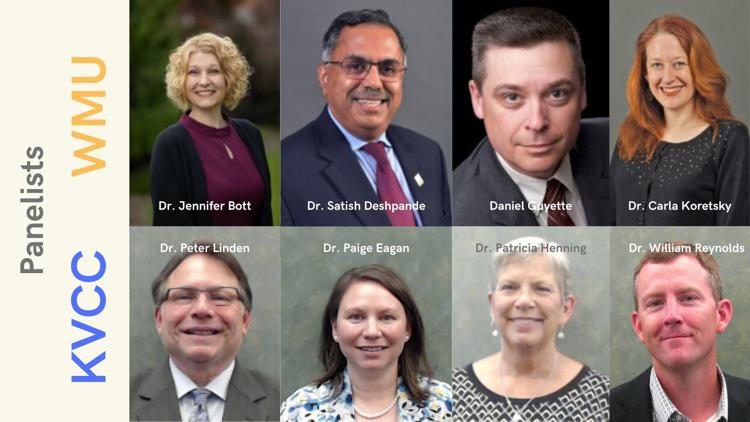 The question I had before attending Western Michigan University & Kalamazoo Valley Community College's "Communities in Collaboration" diversity & inclusion panel was, "why aren't there more Black faculty or student leaders involved in this conversation?"
The panel was composed of Dr. Jennifer Bott, WMU's provost; Dr. Satish Deshpande, WMU's Dean of Hawthorn College; Daniel Guyette, WMU's Dean of College of Fine Arts; Dr. Carla Koretsky,  WMU's Dean of College of Arts and Sciences; Dr. Peter Linden, KVCC's Provost; Dr. Paige Eagen, KVCC's Dean of Instruction for Math and Sciences; Dr. Patricia Henning, KVCC's Dean of Instruction for Health Careers and Sustainable Food; and Dr. William Reynolds, KVCC's Dean of Liberal Arts. 
Dr. Candy McCorkle, WMU's Vice President of Diversity & Inclusion and Trice Batson, KVCC's Coordinator of Diversity & Inclusion, who are both Black, were also present. WMU senior Emma Scheller, a white woman, served as student moderator. 
All the panelists, excluding Deshpande, were white. This was quite disappointing considering the nationwide push to address anti-Black racism, specifically. 
Without the presence of Black faculty members to stand in solidarity with students who presented concerns at the forum, panelists could easily disregard proposals and grievances. And from the sound of the panelist responses, that's exactly what they did. 
When Western Herald asked what significance the lack of racial diversity on the panel had, McCorkle responded by saying not all panelists are white and they simply chose the administrators who occupy the positions. The response effectively misrepresented and dodged the question. 
When Western Herald asked what the university will do to improve the retention rates of Black students, panelists responded by explaining how they prioritize recruitment of "students of color" and "international students" which failed to answer the question at hand. 
Throughout the entirety of the two and a half hour town hall, they failed to mention or directly address problems afflicting the Black student population at WMU or KVCC. 
This didn't come as a surprise considering the town hall coincided with a Black Lives Matter march organized by WMU students and Kalamazoo community members. The timing forced Black students to choose between airing their grievances to administrators or protesting for their rights.
All panelists did was pat themselves on the back for performative actions they've taken to diversify the curriculums within their respective departments. They failed to realize how teaching Black history does not address the concerns or needs of Black students at either institution. 
For years, the needs of Black students have fallen on deaf ears and it seems the University has no intention of improving their hearing any time soon. To name a few grievances: Black students don't have a place to gather at WMU, Black dance teams don't have studio space to practice in and the African American and African studies program is underwhelming at best. How are WMU students supposed to learn about Black history, culture or issues when African American and African studies classes are taught by white professors?
In addition, the panel and University at large have failed to address the death of Jamal Williams. Williams was murdered by a retired police officer serving as a security guard at Munster Community Hospital. While Williams was seeking treatment for anxiety at the hospital, he got into an "altercation" with one of the nurses, police said. Instead of calling orderlies to calm Williams down, the nurse called security. When guards arrived, they fought Williams in an attempt to subdue him. Police said Williams locked one guard in a chokehold, leading the other guard to shot at Williams killing both Williams and the guard. If the nurse wasn't threatened by Williams, a six-foot-two, 300-pound Black man, she would have called orderlies instead of security.
Recently, the family of Williams spoke out against the narrative and claimed "they have reason to believe" Williams never attacked the nurse in the first place. Williams was first taken to the hospital because of anxiety brought on by George Floyd's murder. The family's attorney explained how Williams thought George Floyd "could have been me." If police misrepresented how events unfolded, Williams was unduly murdered trying to avoid being killed for the color of his skin.
Blanket statements and improved curriculums do not address the needs of Black students at WMU. Steps in the right direction include choosing a Black student leader to moderate the discussion and welcoming a representative from the Black Faculty Staff Council to stand in solidarity with Black students airing their grievances to panelists. 
While protestors crossed Stadium Drive during Saturday's protest, a white woman in a black Honda drove through the crowd. This action clearly signified how Black students aren't welcomed or valued by the Kalamazoo community. From the sounds of the panel, it seems like Black students and their needs aren't prioritized or valued at WMU either.
Editor's Note: Saturday's panel was the first of a three part "Communities in Collaboration" series. The dates for upcoming panels have not yet been announced.