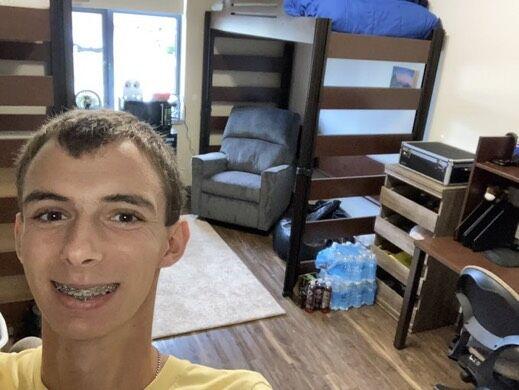 "Can you hear me okay?" If I had a catch-phrase for my first semester at Western Michigan University, that would be it.
In an academic setting heavily affected by Covid-19, my first semester at WMU looked a bit different than anticipated. Having hoped for a semester of new friends, frequent engagement activities, and the bustle of students on campus, I was met with a different first semester experience.
I come from a one-stoplight town in Michigan. My high school was small, with only eighty-five people in my graduating class, so I was anxious to meet new people and learn new perspectives. I was—and frankly still am—nervous about meeting new people and finding friends. I was hoping WMU's Fall Welcome program and first-year activities would help me acclimate. However, as COVID-19 continued to persist into the summer, it became apparent the transition would be less than ideal.
For me, the most enjoyable aspect of the modified Fall Welcome program was the scavenger hunt. Although I didn't meet anyone new, it helped me internalize the campus layout and learn the locations of different buildings. My roommate and I worked together to find the scavenger codes for thirty buildings or so, but it was likely a popular activity among first-year students because we didn't get the top prize.
Throughout my first few weeks, I met several people. However, my ability to recognize faces and names has always been subpar. The masks presented a further challenge for me as I attempted to identify people and socialize with my peers. I met a nice fellow during my first two days on campus. I saw him many times throughout the rest of the semester, but we never seemed certain of each other. Instead, we would stare for a brief second, as if to say, "I know you," but neither of us wanted to mistakenly identify someone.
In my dorm, where I spent most of my time, I found it very difficult to connect with classmates virtually. Most of my classes were online; the professors posted videos in place of lectures, so there was little to no interaction among students. In the rare occasions where I attended video office hours, it was an awkward dance of trying not to talk over other people, making sure your audio was working, or trying to hear others.
Despite these obstacles, I was able to meet a small group of students in my dorm. We've done several activities together, such as the Student Recreation Center's intramural tournaments. I also joined a few clubs, such as the Racquetball Club and the Western Student Association. Through these clubs, I met people and explored different activities offered by WMU. 
Despite the limitations mandated by the pandemic, I enjoyed my first semester. Although I don't relish the video calls, online tests and quizzes or video lectures, I will continue to endure and make the most of my future semesters here at WMU.