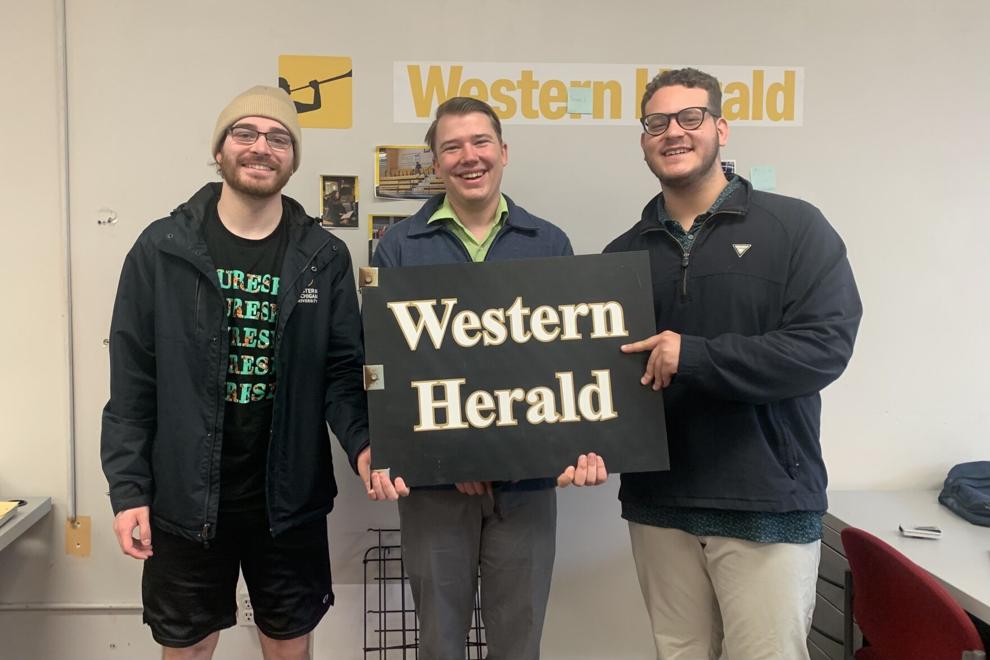 I didn't know what I wanted to do when I came to Western Michigan. I knew I loved sports, but I didn't think I could get a career in sports. I knew I was good at math, so I came to WMU as a statistics major. It took over two years to convince myself that was the wrong choice.
I finally switched my major to journalism in fall 2019 and stepped foot in the Western Herald office for the first time in January 2020. The first game I ever covered was a women's basketball home matchup against Central Michigan, where then-sports editor Seth Berry helped show me the ropes.
Things were progressing quickly for me, as Seth and then-editor-in-chief Sam Robinson showed confidence in me by allowing me to take the baseball beat that spring. At least until COVID-19 hit.
The pandemic was a huge wrench that no one saw coming, and contributed to me feeling extremely underqualified to apply for the lead sports reporter position for the fall of 2020. Apparently, I had done enough to impress Seth and earn the role for that fall, during which he and I navigated a (brief) full shutdown of athletics on campus and no sports competitions before the calendar turned to November.
Following that tumultuous semester, the Herald named its youngest-ever editor-in-chief in Aya Miller, whose first order of business was naming me sports editor upon Seth's graduation. I'd like to think Aya and I grew alongside each other in our roles and provided a constant, reliable sounding board for ideas for our paper.
My fifth and final year at WMU was a challenge, from returning to in-person learning and meetings, to trying to figure out if the MAC was going to be affected by conference realignment, to WMU athletics bringing in a new director. I couldn't have had the success I did without the performance of the Herald's next superstar: Ben Epstein. Ben joined the Herald when I was still lead reporter, worked his way into that role for this year, and has continued to improve to the point that he will be taking over as editor-in-chief for the 2022-23 academic year.
Seth, Aya, and Ben certainly made the biggest impact on me, but I'd be remiss not to mention other people that I saw shine at the Herald. People like Joseph Zurek, who helped me integrate into the sports section when I first joined. Jake Nelson and Derek Patterson, both of whom provided great coverage wherever needed in sports throughout my time in the Herald. Travis Leonardi immersed himself in as much as he could as quickly as he could and excelled in a variety of ways this year.
In photography, Spencer Matthews is possibly the best I've seen at getting pictures I didn't know I needed for upcoming stories. Rodney Coleman-Robinson could provide enough pictures to last a month from one event. Alli Mitter revamped the photography section and bring it to a point where I believe the Herald has more productive staff photographers than ever before.
In news, Chloe Miller was on top of stories in a way I could only pretend to be. The second news was out, she had it covered. Autumn Roemer went above and beyond what was asked of her until there was no chance anyone else could be the choice for editor and somehow kept improving once she was there. Cori Osterman has helped Autumn get the section to a point where the Western Herald news desk is pushing sports for best section (mostly kidding and of course biased).
For me personally, my time with the Herald was a revelation. I came in not sure I would ever be able to have a career in sports media, and I'm leaving knowing this is the field for me and that I'm ready to hit the ground running full-time once I graduate. I went from a scared first-time reporter to one of maybe a dozen people in a stadium throughout the pandemic to cover WMU athletics to being ready to hand over the reins and take the next step in my life and career.
The Herald was a source of comfort for me as my life hit a personal low point in the summer and fall of 2021. The Herald was one of the good things that I could still find in my life and my work helped keep me going. It also helped me make connections with people outside the paper that made a great impact on me as well.
If not for the Herald, I would have never been part of the Student Media Poll, joining a network of student-journalists from across the country that are passionate about college sports. I wouldn't have experienced the kindness from people I talked to regularly in coverage of WMU athletics such as Billy Gernon, Kathy Beauregard, Shane Clipfell, Colleen Munson, Dan Bartholomae, Tim Lester and others who always showed respect for myself and the Herald, and made it clear that they understand and appreciate our reporting even when it doesn't paint them in a great light.
I wouldn't be who I am today if not for my time with the Herald. This paper has boosted my confidence in my future career and improved my outlook on my darkest days. I will forever be grateful for my time here and will be watching with interest to see how our paper continues to grow after I graduate.