Grace Lubwama, CEO of the Kalamazoo YWCA, spoke to MLK Day Teach-In attendees about the systemic challenges faced by women of color in Kalamazoo.  
Since taking on the role of CEO, Lubwama said she has stressed looking at the individual needs of people, eliminating racism, and empowering women of color in the community. 
Lubwama has used her personal experience growing up in Africa as a reference point for YWCA's mission. When she was younger, her parents always said that with an education and a voice you have more power than monetary wealth could give you. 
"We live in a community that can do a lot, we live in a community that can change populations," she explained. "Unfortunately, I don't think that's where we are." 
Last year, when Lubwama went to visit the African American History Museum in Washington D.C., she was moved to tears by the images of people of color advocating for issues that have yet to be fixed. 
"Unfortunately, the things that Martin Luther King dreamt about, we're still raising the same signs for voices of vulnerable people in our communities in our country," she said.  
She specified that it's important to pay attention to the well-being of women of color as a reference point for progress. 
"Every social issue in our country, in our communities we'll see women of color dragging behind," Lubwama said. "You will see black women with darker skin dragging behind." 
According to Lubwama, you must address this when being intentional about racial disparities.  
"Until we are intentional about speaking about and being true about those disparities then we will never have a community that is for all women," she said. "We will have a community that is for some women but not all women."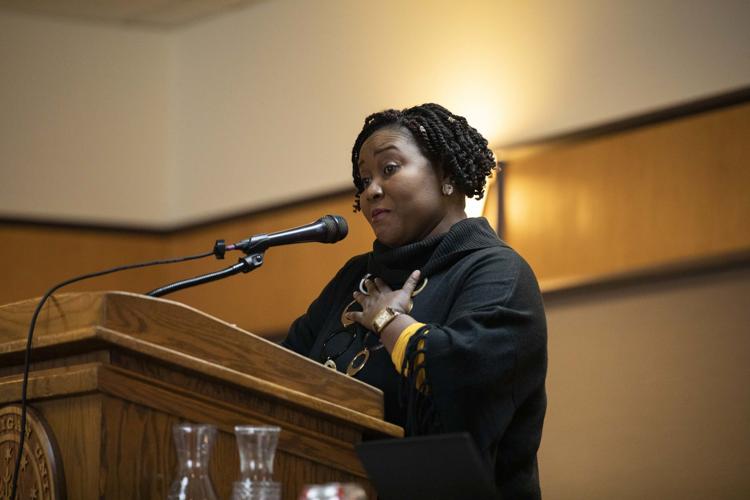 Lubwama explained how this translates to the YWCA's four strategic areas of focus: improving the lives of children, advocacy and system change, promoting maternal and child health care, and caring for victims of abuse. 
"We make sure that there is an intersectionality between education and equity," she said in reference to the first strategic area, improving the lives of children. "What that means is we want children, especially children of color, to receive the same services as other children." 
One innovation they created to improve the lives of children in Kalamazoo is a 24-hour day-care center. It currently serves 24 children and the waitlist has over 200 children. 
 YWCA also addresses the interconnection between sexual assault, domestic violence, and human trafficking. The organization provides shelter for victims of domestic violence and human trafficking as well as free forensic exams to women who have been sexually assaulted. 
To address the last strategic area, promoting maternal and child healthcare, Lubwama spoke on the disparities within infant mortality rates in Kalamazoo. According to Lubwama, black children born in Kalamazoo die at a rate 4.5 times higher than white children. She specified that this rate was higher than those for black women in Detroit and Jamaica. 
"If income is not a protector for black women or women of color, if education is not a protector for women of color or our families, then we need to be asking ourselves tough questions," she said. "Do I see the dream for all people or do I see the dream for a certain segment of the population?" 
Lubwama concluded by addressing the YWCA WISH program. The program is available to women of color who are experiencing poverty and who have previously experienced bad outcomes in Kalamazoo. It's designed to meet the needs of the people at the highest risk and most underserved in Kalamazoo by providing fast relief to immediate problems.