Cory King, a WMU alumnus, made the announcement that he is officially a candidate in next year's Kalamazoo County Commission election at the WMU College Democrats meeting on Tuesday. King graduated from WMU with a bachelor's degree in political science with a focus on American public policy and was the president of the WMU College Democrats for two years.
For the past two and a half years, King has worked for Debbie Stabenow in Grand Rapids as a staff assistant. King is interested in returning to Kalamazoo because he feels like he has a duty to give back to the community that gave so much to him.
"It means a lot to me to be able to do this in this room because this is where we had our meetings my last year as president," said King after he took the podium.
King began by speaking briefly about his background and major influences growing up. King was raised by a single mother in an African-American family in South Haven, Michigan. He believes that seeing her go to work everyday at gas stations, fast food places, and factories to support the family taught him the importance of hard work and sacrifice. His grandfather, he said, taught him about the importance of civic engagement, serving his community, and voting in every election.
King's campaign for County Commission is focused on three major areas: education, environment, and health care.
On education:
King wants to ensure that every child in Kalamazoo has the same opportunity to receive a high quality high school and college education.
"I want to work with my fellow commissioners to make sure that, especially children of color and poor children, have the ability to achieve their goals and be successful in school."
King would like students to know that he cares deeply about the issues they are facing concerning higher education and feels as if he is the right person to offer effective solutions at the local level.
"I am still paying my student loans and probably will be for a long time. That is a way I feel like I could connect with students. They know the difficulties of the rising cost of education and that is something I would like to address at the local level."
On the environment:
King emphasized the severity of the climate crisis that the state of Michigan and the country as a whole must find a way to deal with. As a commissioner, he hopes to make sense of this complicated topic by breaking it down into pieces.
"Having clean water, clean air, and clean soil is a human right. We have to have those things in order to survive as people. I want to make sure we have a community that is focusing on those things."
On health care:
King hopes to improve Kalamazoo's infant mortality rate and expedite the development of free and low cost health clinics. 
"As someone who has dealt with mental health issues, I understand the importance of addressing those issues. Especially with the African-American community, I think mental health is something that is overlooked and something I would like to address as a county commissioner."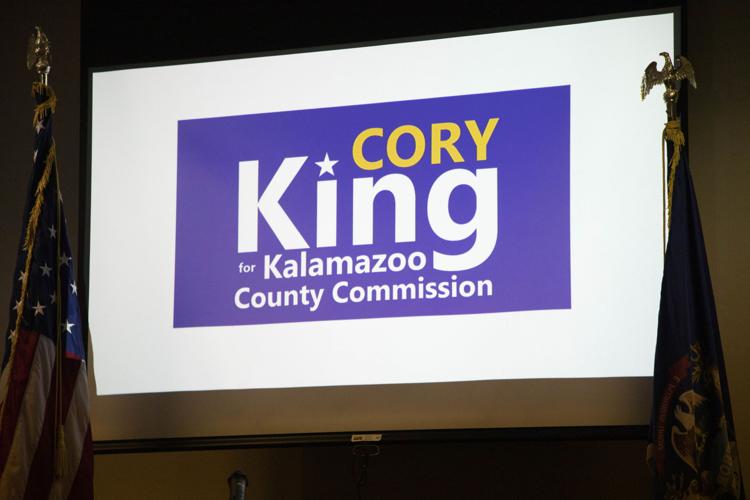 Although King is no longer a student at WMU, Marybeth Melcher, the president of the WMU College Democrats, said he still comes to meetings on occasion.
"Cory is an overall amazing person. I know everyone in this club really values his opinions and admires him… We do these friendly debates and he will always come in and listen, acknowledge our opinions, and make us feel valued. He encourages us to go out and get engaged and I think that means a lot to us," said Melcher.
Dakota Torolski, a former member of the WMU College Democrats, spoke very highly of King and even credited him with inspiring his own passion for getting involved in politics and being civically engaged. "Cory is a strong fighter for our democratic values… I know he is someone that will take those values to the county commission and I can't wait to see him get it done," said Torolski.