WMU held an interactive panel discussion Tuesday afternoon discussing the principle of free speech in the university context.
The panel was the first event of the university's WeTalk program. Panelists included faculty, students and the university's associate general counsel.
Jessica Swartz, the university's associate general counsel, spoke first on the university's legal role and obligations in regards to first amendment law.
"We are the state," Swartz said.
She explained that because the university is a public institution, it is limited in what it can do to regulate speech activities on campus. The university cannot, for example, ban a protest because of its message, she explained.
She then said that the university can place regulations on the time, place and manner of speech but only insofar as these regulations are applied independently of content. Returning to the example of a protest, she said that while the university cannot regulate its content, it can require that the protest take place at a location and time that will not prevent students from travelling to class.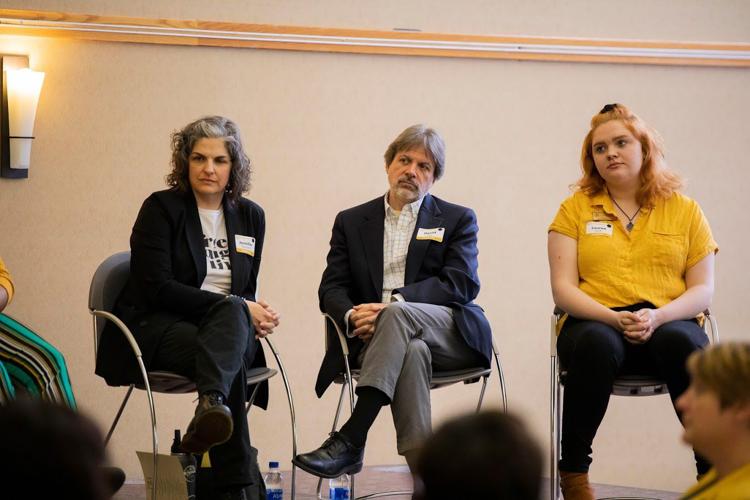 After Swartz' explanation of free speech law, the panel moved to discuss why free speech is an important aspect of civil discourse. David Paul, philosophy department chair, described free speech as power.
"What can you do with free speech? You can help people, or you can hurt people," Paul said.
Paul then elaborated on the ways in which free speech and civil discourse build a more informed community.
"I have friends who know things I don't. Everyone in this room knows something I don't. I am enriched when I engage with that," he said.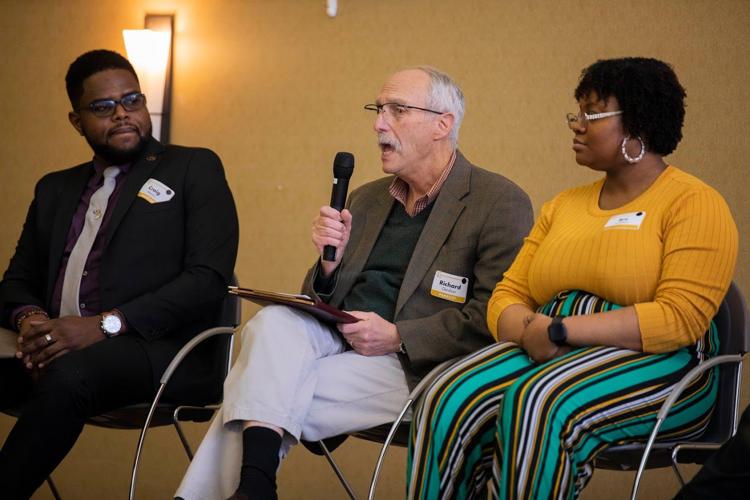 Richard Gershon, a communication professor and president of the faculty senate discussed free speech in the classroom and in politics. Gershon teaches an undergraduate class called Freedom of Expression.
"In the classroom, the point isn't always to everyone comfortable," Gershon said. "It's about respect and respecting someone even when you know you're right."
Gershon then went onto say that knowledge is often discovered through the process of respectful disagreement. He then turned his focus to politics.
"Let's start with the term fake news. When Trump says fake news he's referring to anything that disagrees with him, I'm talking about news that is false," Gershon said. "Consider the Arizona Monitor. It sounds like a legitimate news source, probably reporting on issues local to Arizona, but it is actually just pushing right wing talking points."
Gershon then expressed concern that the rise of fake news is leading to a growing distrust of even reputable news outlets. He said that accurate reporting is important for a democracy to function and worries that with growing distrust "something is lost."
Lauren Smith, president of the WSA, discussed the role of free speech within the student government organization. She said that she takes pride in making the WSA a place where everyone feels comfortable sharing their opinions.
"We recently proposed some major constitutional changes," she said. "Only one person voted against, but we supported them and made sure they were comfortable sharing their opinion."
The panel closed with a brief closing remark by President Edward Montgomery.
Vice President Jeff Breneman was one of the people behind the panel and the WeTalk initiative.  
Breneman returned to the university for the first time in more than a decade in July 2019. The changes he noticed served to inspire what would become WeTalk, he said.
"I saw how communication has changed drastically. I became involved with a group called Operation Responsible Engagement," Breneman said.
Breneman said that the advent and wide adoption of social media represented a radical change in the way campus civil discourse takes place. He added that the members of ORE ended up forming WeTalk to encourage respectful civil discourse on campus.
Breneman said that the panel is just the beginning of WeTalk. As the semester progresses, Breneman said more information about the initiative and future events will become available.
"The question is what can we do with this campus to drive responsible engagement," Breneman said.