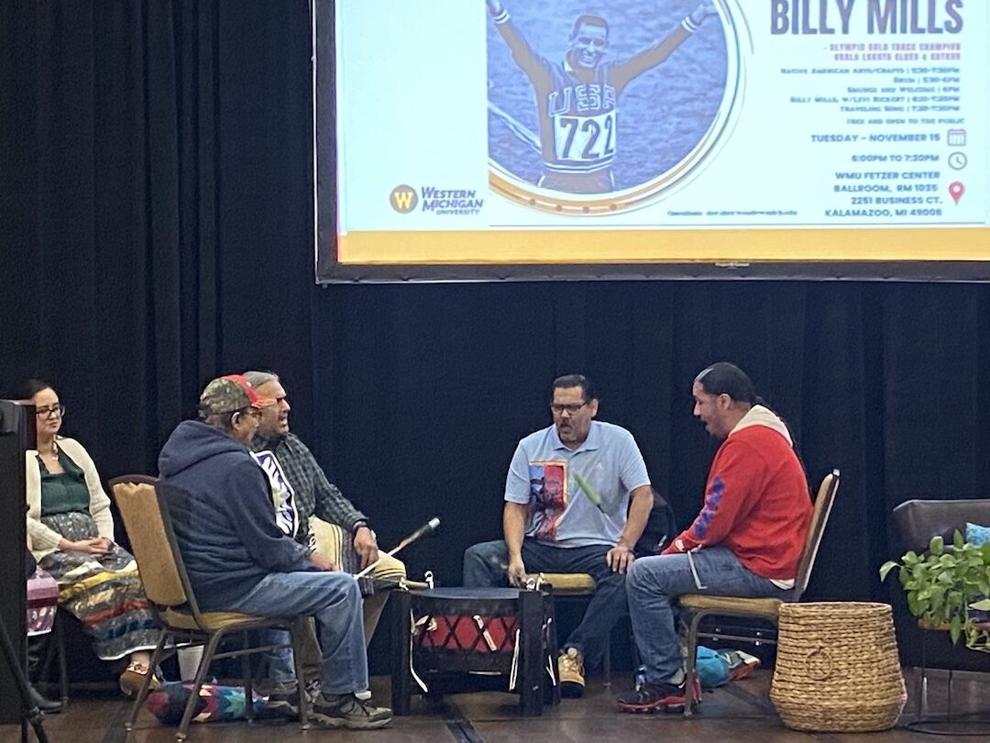 The Native American Student Organization hosted Olympic Gold Medalist Billy Mills in the Fetzer Center as part of their celebration of Native American Heritage Month Nov 15. Mills discussed his life and work as well as other topics including racism and his hope for the future.
The event also featured booths by Native Americans selling jewelry and clothing as well as traditional drumming and chanting.
Mills was born in 1938 on the Pine Ridge Indian Reservation in South Dakota and was orphaned at age 12. He first attended the Haskell Institute, a Native American Boarding School in Kansas, and then the University of Kansas where he made All-American three times.
In boarding school, he discovered his love for running cross country. This passion would ultimately carry him to the 1964 Tokyo Olympics where he won gold in the men's 10,000 meters run.
"I knew that I found my passion, as my dad would say, find the passion, develop the skills, bring them together, boom, magic is created, so I set on a dream to try and create some magic," Mills said.
However, throughout his journey he faced large amounts of racism because he was half white and half Lakota. In particular the experience of being asked to get out of the photo after he made All-American for the third time was devastating. In another incident after college when he was in the Marines traveling to Camp Pendleton in California, he was repeatedly rejected by hotels due to his race.
"We went to five hotels to find a place to sleep; I'd walk in, and they'd turn the sign from vacancy to no vacancy," Mills said.
Due to these experiences, he has dedicated his life to bringing people together and promoting diversity. Mills spoke about the history of racism in the U.S, the Civil Rights Movement and the War on Drugs. Explaining the horrific consequences the War on Drugs has had on Native American reservations.
"Patricia (Mill's wife) and I went to three reservations right before the pandemic; 40% of young girls, 7th, 8th and 9th grade have to find a different place to sleep every night for fear of being molested by people high on meth," Mills said.
Despite the ongoing negative effects of racism including generational trauma and poverty Mills still has hope for the next generation and democracy. Hope that young people will make the right choice in deciding whether to exclude or include African Americans and Native Americans.
"I just believe so strongly in the youth of America, I believe so strongly in this incredible democratic experiment, that I choose democracy," he said.
In 2012 Mills received the Presidential Citizen Medal from Barack Obama for his work. He was also at the Standing Rock protests over the Dakota Access Pipeline and in 2014, the fiftieth anniversary of winning his gold medal, launched the Dreamstarter Program as a way of providing opportunities for young Americans.
"We decided to give $10,000 grants for five years, that will be 50 grants, to young men and women who had a dream that could empower their communities," Mills said.