Arcadia Flats will be using Lot 23 as their main parking lot until future parking structures are created said Dave Dakin, Director of Planning. 
Western Michigan University (WMU) held an input meeting for the new Hilltop Village Loop Road on Thursday in the Bernhard Center. CannonDesign and Beckett & Raeder, inc. were teamed together by WMU to create a design for this road. 
Brett Lawrence from CannonDesign and Caitlin Jackson from Beckett Raeder, inc. introduced some concepts for what the road would look like.  
They are currently working on the idea of a complete street and a Woonerf, or a "shared street." The image they find the most appealing would consist of a two-way street, parallel parking on both sides of the roads, and a bike lane that is the same level of the sidewalk. This is meant to improve the safety, equity and public health, along with reducing traffic congestion.  
"We want this street to generate a lot of excitement and vibrancy. We don't want it to feel like Ring Road...It's going to be right next to the student center, it's going to be right next to other developments. There's going to be places that you want to go as students," Lawrence said. 
Ideas for a plaza were shown as well, illustrating the possibility of hammock groves, a sledding hill or an area to display art. These projects are expected to be finished in fall of 2021. 
However, students that attended the meeting voiced their input towards other matters, especially parking and residential living. 
"We don't have a parking space challenge," Dakin said. 
With parking temporarily established in Lot 23, Arcadia Flats residents will experience the farthest distance between a residential building and the available parking, until plans for closer parking are made, Parking Services said. Overflow parking has also yet to be planned said Katie Jacobs, Project Manager.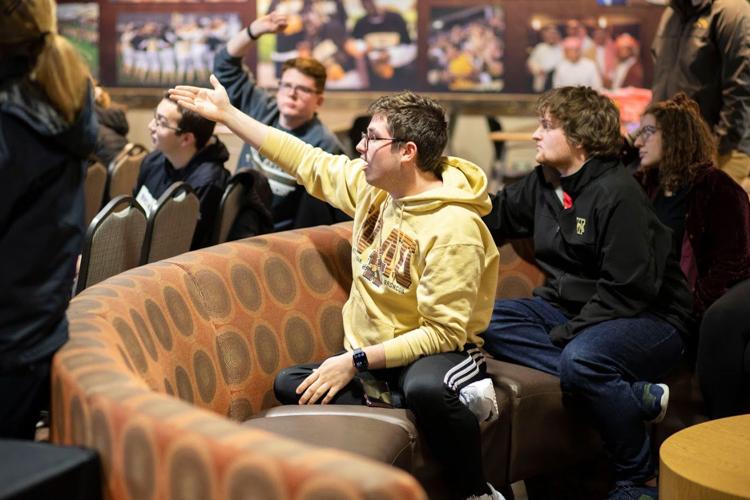 "I guess you don't have to live there if you don't want to. No one is required to," Dakin said when asked how the distant parking could affect the residents of Arcadia Flats. 
Dakin added that a new parking structure could be a possibility in WMU's future. Dakin said they are currently considering the idea of building one near the Hilltop Village. However, the location, how many spots, and other concerns will not be addressed until the future, he said. 
The Hilltop Village Loop Road will also have parallel parking available along both sides of the street. However, it is not determined what parking is going to be available there.  
Students were also concerned about the cost of the on-campus apartment. Currently the flat rates per bed for the Arcadia Flats are: 
Loft: $1,200 

Studio: $950 

Two Bedroom Flat: $800 

Two Bedroom Studio: $750 

Two Bedroom Flat Four Person: $585  
Dakin said the apartments are being marketed to a certain kind of students.  
"Back in 2008 when we did a housing study, one room type does not fit all and that future housing on campus needed to be as diverse as we could feasibly make it. Arcadia Flats has four types of units and it is itself different from Western View," Dakin said. 
According to the Eligibility Requirements for the apartments, in order to sign up for Arcadia Flats, students must be: 
Enrolled in a minimum of one credit hour at the start of the contract 

18 years old on the day sign-up starts 
Sophomore standing (26 credits) 

Non-beginner designation per university student classification 
Students who are transferring must be close to 26 credits by May 1 in order to sign up. This allows for confirmation of spring credits to be transferred. 
"Certainly, the minimum price point might be above what some students can afford...it is geared towards a different market of students," Dakin said. 
Sophomore David Hoskins, President of the Residence Housing Association replied to Dakin, saying, "Yes, the kids that can afford it. Gentrifying campus. White Rich Kids." 
Hoskins also added that his opinions do not reflect those of Residence Housing Association. 
It was also revealed that Draper Hall will be tore down by October 2020 Dakin said. He also said they are not sure exactly what will be built in place, but it will most likely be an updated student housing. 
"We don't really know yet 100% what is going in, but we do have what was in the Master Plan and what has been thought about," Jacobs said. 
"It's to create this viewshed and that's going to be lined with new buildings that will functionally replace Draper, as far as student housing concerns," Lawrence said. 
Hoskins said he believes the planning needs to slow down and get more input from the students on campus. He said it could cause a negative impact for future and current students. 
"Good wine is old wine, right? You have to take time and let it marinade. Let ideas sit," Hoskins said.