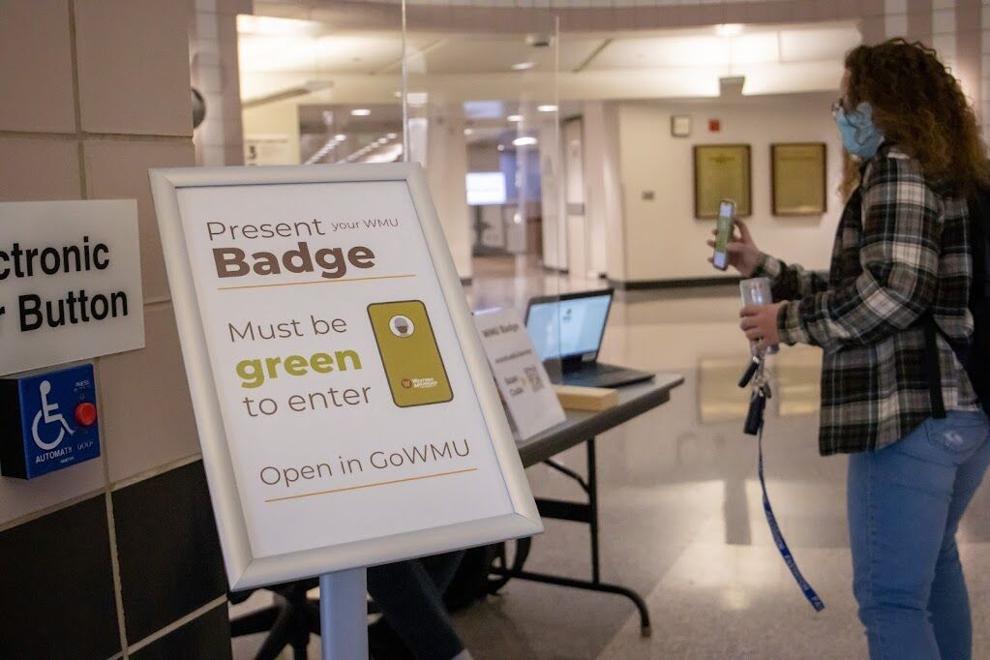 Western Michigan University relies on a virtual health survey and badging system to verify COVID-19 safety status and campus access for students and employees. 
While students and employees may be asked to display their badge in order to gain access to campus facilities, no system is currently in place to report an individual attempting to enter facilities without clearance. 
The system relies on supervisors and instructors to request presentation of a badge and enforce access policies. 
"In the event the person displays a red badge then they shouldn't be permitted to enter wherever the location may be," said WMU spokesperson Paula Davis. 
There is no record of how many individuals attempt to enter WMU facilities using an inappropriate badge status and no system for reporting a failure to enforce access policies. 
"There is an array of badges so that is the system," Davis said.
The badging system displays four colors, each representing a different safety status. A green badge is the only status which permits access to public spaces on campus, while wearing a mask indoors.
In order to obtain a green badge an individual must submit vaccination verification or complete a daily four-question health screening answering "no" to each question concerning COVID-19 contact or symptoms.
Other safety statuses indicate that an individual should not be permitted to enter campus buildings. 
A red badge signifies that an individual does not have clearance for public spaces on campus due to an answer of "yes" to one of the health screening questions; failure to comply with weekly COVID-19 testing measures for individuals lacking verified vaccination or enrollment in exclusively online classes and lack of verified vaccination. 
An orange badge indicates that an individual is required to quarantine at home and monitor for symptoms and a purple badge indicates a positive case of COVID-19 and a 10 day isolation requirement. 
As of Dec. 14, 79.89% of students, approximately 15,100 individuals, have verified their vaccination status with Sindecuse Health Center (SHC) according to WMU's COVID-19 dashboard. 
Thus, approximately 3,900 students of the 19,000 enrolled at WMU have yet to verify their vaccination status. According to the COVID-19 dashboard, only 1,377 individuals were tested in the 7-day period from Dec. 2 through 8.
From this data, over 2,500 students missed their required test and would have had a red badge following the testing period.
All unvaccinated students enrolled in any in-person classes or who wish to use campus facilities are required to be tested weekly for COVID-19 via self administered nasal tests. 
"If you miss a test your badge is going to turn red," Davis said.
 In the 7-day testing period from Dec. 2 through 8, 46 individuals received a positive test.