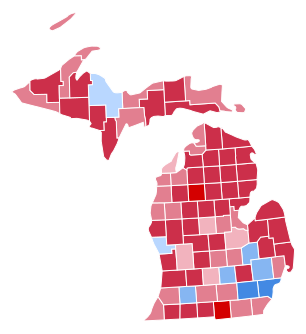 It's Wednesday, the second week of November 2016. Across the country, the millions of Americans who didn't stay up to watch the election live learn that Donald Trump is now their president. In Michigan, people wake up to the news that their state was a decider. And the decision, the statistics show, was made by predominantly rural districts.
A certain sense of political division between rural and urban areas is nothing new. In ancient Greece, Plato speculated on the difference between life in and out of the polis in The Republic. Two and a half thousand years later, give or take a few decades, this perceived division is now at the heart of American politics.  
A 2018 poll by the Pew Research Center found that 64 percent of urban residents favor Democrats, while only 31 percent of urban respondents favor Republicans. The results for rural areas were almost mirrored, with 54 percent of rural respondents favoring Republicans and only 38 percent favoring Democrats. The same poll found that 54 percent of urban Americans believe that rural Americans think poorly of them and 50 percent of rural Americans believe themselves to be looked down upon by urban Americans.
In communities across Michigan, this perceived divide has caused some residents to say that communities of a size and culture different from their own have too much of a say in state government.
Jared Carrier, 18, lives in Marine City Michigan. It's a small town of about two thousand people and its economy was built around tourism, Carrier said.
"I worked at this restaurant, it had a lot of Canadians who'd go there after coming across on a ferry. So two years ago there were these really bad storms and ice damaged some of the port and the roads leading up to it. Now the ferries can't run," Carrier said. "The restaurant had to close, it couldn't stay open without the business."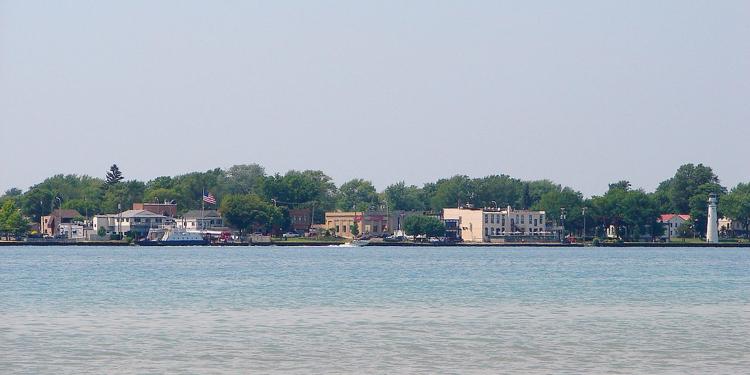 Carrier said that the town tried to reach out to the state government for aid but was rejected, with state funds being redirected to more populous areas within their district around the same time.
"They didn't really care about us," Carrier said. "We're just some small town that won't make much of a difference. That's what they see."
Selina Cardiel, 21, of Carleton Michigan shared some of the same concerns. Lifting her right hand up, she used her left to touch the area just below her thumb and above her wrist.
"What gets me is that I'm here and I have the same representation as someone here," she said moving her finger from the base of her thumb to the palm of her hand.  Carleton shares a congressional district with parts of Lansing.
"It's a completely different dynamic living there (Carleton)," Cardiel said. "I mean, it's more conservative – all sort of yee-haw, cowboy farm-town. Being on the lake and stuff it faces a lot of issues that other places don't. I'm not so sure that people who aren't from Carleton could really understand."
Danielle Richardson, 21, of Detroit said that she believes while there is some common ground between different areas, there are also fundamental differences that are hard to ignore.  
"I have friends in the south that don't understand the culture of Detroit whatsoever," Richardson said. "I also have friends in much bigger cities and I do not understand their culture the same way they can."
Richardson said that she thinks individual cities have a larger influence over their representatives, on account of making up all or a majority of their constituency, but rural areas collectively have a disproportional power in government. She also said that she is unsure of whether these perceptions are an accurate representation of reality.
Peter Wielhouwer, a political scientist who studies voting patterns at Western Michigan University, said that these perceived divisions between rural and urban areas are, in fact, mostly perceptions and not a reality. The cause, he said, lies mostly in media coverage.  
"People mostly interact with people who share their community and communities have their own values and problems," he said. "And that kind of leads to stereotyping. It's part of the way humans seem to be wired. So there is a divide, so to speak, but not as much as people are feeling."
Wielhouwer said that the largest contributor to this misperception is media coverage. Media companies, he said, require conflict in order to retain viewers, so they focus on points of contention in their coverage rather than points of consensus.
"So you have all of this information and you look at Fox News and everything Trump does is going great, then you look at MSNBC and everything is terrible, and they're both focusing on contentious issues that you have feelings on. So how do you process all of this? You start stereotyping," he said.  
Wielhouwer said that media focus on points of contention. Aside from driving viewer ratings, doing so can help politicians mobilize voters.
"Savvy politicians take advantage of it," he said. "Donald Trump took advantage of it."
Taylor McGraw, 20, of Port Huron Michigan said that in her experience there is less of a division between rural and urban Americans than is often perceived.  
"Port Huron is like, honestly, the perfect buffer if you don't want to live in Detroit, but still be in the same type of neighborhood," McGraw said. "We're surrounded by farm towns though, and the people there still keep up with our culture and stuff. When you talk to them, you understand each other well enough. We're all just people, you know."
Whether real or only a perception, the divide between rural Americans continues to affect politics. As the Democratic primaries approach, a major obstacle facing several nominees is their perceived ability or lack thereof to successfully campaign in rural and rust-belt states.