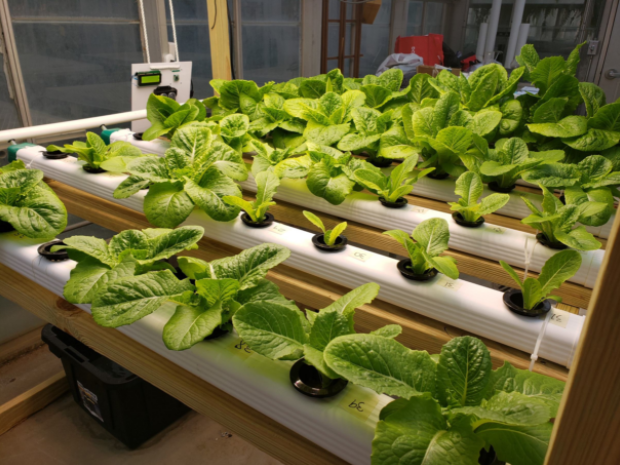 Western Michigan University mechanical engineering students Joshua Desmon and Colin Ceisel created an automated hydroponic system for their senior design thesis in the Spring 2021 semester. Upon completion the system has been left to the WMU Finch Greenhouse, where it will remain for future research and produce production. 
The automated hydroponic system is a physical structure composed of forty cells containing water and lettuce plants; electronic sensors monitor the system and transmit information to a raspberry pi computer unit. 
"Essentially we used electronics to automate all the things that normally a person would have to do on their own, so people wouldn't have to constantly go back and check their system all the time," said Joshua Desmon, a senior at WMU majoring in mechanical engineering. 
The electronics monitor temperature, electroconductivity and the pH levels of the water. The sensors gauge what the system needs and dispense the correct solutions, Desmon explained.  
"Our main objective was to make it really easy to maintain," said Colin Ceisel, a WMU graduate with a bachelor of science in mechanical engineering.
Ceisel and Desmon were inspired to create this system to help individuals grow food for themselves locally. 
"It allows you to be a lot more independent, a lot less reliant on major stores," Ceisel said. "You get cleaner produce, a lot more nutrient rich produce as well. All around it's a lot better for a human to consume."
Inspiration also came from grocery shortages which struck during the COVID-19 pandemic. 
"We looked into it and were like oh yea there's a lot of food problems right now because of COVID," Desmon said. "We saw a lot of articles where people had to dump a bunch of food, people were having trouble getting food from the grocery store because of shortages."
The automated hydroponic system offers solutions. It costs less than $2.50 a week to run the system, which can go up to two weeks without maintenance. For this cost and effort, thirteen pounds of lettuce were generated during the project, Ceisel remarked. 
"Instead of a garden in regular agriculture practices, you can grow these year long and also produce almost twice as many crops per year per unit of time as you would with average agricultural practices," Ceisel said.
Ceisel also emphasized the impact such a system could have on sustainability goals by forcing demand for traditional large scale production of produce to decrease.
"The concept and the reason why I did this project is because it's really sustainable, obviously it has huge potential in the future," Ceisel said. "If you can cut down your grocery bill and how many times you're going to the grocery store it's causing all that stuff upstream to become more sustainable." 
The system also offers urban areas the chance to produce local produce.
"You'd have the ability to provide fresh produce in the city, reducing transportation costs, reducing a lot of overhead costs," Ceisel said. 
The concept is promising as a business initiative for Ceisel, who expressed hopes to sell automated hydroponic systems or produce grown in one.
"If we can make it into a full blown product I think it would be really awesome to sell automated hydroponic modules," Ceisel said.
Desmon and Ceisel's project system is being taken over by the WMU Finch Greenhouse, which funded LED lights for the project. 
Chris Jackson, director of Finch Greenhouse, will be managing the system. He intends to restart growth in the system soon with an assortment of produce such as lettuce, spinach or basil. 
"My plan is to grow stuff and get in contact with our university dining chefs to see if they would be willing to take the stuff and use it," Jackson said. 
Campus-grown produce means eliminating emissions used to grow and transport food as well as reducing food costs for WMU and students.
Jackson also expressed hopes to continue use of the system by students and faculty of the Department of Biology for research.
"It was a win-win, for Josh and Colin, and it was a win for the Department of Biology to have this," Jackson said. 
WMU students, faculty and staff can visit the automated hydroponic system and other plant life at the WMU Finch Greenhouse located outside Wood Hall.