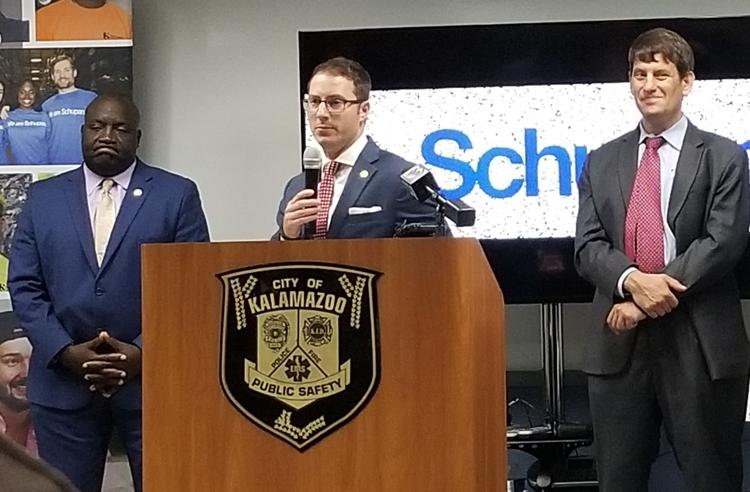 State representatives revealed a new bipartisan plan today that would see an expansion of Michigan's expungement laws and establish automatic expungement.
The plan was announced at two press conferences held in Detroit and Kalamazoo. State Rep. Graham Filler, R-DeWitt, was joined by legislative colleagues as well as Mayor Bobby Hopewell and community members at Schupan and Sons recycling in Kalamazoo for the announcement. 
The plan consists of several alterations and expansions to Michigan's  existing expungement laws. Among other changes, the plan would make expungement automatic for those who already qualify for expungement via petition. Violent offenders and offenders who were convicted of serious misdemeanors would not be eligible for automatic expungement and would still have to apply via petition.
The plan would also expand the possibility of expungement to those with up to three felonies for those without assault or similar crimes on record and up to two felonies and four misdemeanors for those with such crimes. Murder and other major felonies are currently excluded from expungement and would still be excluded under this new plan.
In light of the legalization of marijuana for recreational use, the plan further allows for the expungement of marijuana related convictions if the actions that led to the conviction are now legal. 
Those announcing the plan said that it will benefit businesses and the wider community alongside the obvious benefits to the convicted.  Filler, the chair of the House Judiciary Committee, said that a criminal record is one of the biggest barriers to employment and that allowing those who have paid their debt to be free of it could provide Michigan employers with thousands of new job candidates to pull from. 
"Why are we still stigmatizing these people?" asked State Rep. David LaGrand, D-Grand Rapids. He added that the safest communities are those where people are able to find legal, stable work.
"Transformative things happen to people's lives when the label 'criminal' is removed," he said.
Mayor Hopewell said that he believes the plan, if passed, will mean new opportunities for Kalamazoo residents and businesses. 
"We have been idiots in dealing with people who go and pay their debt to society. They get out and can't pay their debts," said Hopewell. He then called the plan "A new day, not a perfect day, but one that presents a way forward." 
Hopewell then introduced community member Starr Try, a mother of three, has three possession charges from more than a decade ago.  Try has gone the past 10 years without any other criminal charges. She said that she supports the plan and is hopeful for what it could mean for her and those like her. 
"I would like to be given the same opportunity as everyone else and not looked at as a criminal," Try said.
After the press conference, Try expanded on how her record has affected her life:
"I actually recently graduated from [Kalamazoo] Valley for nursing, I still have to take my licensing tests, and throughout the school they're always telling you that a job isn't guaranteed. When it comes down to it a lot of employers don't want to hire people with a record, and if it comes down to someone without a record and me, it won't be me."
Since the work of nursing involves handling controlled substances, Try said that she particularly worries about finding a job in her field.
"Marijuana is technically considered a controlled substance. I'd never steal a patient's drugs, but when they're looking at your record and they see 'possession,' I don't think they're looking to see possession of what," she said. "One time I even called a place just to see whether it would be an issue and they told me that I would not even be considered."
The legislation making up the plan will formally be introduced into the Michigan House later this week. Filler said that he believes the plan will make it through the legislature. 
"We believe we will have bipartisan support across the board," he said. 
Once introduced, the legislation will enter committee. Filler encouraged those who would be affected by the changes to visit and share their stories with the committee in Lansing.