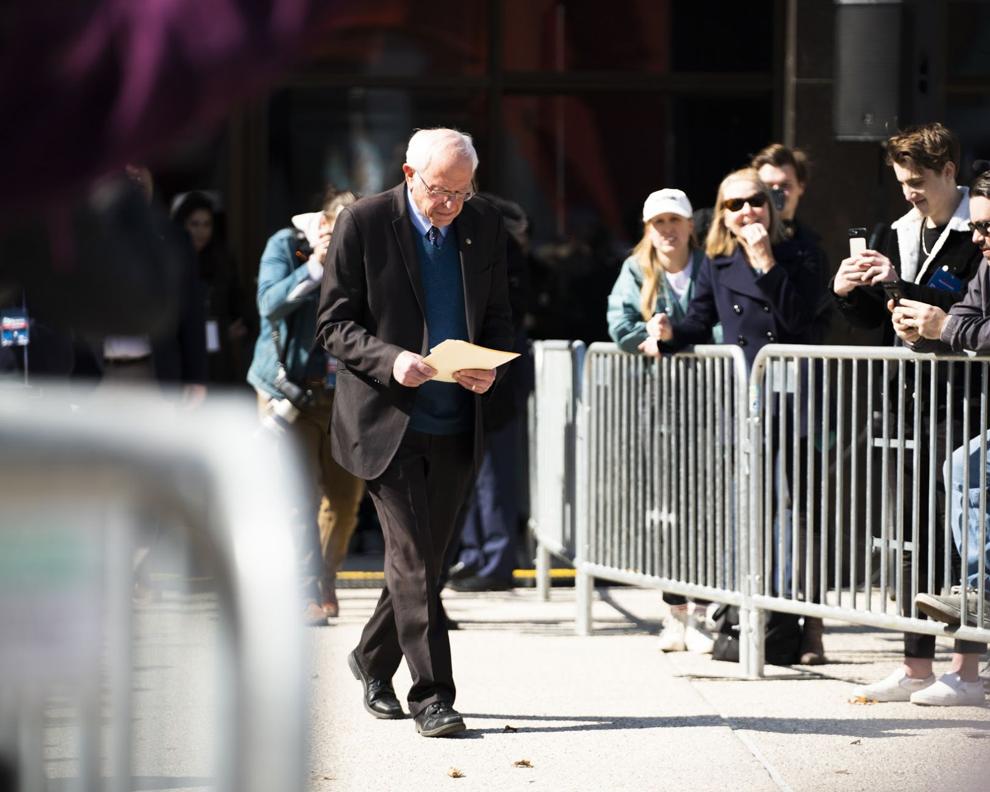 Vermont Senator, Bernie Sanders, announced he would be dropping out of the Democratic presidential primary on Wednesday, April 8.
For many Sanders supporters, he represented a much-needed shift from mainstream Democrats. In his policies, he put the needs of the working class above all else and staunchly advocated against large corporations and billionaires influencing political candidates through campaign contributions. 
Sanders' message reached voters particularly in Kalamazoo, where weeks before the March 10 primary, the Sanders campaign opened an office downtown.
Perhaps the move could explain the senator from Vermont's success in the county: Sanders earned 43.1% of votes in Kalamazoo— the second highest percentage of votes by county for Sanders in the state of Michigan only to Washtenaw County (45%).
On Western Michigan's campus, the Sanders campaign even sparked new ideas for WMU Democrats President Cole Hamilton.
"Bernie Sanders' original campaign is what opened the door to leftist politics for me," said Hamilton. "His working class politics and his campaign with a strong working class identity helped me transition out of a xenophobic and nationalist phase in my political development in high school to a more internationalist working class oriented form of politics which is where I am now. Bernie spoke the language of the neighbors and the working class values that I grew up with."
The majority of Sanders' support came from younger voters according to exit poll statistics from the New York Times. In Michigan, voters aged 18-29 and 30-44 supported Sanders. Older voting blocks supported Joe Biden, former vice president for the Obama administration. Biden won Michigan's primary with 52.9% of the vote.
Western Michigan's WMU Democrats announced their support for Sanders on March 8. They coordinated with a group of Sanders supporters from California to hold a Sanders rally at the flagpoles on March 10, Michigan's primary election date. 
"If you want a world with more equality; if you want a world with more opportunity; if you want a world that's going to be sustainable for every single person, there's only one choice," WMU professor and former Kalamazoo mayoral candidate David Benac said to the crowd while introducing a performer.
Aeron Lynn Atkinson, a local basehouse DJ played a set at the rally.
"I'm just trying to do whatever I can for Bernie Sanders because he is a beautiful human soul," they said in an interview with Western Herald at the rally. "He's trying to do lots of things for lots of people, especially the most vulnerable."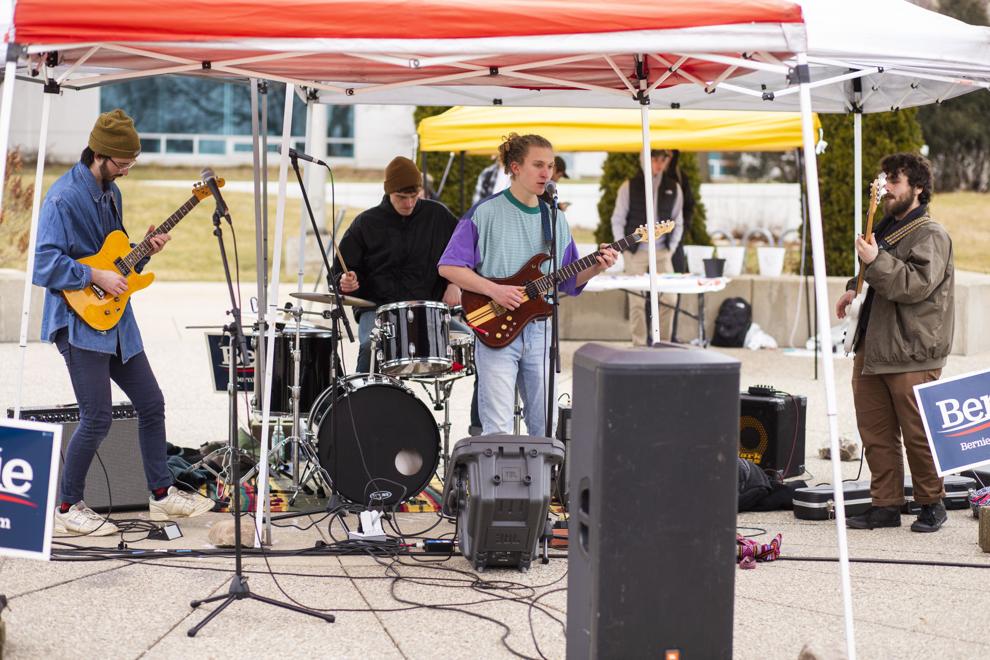 Sanders' advocacy for the middle and working class is one of the reasons why fourth year media & technology arts student, Henry Poznanski, voted for Sanders. He attended the rally thirty minutes after casting his vote for Sanders.
"I support Bernie because our current political system is extremely broken and works only for the very rich," Poznanski said in an interview with Western Herald during the rally. "Bernie is the only candidate, at least among the ones we have right now, that is capable of bringing about the kind of change that we need." 
Climate change and the rise in gloabal populism were two topics of concern for Poznanski.
"I think Bernie is the only candidate who is qualified and who has the convictions to deal with those things," he continued.
One of the hallmarks of Sanders' campaign was his support for the Green New Deal, a congressional resolution which lays out a grand plan for tackling climate change and economic inequality. In the Senate, the bill was voted down 57-0 (43 Democrats voted no in protest), halting its legislative progress for now.
"We need to address climate change, we need medicare for all, we need everybody to have health care," Benac said to the crowd at the rally. "It's a national security issue at this point."
Hamilton, who speaks on behalf of himself and not the WMU Democrats as a whole, agrees with Sanders' stance on climate change.
"At the end of the day, if the U.S. doesn't get on board with a green agenda, the world will not stop climate change," Hamilton said.
Benac elaborated on his reasons for supporting Sanders in an interview with Western Herald at the rally. He believes Sanders' voting record speaks for how well Sanders understands the connections between major socio-political issues like race, gender, the environment, economics and war.
"I think he's the only person that sees the connections," Benac said. "We can't fix one thing, we're way past the point where we can solve one problem without solving others at the same time so we need big changes."
Freshman WSA representative for WMU democrats, Seezan Poudel, was inspired by Sanders' campaign.
"Personally, Sanders' message that we, as humans, are connected on so many levels and it is important to look after one another is something that has had a big impact on me," Poudel said. "This worldview allowed me to understand the importance of policies like Medicare for All and the Green New Deal."
Poudel hoped Sanders would continue his campaign to help popularize and encourage the Biden campaign to move towards supporting Medicare for All. When asked whether he'll support Biden or Trump in the general election, Poudel said he'll support neither. Because he is a Nepalese citizen, he will not be voting in the general election.
"If I had to make a choice, I would support Biden but with little enthusiasm," Poudel said.
Hamilton was disappointed in how Sanders ran his campaign. He believes Sanders should've taken a tougher stance on voter suppression and done a better job of diversifying his message. 
"He doesn't seem to understand that the DNC and the lifelong party people will not like him no matter how nice he is to them," Hamilton said. "Bernie Sanders and his message at the end of the day threatens to make them obsolete politically. We can't expect them to just be willing to give up their power just because we're nice."
Hamilton is unsure of whether he'll vote for Biden but will not vote for Trump.
"If we just say that we will give our vote to the DNC's candidate without the Biden campaign offering key progressive concessions, we can never get the change that we need and will not stop climate change," Hamilton said. "If he would pick one main progressive issue such as eliminating student debt or have Bernie as a token progressive VP, I would vote for him. Unfortunately, I don't think that he will do that."
The WMU Democrats have not yet endorsed Biden.