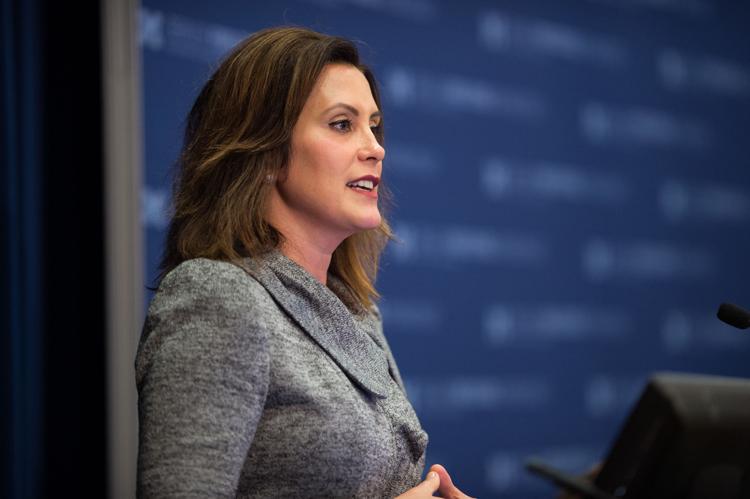 Gov. Gretchen Whitmer signed a bill Wednesday that will allow college athletes in the state to begin earning money from endorsement deals. The law will take affect on Dec. 31, 2022.
The legislation, House Bills 5217 and 5218, ban colleges and universities from preventing student-athletes from profiting off of endorsement deals and other name, image and likeness opportunities, and strikes down a section of the Penal Code which prohibits sports agents from signing athletes before their college eligibility stops.
The bills were sponsored by Reps. Brandt Iden, R-Oshtemo Twp., and Joseph Tate, D-Detroit. Both Iden and Tate were student-athletes in college. The NCAA is currently working on rule changes to allow student-athletes to profit from their name, image and likeness. Decisions are expected to be made in January at the NCAA convention to go into place for the 2021-22 academic year.
"As only the second state in the nation to pass this historic legislation, I am proud to sign this bipartisan legislation today on behalf of our current and future student-athletes," Whitmer said in a statement. "I am hopeful that the NCAA will set a national standard so that all players across the country are afforded the same opportunities."
Currently, NCAA rules prohibit students from profiting off their name, image and likeness in any way. California was the first state to pass a bill against this rule, prompting the NCAA's decision to look into changing it.
"At its core, this legislation is to ensure student-athletes in Michigan are treated fairly and they are able to have fulfilling college experience," Tate said in a release. "I am proud of the opportunity to work on getting this legislation across the finish line."
The bills do not allow students to use trademarked logos, names, intellectual property, and symbols of schools, conferences or associations. The student-athletes will only have the right to market themselves and their own image.