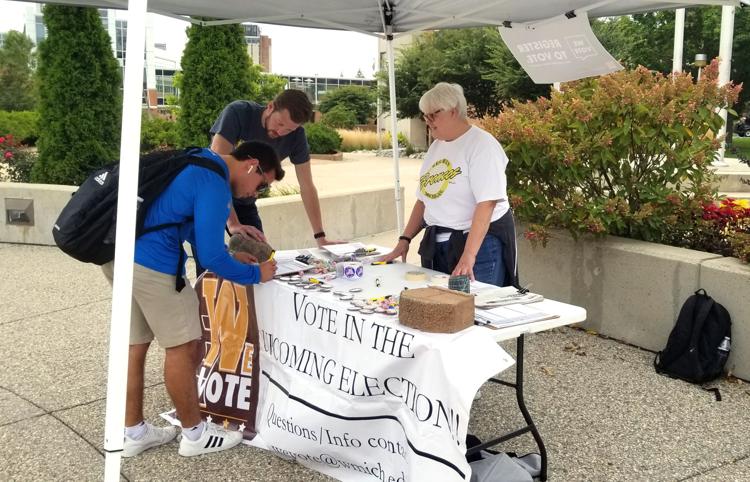 Ahead of the upcoming mayoral and city commission election, WeVote tabled across campus on Sept. 26 in celebration of National Voter Registration Day.
WeVote is an organization that works to promote democratic engagement in three phases: voter registration, voter education, and voter turnout.
The goal of the event was to get as many people as possible registered to vote. Tables were set up in various locations around campus, including Waldo Library, the Bernhard Center, and the flagpoles.
With a form that took less than five minutes to fill out, the process was simple. Organizers of the event reported that they began to run low on forms in multiple locations and had to get more.
"It's important for college students, and really anyone, to be registered to vote so that their voice can be heard," said Evan Heiser, an executive committee member of WeVote.
40% of the electorate in the next election will be between the ages of 18 and 29. In 2018, Pew Research anticipated this to be the case, predicting in 2018 that Millennials would overtake Baby Boomers as the largest potential electorate. However, due to the historically low turnout of young voters, Pew did not predict Millennials to overtake Baby Boomers as the largest actual voting bloc. Peyton Jorgensen, a student coordinator, cited the low turnout among young people as a reason that students need to vote.
"Leaders. . .reflect the people who vote," Jorgensen said. "So, if we start voting, the leaders will start reflecting us."
WMUK and the Department of Political Science will be hosting a candidate forum at Schneider Hall on Tuesday Oct. 1 at 7 p.m. The forum will feature both city commission and mayoral candidates and comes a month before the Nov. 5 election.