Over 100 people packed a Kalamazoo Planning Committee meeting to discuss a proposal to remove a natural features protection overlay and a rezone land near the Asylum Lake Preserve. 
The owner of the property in question seeks permission to build a Drive and Shine car wash on the corner of Stadium Drive and South Drake Road near the lake. When the owner found out the area is protected by the natural feature's protection overlay, the owner requested that the protection be removed so the car wash could be built.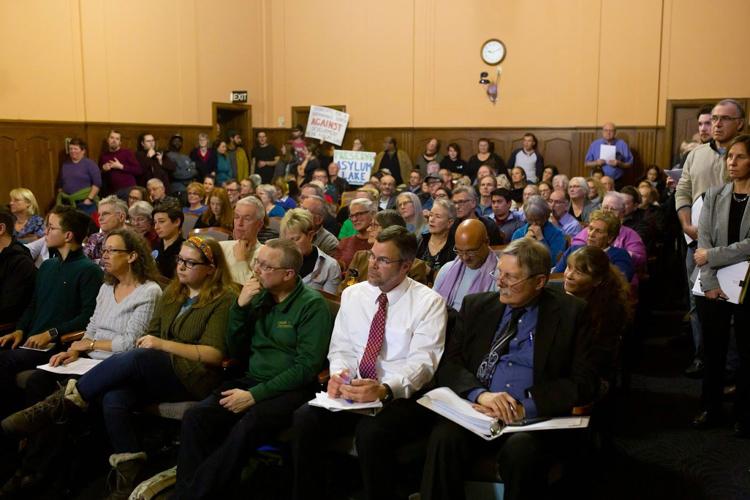 Imagine Kalamazoo's 2025 master plan defines the NFP overlay as an area with existing natural features such as creeks, floodplains and stands of large tress which should be protected through such methods as conservation easements or land acquisition.
The owner also requested that the property be rezoned as for commercial use. Citizens did not like that idea as they believe a car wash should not be by the lake. About 8800 people signed a change.org petition asking the commission to deny the proposal.
Haji Tehrani, CEO of Drive and Shine, believes the development is a positive thing for the city and it has been blown out of proportion.
"Our development has been mischaracterized," Tehrani said. "Our development plans are 100% with your master plan, in our development strategy we will leave quite a bit of greenery on your lake and we will not be able to see any buildings on this land."
Drive and Shine has locations in Indiana and one on West Main Street. Tehrani became aware of the property near the lake three years ago and bought it so he could build the car wash. He worked with the city of Kalamazoo to get the area rezoned and he believes the project should move forward after assurance he could develop the property.
"Would it not be unethical that after such heavy investment we made in your city, relying on your master plan, we would be denied the opportunity to develop the property as we were told we could," Tehrani said.
Citizens believe putting a car wash near Asylum lake will do more harm than good to an already heavily traveled area of Kalamazoo. There were 58 public comments at the meeting which expressed concerns from greenery to quiet space to traffic concerns.
"You cannot put a price on this earth and no company especially one from Indiana has the right to hurt our protected environment," said Portage resident James Asher. "I and so many students, adults and community members beg you to deny the removal of our NFP overlay protections and this entire construction."
Students and families in Kalamazoo come to Asylum Lake to enjoy its beauty as well as its peace and quiet. Some have grown up near the lake. The area has been untouched by commercial land development while other areas near the lake have been developed into commercial properties.
"I was outraged and disgusted, I grew up near Asylum lake Preserve and all I could think of was my childhood spent there and how future generations would be deprived of that." said sophomore Roland Bissonnette. "I know there is an incredible variety of wildlife all throughout Kalamazoo, I see the family of white tail deer that live in asylum lake in my background almost every day and knowing that their habitat would be destroyed for a car wash is ludicrous."
Two representatives of the car wash voiced their support for the project during the public comment portion.
The planning commission voted to recommend denying the rezoning of the property and removal of the NFP overlay. The planning commission is a recommendation body which means the issue now goes to the Kalamazoo City Commission which is likely to take up the issue at the next city commission meeting on Feb. 3.