"What did he say?" a woman screamed into a megaphone. "I can't breathe," the group of protestors marching behind her screamed in response.
This was the scene in downtown Kalamazoo as hundreds gathered to protest racism, police brutality and the murder of George Floyd on May 30. Saturday marked the fifth night of nationwide unrest. 
The protest remained peaceful aside from one instance in which Kalamazoo Department of Public Safety Officer Chris Rieser commanded a group of officers in full riot gear to shove protestors back before the officers left the scene. 
WMU Democrats President, Cole Hamilton, witnessed the scuffle.
"I have no idea why they showed up," he said. "The whole march was very organized and not violent whatsoever. They were probably trying to intimidate us."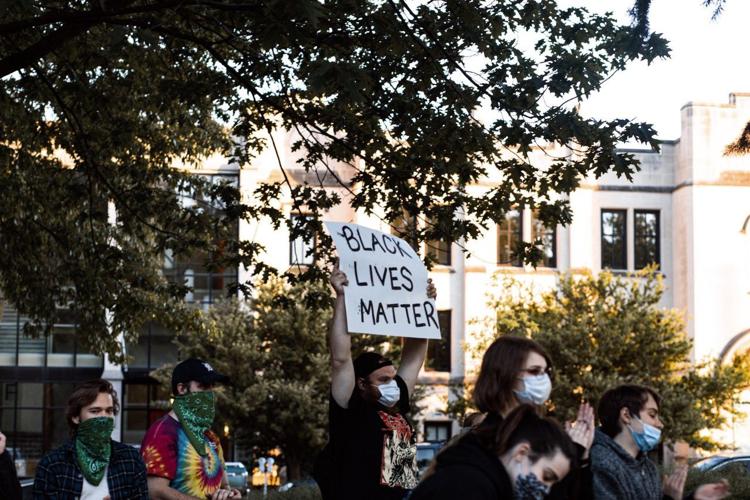 The protest culminated in Bronson Park as individuals took the stage and passed around megaphones to speak to the crowd. 
At one point, a white woman took the stage and addressed problems specific to KDPS. She informed the crowd of an incident ten years ago in which then Sergeant, Jeff VanderWiere, punched a teenager who spit in his face when officers responded to a report of shots fired. 
"He is now the assistant chief of KPDS," she said. VanderWiere is now the Assistant Chief of Strategic Planning for KDPS. 
The woman continued to explain how she used to believe she was color blind but changed her mind after making complaints to KDPS that fell on deaf ears. 
"For over three years I tried to get the media to step up to see what KDPS has been doing, I made complaints against the department for what they've done because their officers know they can get away with everything," she explained.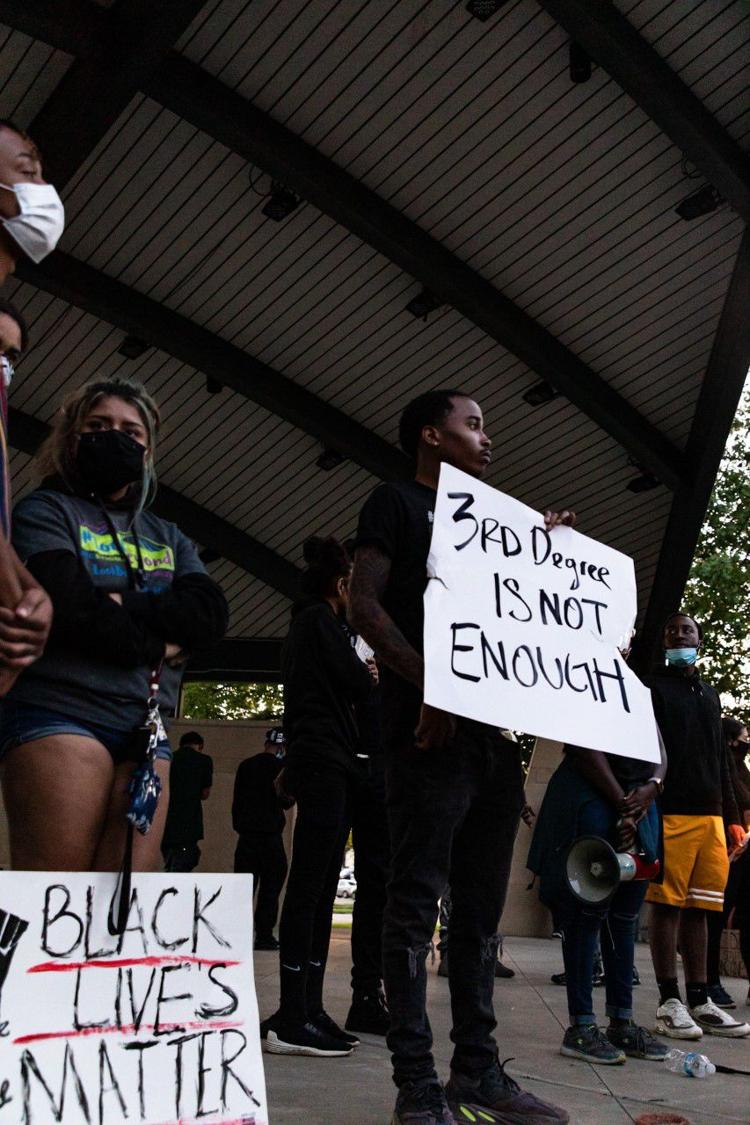 She then acknowledged a lawsuit filed by Amir Khillah in 2018 against the city of Kalamazoo for racial and ethnic discrimination. In the lawsuit, Khillah alleged he was racially discriminated against and advised by his sergeant to issue more tickets to black drivers. 
"We need to come together and change," she continued. "It doesn't matter about where we've came from or what we've done. It's about what we're going to do today and from here on out."
The crowd cheered in response.
She closed by sharing the story of Cornelius Fredrick, a 16-year-old boy who died while being restrained by staff at Lakeside Academy after throwing a sandwich at a window. The mental health facility is just a nine-minute drive from Western Michigan University's campus. 
Next, a man who immigrated from Nigeria took the stage.
"Look around, who do you see, human beings," he said. "We are one race, built the same, but enough of racist police forces killing black people for no reason."
He echoed the words of Martin Luther King's Jr.'s "I Have a Dream" speech where King wishes for all citizens to be judged not by the color of their skin, but for the content of their character. He then explained the dream has not been realized because black people are still being killed. 
"Over and over again we are witnessing broad daylight murder, lynchings of many Americans, especially the black African-Americans," he said. "If we don't learn from history, history will repeat itself."
He concluded by explaining how all people must unite to end racism in the United States.
"Racism will not just go away with time; racism will not just disappear into the air one day," he said. "We have to come together, this is our collective responsibility. It won't go away until the black, white, Hispanic, Latino, all come together and say no."
Later a young man advised the crowd to use financial means to change systems. He explained how money funds politicians, who then make laws and control systems.
"Stay mad, bro, stay mad with your dollar," he said. "You can change the system with your dollar. If you want to have a voice in the system put your money in."
Some protesters questioned why people need to see videos of black men, women and children being killed to know there's a systemic problem.
After questioning how many times police brutality must be explained away by the claim someone was resisting arrest, one man led the crowd in a "hands up, don't shoot" call and response. The crowd responded with thunderous applause.
As the skies darkened, one mother of two took the stage to explain how she heard her two young black sons as Floyd called for his deceased mother while he was being suffocated.
"I don't know about y'all babies, but mine are not going to die under a white man's knee," she said. "My kids are going to bury me, I ain't burying my kids. And I'm not going to peaceful protest if they die."