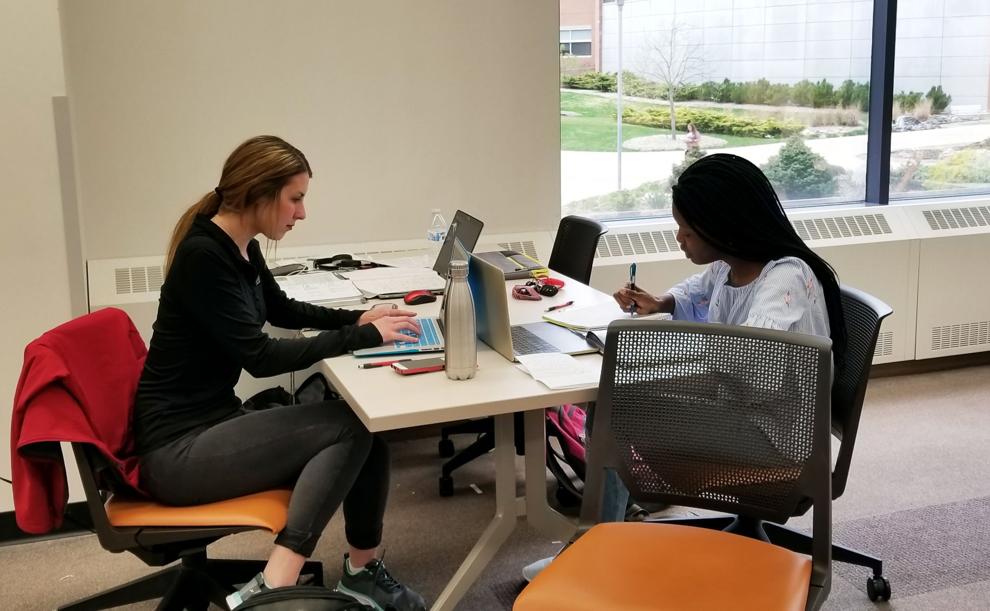 Western Michigan University experienced a campus-wide network outage midday on Thursday, the last day of finals week. Students were frustrated as the outage prevented access to final exams that were scheduled to be administered online as well as access to study materials, but network access was restored by Friday morning and students affected by the outage were not penalized.
At 11:59 a.m. WMU announced that there had "hardware failure with its network" and that the network should be up by 12:15 p.m. Later that afternoon parts of the network, including elearning, were still down. Statements released by Provost Jennifer Bott said that the deadline for faculty to submit final grades has been extended one day, and that professors should work on a class-by-class basis to decide how affected final exams and assignments would be made up with the final exam calendar officially being extended until midnight Friday.
According to a statement by Bott, the outage was caused by the failure two routers through which most of the university's network traffic flows. Two routers are used so as to provide redundancy, and both failing at the same time was an extremely unlikely scenario.
"The probability of both failing simultaneously is incalculable," read a statement by Bott.
Services affecting students were up and running by Friday morning. Tom Wolf, the director of the Office of Information Technology, described the problem and how it was resolved.
"Two of WMU's primary layer 2 network routers started failing around 10 AM Thursday morning. Because they are critical pieces of WMU's network it gave the appearance that the entire network was down," Wolf said. "It took several hours for WMU technicians to evaluate the entire network and determine that the issue resided in these two layer 2 network routers."
Wolf said that by 1 p.m. a support person from the manufacturer of the routers was on campus working with OIT.
"At some point during the day the on-site support person escalated the issue to his company's global support center. WMU technicians worked diligently with the vendor's support team for roughly 12 hours and by 1:15 a.m. Friday morning WMU's network and all the systems and services that use the network were back online and available," Wolf said.
Although professors are working with students who were affected by the outage, the many hours without network access proved stressful for students as the failure made it hard for students to communicate with professors on how to proceed.
Kyra Barnes, a music major, said that she was frustrated to wake up to the news that the network was down. After learning about the outage Barnes went to Waldo Library to study, a task that proved difficult without network access she said.  Barnes said that while she'd taken most of her finals already, the outage was preventing her from taking her guitar final exam and from accessing important study materials.
"I can't access the rubric that I need for my Spanish class. I have to take my guitar exam, which I can't do now because it's online," Barnes said. "It's inconvenient. I mean, schedules are hectic right now. People are trying to move and rearrange their lives."
Kaela Wunderlich, a student studying with Barnes, agreed that the timing of the outage was stressful for many students.
"This is just the most inconvenient day for this. Like, out of all days, it had to happen on a lot of people's last day," she said. "I feel bad because all of these people probably came here (Waldo Library) to study. Now they can't, or at least it's a lot harder."
Wunderlich said that she was lucky to have a local copy of her study materials saved to her laptop. Wunderlich and Barnes both said that students who were unable to take final exams at the scheduled time due to the outage should be given a twenty-four-hour time slot to make up the exam so as to avoid scheduling conflicts.
Gabe Moore, a freshman business management student, said that the outage was affecting his ability to prepare for exams.
"It's extremely inconvenient. I need to do exams right now," Moore said. "I can't access study materials either. So now I can't take an exam, but I also can't use the time prepare for later."