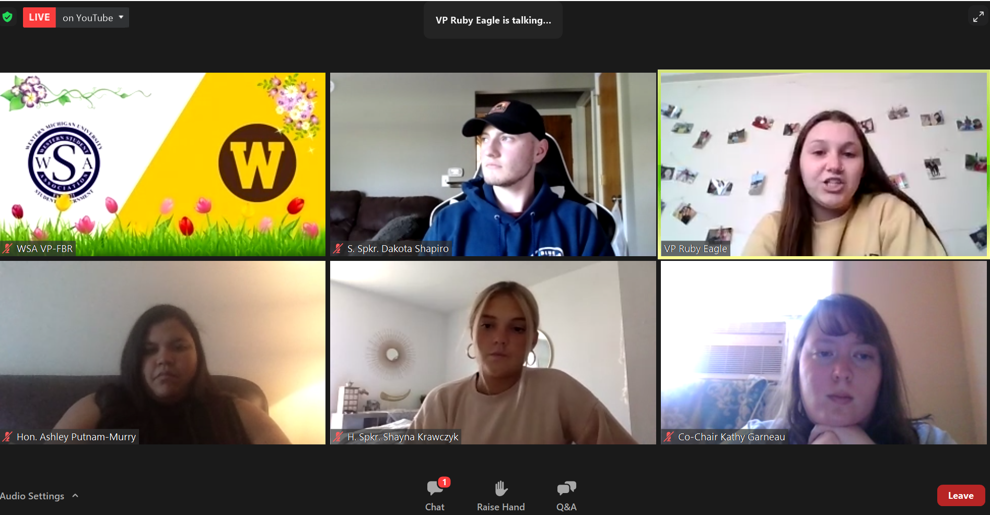 During an emergency Western Student Association Senate meeting held on April 14, WSA presidential slate Jacobi Wright and Djessy Mutombo expressed their concerns of unfair treatment by the Election Promotions Committee. 
Results of the election were delayed due to demerits filed against the Wright/Mutombo slate.  Some argued that the delayed election process benefited the Wright/Mutombo slate. The Election Promotions Committee is responsible for holding a free and unbiased election each year.
Prior to the meeting, WSA members and Western Michigan University students were invited to submit questions to be answered by the EPC during the meeting. Panelists who spoke at the meeting were House Speaker Shayna Krawczyk and Senate Speaker Dakota Shapiro as well as the EPC members: Vice President of Rules, Bylaws, and Administration Ruby Eagle and Co-Chair Kathy Garneau.
Eagle made opening remarks in the meeting, speaking on allegations of the EPC's bias and corruption. 
"These are instances in which my 'corrupt behavior' benefited the Wright/Motumbo slate," Eagle said in response to corrupt allegations, citing the extended deadline given to Wright and Mutombo to take down the Instagram advertisement they had purchased that resulted in a demerit.
EPC Co-Chair Garneau followed with her statement, supporting Eagle's remarks and directly mentioning the three demerits against the Wright slate after the appeals process was completed. The EPC issued one demerit, with the rest from student complaints evaluated by the Judicial Committee. 
Chief Justice Ashley Putnam-Murray then announced an appeals hearing was held April 15 with the decision being that the Wright/Mutombo slate is disqualified due to the three demerits.  Judicial council will release the report shortly. 
The three demerits against the Wright/Mutombo slate include a chalking infraction at Miller Auditorium, purchasing an Instagram advertisement in direct violation of the SEC, and no receipt of the purchase given to EPC after the social media infraction. 
The rest of the meeting was devoted to questions for the EPC, to ensure there was no bias or unfair treatment in the election process. 
"You're not gonna get disqualified because you chalked in a certain place, but if you continually break the SEC rules there are ramifications there," Garneau said.
No formal complaint was brought against the EPC within the deadline, so the judicial council did not investigate the EPC. Putnam explained that the council is bound by the constitution and can not do anything without a complaint brought forth.
The meeting is available for viewing here after being streamed live on YouTube. More information can be found here on the Student Election Code or EPC's public material.