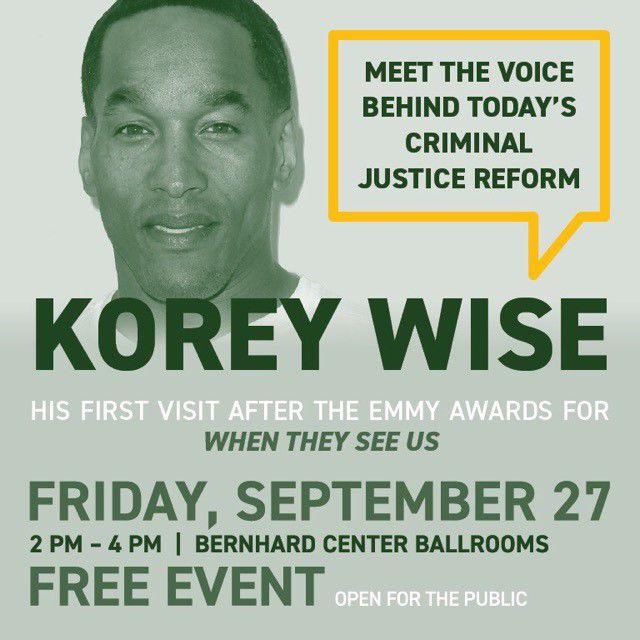 Korey Wise, one of the Central Park Five and an advocate for criminal justice reform, will be on campus this Friday to share his story. This marks his first public engagement since "When They See Us," the Netflix series detailing the story of the Five, won two Emmy Awards.
Wise's visit to WMU has been co-sponsored by the Black Student Union, Campus Activity Board and the Western Student Association. He will be in the Bernhard Center Ballrooms on Sept. 27 at 2 p.m. 
The Central Park Five were falsely convicted in 1990 and were exonerated in 2002. Wise spent 14 years imprisoned for a crime that he did not commit. Since his exoneration, Wise has traveled across the country as an activist advocating for criminal justice reform. 
"When They See Us," was nominated for 16 Emmy Awards and won two: Outstanding Lead Actor in a Limited Series and Outstanding Casting for a Limited Series. Jharrel Jerome received the acting award for his portrayal of Wise.
WSA Vice President Taylor West worked to bring Wise to WMU. Once the opportunity presented itself, the decision to bring Wise to campus was obvious, she said.
"Because of the timing, because of the 16 Emmy nominations, it just seemed perfect," West said. "We have criminal justice majors, political science majors, all kinds of majors that would want to hear from him and ask him questions." 
Jerjuan Howard, president of the Black Student Union, worked with West in bringing Wise to WMU. A criminal justice major, Howard was familiar with the Central Park Five before seeing "When They See Us." Despite his familiarity, Howard said that seeing Wise's story portrayed in the series brought
"It was mind blowing, it was crazy," Howard said. "I mean, you read these stories, but seeing it performed, that was almost heart breaking."