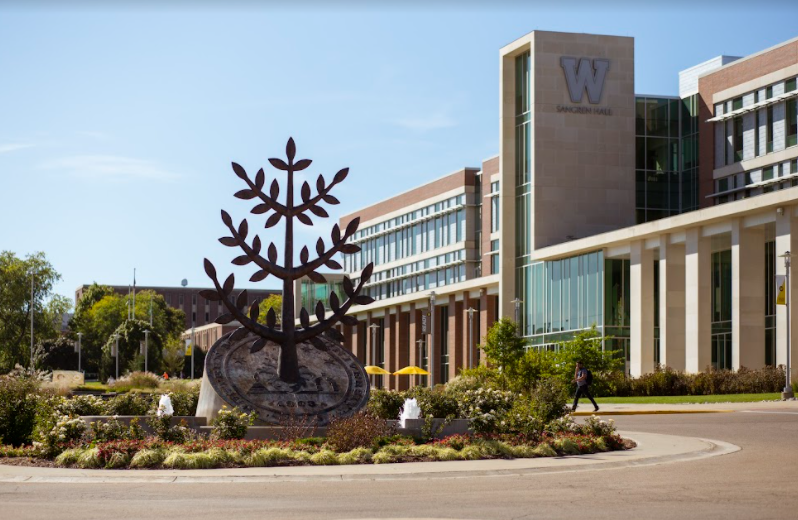 Western Michigan University held the inaugural Fallen Bronco ceremony Friday, Oct. 8 to honor students, employees and other affiliates who have passed away during their involvement at the institution. 
This first gathering memorialized those who have passed since the beginning of the COVID-19 pandemic. The ceremony featured messages from campus leaders including Campus Minister Kathleen Robertson King.
"So many times we are uncomfortable with the depth of sadness people feel when a loved one dies and we want to move on as positively and quickly as possible," Robertson King said. 
She continued: "Make this be a time and place that offers us the opportunity to name our weary experiences of loss and grief in all their fullness." 
Students, employees and families of the deceased were invited to take part in the event. Long stemmed white roses were designated for those who came in memory of a passed loved one. 
WMU President Edward Montgomery shared sentiment with the individuals in attendance.
"Your loved ones are not forgotten, they will always be part of Western Michigan University," Montgomery said. "Please know that they were cherished members of our community, that they live on as parts of our legacy."
The ceremony featured a variation of  "Taps" performed by the Western Brass Quartet. The piece is unique to WMU and was composed by Lindsay Dills, a senior student in music performance and music composition. 
The program was inspired by Silver Taps, a similar ceremony at the Texas A&M Military School.
The Fallen Bronco program was developed by the WMU Faculty Senate in order to unify various memorial efforts on campus. The initiative was headed by Faculty Senate President Marilyn Kritzman.
"It's a kind of a program that a community would do to pay their last respects, and Western is it's own community," Kritzman said. 
Additional ceremonies will take place at the Flagpoles each April and October as necessary.