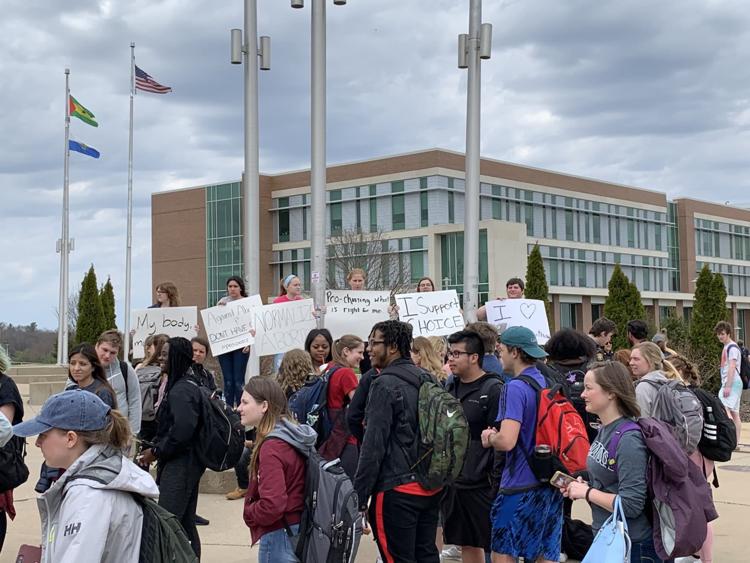 An abortion demonstration caused a stir on Western Michigan University's campus Tuesday, April 16. This demonstration caused quite a disturbance on campus, with the demonstration showing graphic photos of aborted fetuses as well as a live video of an abortion.
This demonstration was put on by a an organization called Created Equal, whose mission is, "to transform students from across the nation into a family of pre-born defenders," according to their website.
"Created Equal is on college campuses using graphic imagery to create dialogue with students on abortion," said Evangeline Dunn, program coordinator for Created Equal. "The images are graphic because abortion is graphic."
Created Equal sets out on college campuses to show the young adult age group the reality of what abortion looks like. Created Equal does not have any religious affiliation, as many people presumed.
"We focus on a foundation of science to find a common ground," Dunn said.
Students had very mixed reactions to Created Equal's presence on campus, some showing support for the message while others adamantly opposed it.
"I think it is disgusting, I think it's fear mongering, if you want to voice your opinions that's fine but you don't have to go about doing it in such a disgusting manner," said Megan VanAsburn, a student at the protest.
"There's so many other things they could be doing to get the students to interact with them, it's really messed up," said Erin Gillian, another student at the protest.  
The demonstration went on for a few hours and it was followed by a student pro-choice protest that continued for some time after. The students held signs up in defense of the pro-choice argument as well as engaged in a long debate with those from Created Equal. The demonstration remained peaceful, though rumors of a fight breaking out spread across campus, but that claim was denied by a police officer on site at the time.
A debate kept going on for hours by students after the demonstration left. This debate got quite heated at certain points but overall remained civil. The WMU Public Safety was called a few separate times by students but they were not able to stop the protest because the images, while disturbing, are protected by the First Amendment.
"The part I don't understand and where I draw the line is why all of this should happen on Western's campus," said Aidan Mclogan, sophomore.
The anti-abortion people that are on campus right now are literally too much like why would WMU ever allow them to be on campus acting like this?

— Dé (@dejaniraiyanla) April 16, 2019
"The anti-abortion people that are on campus right now are literally too much like why would WMU ever allow them to be on campus acting like this?" said one Twitter user.
The demonstration sparked quite an intense dialogue on whether or not something like this should be able to be shown on Western's campus. Many questioned the reason administration approved an event like this to take place.
Many students said they would be fine with a open and calm discussion about the issue of abortion, but they think that this group went about it the complete wrong way.