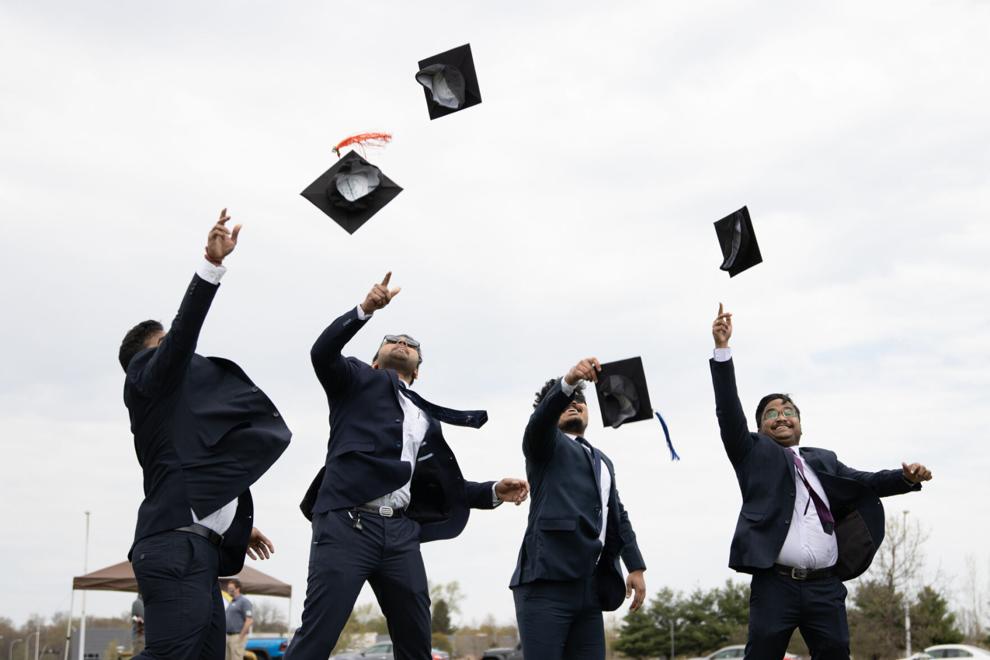 The Western Michigan University College of Engineering and Applied Sciences held an in person celebration in addition to the virtual commencement ceremonies on Saturday, May 1. 
The event took place on the front lawn of Floyd Hall with photo backdrops and individual tents set up for each of the seven engineering departments.
"We had 267 graduates from the college this semester so we know some of them have already gone home," said Steve Butt, dean of the College of Engineering and Applied Sciences. "For those that are here it's been really nice to give them an opportunity to get outside and take some pictures." 
Graduates were given a commemorative challenge coin in addition to their diploma.
 "The idea is that they would carry this part of Western with them, particularly our college," Butt said. "If I pull my coin out to a graduate and they don't have their coin on them then they owe me a drink, now if they pull theirs out I owe them a drink."
Students were glad to have an opportunity to celebrate.
"It's better than completely virtual," said Mechanical Engineering Graduate Yash Kiran Jange. "I would have liked it to be completely normal but given the circumstances it's the best they could have done."
Lionel Lwaba, an electrical engineering graduate who will go on to work for Consumers Energy, expressed appreciation for the in-person portion of commencement. 
"I think having this in person part is important because we need to keep memories of this moment," Lwamba said.
COVID-19 created an interesting set of challenges for the college as many classes were forced online. 
"This biggest challenge has been laboratories; we do a lot of hands-on laboratories out here," said the Chair of the Electrical and Computer Engineering Department Brad Bazuin. "So we built a hybrid structure for this semester where one person could be in the lab and have a team-mate who wasn't and rotate, so they can both get some hands-on experience and at the same time get the understanding the laboratory is meant to deliver."
Despite the challenges of virtual class, students made the effort to get the most out of their education.
"We had some difficulties due to covid not meeting up in person for projects and stuff like that, but Western did make a decent effort of making that work with the online education, I think that we had the online resources that we needed to succeed," Jange said. 
Other graduates from the college agreed, like Andrew Hopps, a mechanical engineering graduate who was hired to start as a processing engineer at Safari Circuits.
"I was surprised with how much I could still connect with people who were in my classes even though I wasn't physically in class with them," he said.