Bishop Bradley, from the Diocese of Kalamazoo, opened the evening in a word of prayer in front of a packed crowd in Miller Auditorium eagerly awaiting the legendary former football player, coach, and analyst Lou Holtz.
"Father, we thank you for bringing us together to hear Lou Holtz this evening. A man that we have admired in so many different ways and for so many different reasons. A man that is very accomplished in so many different areas in his life, but who admittedly, is most proud of his success as a man who has been married for more than 50 years to his wife Beth, as a parent to his four children, and as a loving grandfather," said the bishop.
After the prayer and a short raffle drawing, Holtz walked out to center stage and was greeted with a standing ovation. "You have no idea how nervous I got when you got up, I thought you were getting up to leave," Holtz jokingly told the audience.
Holtz noted that in 1957 he played the last football game of his collegiate career in Waldo Stadium as a linebacker for Kent State University, a game the Golden Flashes lost 28-20.
"You know a little bit about me, let me tell you what I know about you. I know I'm talking to a group of very compassionate people… But I also understand, I'm talking to a group of people that have problems and difficulties that everyone has," said Holtz.
Holtz made it clear to everyone in the audience that his intention was not to preach or lecture, but rather, to share his genuine beliefs and experiences.
"The things I am going to show you are things I believe in and every story is absolutely true. I am not going to talk about things I have read or heard about, I'm going to talk about the things I believe in," Holtz said.
Holtz, who finished in the bottom third of his high school class, does not consider himself to be an "intellect" of any variety. "I have written two New York Times best selling books, that is true. You're looking at the only guy in the world that has written more books than he has read," said Holtz.
Growing up, Holtz was not as ambitious as he is today. "My dad had a third grade education and nobody in my family had ever went to college," he said. "I remember in third grade, a teacher asked me what I wanted to be when I grew up. I said I wanted to be a garbage collector. They only work on Tuesdays."
Holtz attended Kent State University, where he played two seasons of college football. After his playing days, Holtz turned to coaching and quickly found a passion for the profession. Holtz eventually became the only coach in the history of college football to take six different teams to a bowl game.
Holtz was known for taking over teams with dismal records and reputations and turning them into national powerhouses. Holtz transformed the struggling football program at Notre Dame into a team with ten winning records, nine bowl appearances, and one national championship during his tenure.
Holtz also revived the University of South Carolina's football program after he took over and led the team to the second greatest turnaround in the history of NCAA football. South Carolina went from having the longest losing streak in the country to finishing in the top 20 and beating Ohio State in just a year.
"Every time I took over a team with a losing record, six times, I never failed to go to a bowl game by the second season at the latest," Holtz said.
There was a strategic and consistent method behind Holtz's coaching technique that he would apply to almost every program he found himself at. "The first thing I would do is bring the team into the stadium at 10:30 PM and have the offense and defense compete in a game of tug of war," Holtz said. He would then emphasize that the team can't win when they pull against each other.
Holtz would also introduce the team to his three simple rules of life: Do what is right, do everything to the best of your ability, and always show people you care. Holtz said these three rules allow you to build trust, commitment, and love with everyone you meet in life. "In 40 years I have never needed a fourth rule," said Holtz.
Although there is a statue of Holtz outside of Notre Dame Stadium, he asks that people look at only the three words engraved on the bottom of his bust: Trust, Commitment, and Love. "I did not put those words there," said Holtz. "The players of Notre Dame put them there. Those are the things we believe."
When Holtz first accepted the head coaching position at Notre Dame, he said there were a lot of things to learn. At the time, Notre Dame did not take transfers, did not redshirt their players, and had poor football facilities that they did not want to improve. 
"I was told that we have high academic standards and that we want people to come here for our chemistry department instead of our weight room," said Holtz. In addition to all that, Holtz was informed that Notre Dame is going to play the most difficult schedule they can find each and every year and he is expected to win.
"One year at Notre Dame, this was our schedule: Michigan, Penn State, Miami (FL), Tennessee, Texas, Alabama, Southern California, and Stanford," Holtz said.
He said that he was asked a few times that year how he was able to sleep with that kind of schedule in the back of his mind. "I said, like a baby. I woke up every two hours and cried," Holtz said to the sound of laughter from the audience.
Holtz was a perfect fit in many different ways for Notre Dame but especially because he was and continues to be a firm believer in always raising the standard and doing the little things the right way. "If you walked in any of my locker rooms, every shoe and every shoulder pad was exactly where it was supposed to be. That is the way you show people you do the little things in the right way," he said.
Holtz believes everything starts with having a dream and having a goal. "Don't go through life and be a spectator. Decide what you want to do. If you want to do something bad enough, you will find a way," he said.
Holtz also touched on his ability to balance the time he spent at work with his commitment to his family. Every year Holtz coached, his wife and his four children would go to mass on Sunday and to breakfast afterwards. "Win or lose, during the season or off-season, that was irrelevant to us," he said. "My greatest feat is not coaching, not speaking, not being on TV. My greatest accomplishment by far is my family," said Holtz.
Holtz's wife, Betsy, has battled with cancer for more than 20 years. At one point, she was given only a 10% chance to live after her second major cancer surgery. Holtz said that Betsy has only done one interview in her entire life and was asked what she has learned from having cancer. 
"My wife said cancer taught her how much her family loves her. Why do we have to wait until a catastrophe happens to reach out to someone and let them know how important they are?" asked Holtz.
Holtz spoke very highly about his wife throughout the night and recalled a time she taught him a very important lesson in Fayetteville, Arkansas. From 1977-1984, Holtz led the Arkansas Razorbacks to seven bowl games in seven years, four top ten finishes, and the best win-loss record in the program's history. After those seven years, he was fired by Frank Broyles, the athletic director of Arkansas at the time, for no apparent reason.
After he was relieved of his coaching duties at Arkansas, Holtz was left frustrated and bitter. Holtz said his wife was the only person who was able to convince him to forgive Broyles and the university despite his strong desire for payback. When Holtz's name later came across the desk of Gene Corrigan, the athletic director of Notre Dame, Gene decided to give Broyles a call to ask why he had fired Holtz.
"Frank said that the biggest mistake he ever made was letting me go," said Holtz. "He said If you can hire Lou Holtz, do not even speak with anyone else. I ended up at Notre Dame because my wife would not let me be bitter."
One of the most fascinating stories of the night was when Holtz told the audience about the time his house in Orlando, Florida burnt down and the lessons about perseverance he learned from the experience. 
"We lost everything we had… I told my wife she had 24 hours to cry and to feel sorry for herself. But come 8 AM Monday morning, we are not going to look back. The Lord put eyes in front of our head rather than back so we see where we are going rather than where we have been," said Holtz.
This one, like many of Holtz's stories throughout the course of the night, involved embracing life's challenges rather than running from them. "No matter how old or young you are, you are going to have problems, you are going to have difficulties and obstacles. The important thing is how we handle them and how we solve them. That is what life's all about. Life is all about having problems and challenges," said Holtz.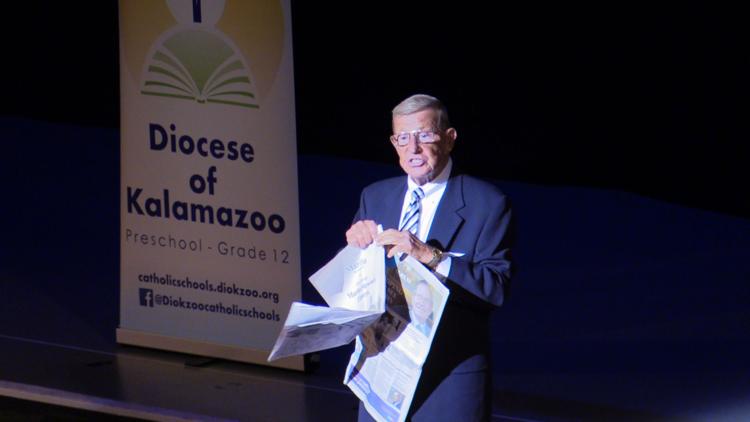 Holtz found the time at the end of the night to treat the audience to a well-rehearsed magic trick and gracefully exited the stage to a roar of applause. All of the night's proceeds went towards supporting faith-based education and student scholarships in Southwest Michigan.