2019 was a year of excitement at WMU. From a January visit from a foreign dignitary to everyday parking frustrations, the Western Herald was there.
The Western Herald's news staff combed through this year's stories to find those moments that shaped 2019 at WMU. With a new direction and new facilities, the new decade is looking to create a whole new Western. Whatever the decade brings, these stories serve as a testament to 2019's role as a year of transition from the old into the new.
January - Former president of Ireland shares testimonies on the dangers and effects of climate change
Story by Ben Gretchko
On Jan. 25 Mary Robinson, the former President of Ireland, stopped at Western Michigan University to talk about climate change while promoting her book, "Climate Justice: Hope, Resilience and the Fight for a Sustainable Future." The auditorium was overflowing as she presented, and reporter Ben Gretchko was there to help keep those who couldn't make it in the know.
Gretchko reports that Robinson shared international testimonies about the effects of climate change, calling special attention to its effect on agriculture. Her visit was one of the first events in a year of climate change action at WMU.  
April  – KDPS keeps students safe during House Crawl, though some find property damaged
Story by Chloe Miller & Maggie Drew
House Crawl is Kalamazoo's biggest party. Hosted every year, reporters Chloe Miller and Maggie Drew reported on Kalamazoo Public Safety's efforts to keep attendees safe.
Miller and Drew reported that KDPS find communication between host and police to be key when dealing with parties. Sergeant David Moran said that while the police can not simply break up the party for no reason, they will break it up anytime someone's safety is in danger.
May – Gibbs House faces uncertain future, but more than 600 sign petition to save the house's fellowship program
Story by Cameron Braaten
The Gibbs House Fellowship has been operated by the Office for Sustainability at WMU for the past nine years. However, the house is facing several issues that threaten its future viability.
Cameron Braaten reports that the House was originally built in 1853 and is located near the Engineering College across from Asylum Lake. The house has been home to the Gibbs House Fellowship for the last 18 years, which provides students the opportunity to live and work in the Gibbs House as a paid student-researcher. Maintenance, student interest and budgetary issues threatened the house and its future, but more than 600 signed a petition to try and save the program.
September – WMU will not construct additional parking: University unveils other potential transportation solutions
Story by Chloe Miller
Parking—or the lack thereof—is consistently brought up as one of the primary complaints students have with WMU. With all of the construction going on around campus, some had hoped that with it would come new or expanded parking. Chloe Miller reports that this will not be the case.
Miller reports that Nelson/Nygaard Consulting Associates held an open house to help develop a Transportation Master Plan. Ideas included increases pricing for permits, first-year parking restrictions and transitioning toward monthly permits. More parking was not listed as an option.
September – Korey Wise shares his story of life after exoneration, continued frustrations with the justice system during WMU visit
Story by William Walton-Case
Korey Wise told students that lasting criminal justice reform is still far from a reality as he spoke at WMU on Sept. 19.
William Walton-Case reports that Wise discussed how inherent injustices in the criminal justice system led to his false conviction in 1989 and shared his struggles following his exoneration. The visit was Wise's first public appearance since the Emmy's. "When They See Us," a mini-series detailing Wise and the rest of the Central Park Five's false convictions, received two Emmys.
September – Students bring international climate protest to Kalamazoo
Story by Ben Gretchko
Students from area middle and high schools skipped class on Friday, Sept. 20 to protest inaction regarding climate change. They were joined at the downtown strike by college students from WMU and Kalamazoo Valley Community College.
Ben Gretchko reports that event organizers hoped that the event would help call attention too the need for government action to address climate change. More than 150 countries participated in the protest.
October – WMU reveals 'Big Idea' amid 'dark' research findings
Story by Samuel J. Robinson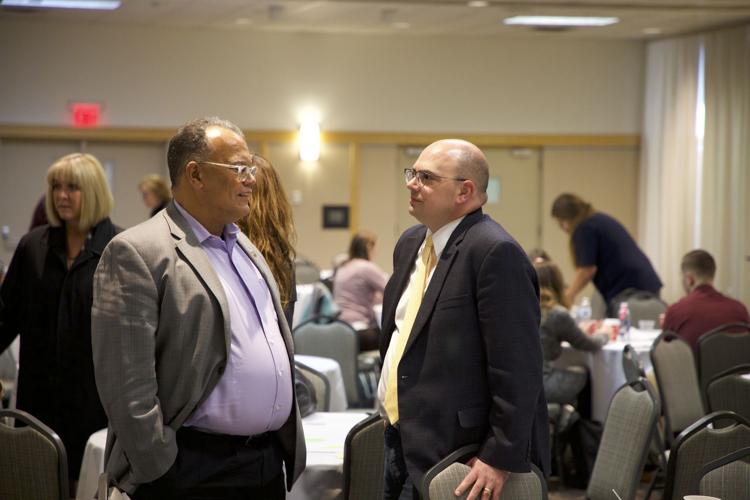 In October WMU released brand and identity survey results that were described as "dark and stormy." Samuel J. Robinson reports that among other pieces of data, one that stuck out showed that half of WMU's faculty and staff view the university as a backup school.
WMU's 'Big Idea' to address the results is not a single idea, but rather an effort to change the university to better serve students and become a "school of choice" for Michigan undergraduates, Robinson reports. He further reports that the university intends to outline a velar vision putting the care of students physical and mental well being at the front and center.
October/November – On the Issues: Mayoral candidate deep dives
Interviews by Cameron Braaten & Aya Miller
Kalamazoo held a major mayoral election this November as the city's longstanding Mayor Bobby Hopewell chose not to seek reelection. Reporters Cameron Braaten and Aya Miller sat down to talk with two of the candidates running for office, David Benac and Esteven Juarez, exploring their positions, values and motivations.
Miller's interview with Juarez centered around his work as a pastor and Outreach Director at Urban Alliance. Miller reports that Juarez's background provided him with a unique perspective when running for office. He had experienced mental health struggles, poverty and homelessness first-hand.
Braaten's interview with Benac led to a discussion of WMU's place in the greater Kalamazoo community and the importance of student voters. Braaten reports that Benac wishes students would become more engaged in the city, saying that WMU students have the numbers to decide an election.
November – Award winning author packs Schneider Hall to share lessons on 'How to be an Antiracist'
Story by Aya Miller
Award-winning author, Dr. Ibram X. Kendi, filled WMU's Schneider Hall on Nov. 15, where he spoke to over 400 faculty, students and community members about topics from his New York Times best-selling book, "How to be an Antiracist."
Miller reports that the core of Kendi's presentation revolved around how our collective definition of racism harms progress. Kendi said that most people treat racism as a permanent, negative quality. Kendi then argued that the definition should be changed to view racism as a temporary quality, one that can be rectified. Kendi said that this will lead to greater introspection and, therefore, change.