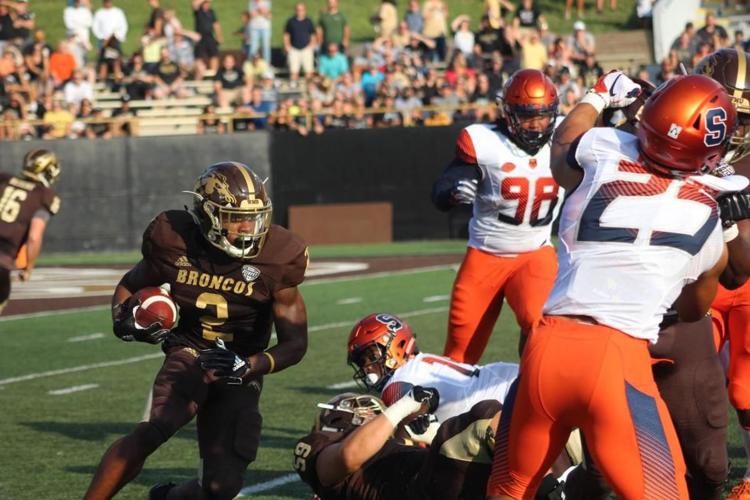 Western Michigan senior running back, LeVante Bellamy, was named to the watch list for the 83rd annual Maxwell Award by the Maxwell Football Club on Monday afternoon.
The award has been annually given to America's College Player of the Year since 1937. The award was named in honor of Robert W. Maxwell, who made numerous contributions to the game of football as a player, sportswriter and official. 
In 2018, Bellamy had a career-best season for the Broncos. He finished second in the Mid-American Conference with 1,228 rushing yards and six touchdowns. The 5'9", 185 pound running back was named First Team All-MAC after averaging 6.0 yards per carry and 94.5 yards per game on the ground. He also made contributions through the air, snagging 30 receptions for 185 yards and a touchdown.
Bellamy's production could have a chance to increase in the 2019-20 season. Jamauri Bogan, who rushed for 16 scores on 764 yards in 2018 can no longer offer his services to the program after graduating. And Chase Brown, who carried it  71 times for 352 yards last season, transferred from the program.
Bellamy explained back in April toward the end of spring practices how he and the offense can build off their success from last season.
"Building off our success is just staying the course," said Bellamy. "You can never get complacent. I am only as good as my O-line, receivers, and everybody else. We're all a team, and as long as we continue to stay the course we will have great success on offense this season." 
Bellamy is one of just three players from the MAC named to the watch list as he joins Buffalo running back Jaret Patterson and Ohio quarterback Nathan Rourke.