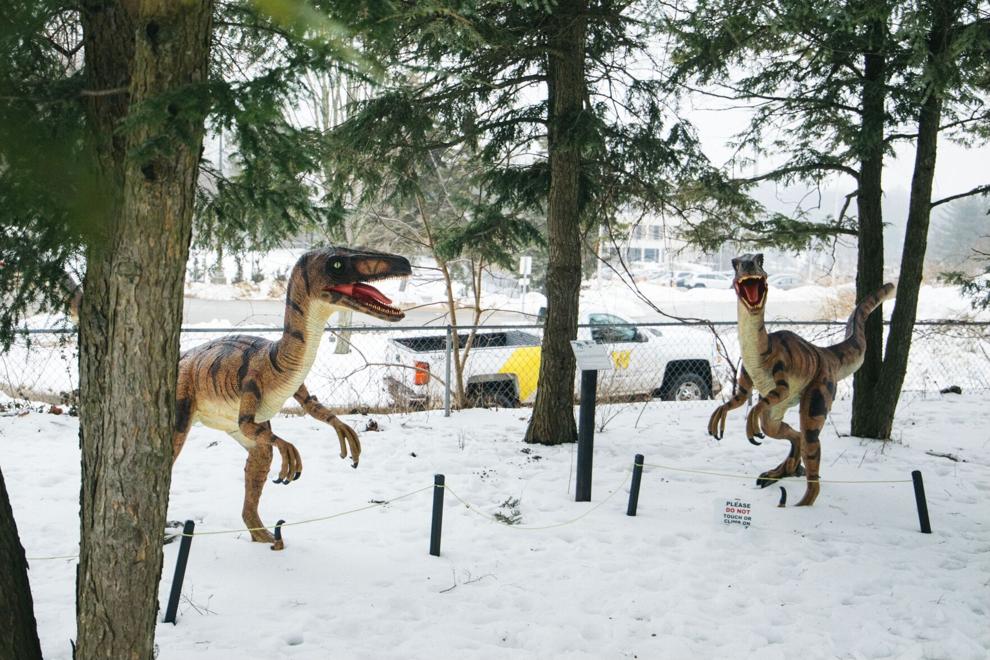 Western Michigan University's 'Dino Park' is open to students and the Kalamazoo community. 
Dino Park is a prehistoric interactive museum located behind the Lee Honors College on the northeast side of Rood Hall. The park features seven life-size dinosaur models and is open seven days a week.
Rob Gillespie, an assistant professor in the Department of Geological and Environmental Sciences, collaborated with former Chair of the Department of Geological and Environmental Sciences, Mohamed Sultan, on the idea for the park in 2017. The outdoor exhibits followed the existing Lloyd J. Schmaltz Museum in Rood hall, which features gem, mineral, rock and fossil specimens. 
Real datasets are incorporated into the Dino Park exhibits to provide relevance in classes and laboratories.
"I had kind of been thinking in terms of more of an educational area outside for teaching our geology labs. With that in mind I thought, how are you going to get people to show up? I kind of thought, well how about some dinosaurs, we could find some life size dinosaurs and work them into some of the labs, that would be kind of cool," Gillespie said. 
Installations in the Dino Park began in 2019 with two Utahraptor models and a nest of dinosaur eggs. So far five other dinosaurs have been added, including a Brachiosaurus, a Spinosaurus, a Triceratops, a Stegosaurus and a Parasaurolophus. The dinosaurs are all from the Mesozoic Era, with some from the Jurassic Period and some from the Cretaceous Period. The models come from an Italian company and are assembled in the Philippines. 
In addition to the dinosaurs, specific plant life creates a prehistoric environment.
"We collaborated with the biology department to put in some native plants, so in one corner where there's a nest of Velociraptors there're also some ferns and vegetation that would have been typical of the time that those dinosaurs would have lived," said Heather Petcovic, the chair of the Department of Geological and Environmental Sciences.
Gillespie notes the utility of such partnership between departments.
"This would give us a way of connecting a lot of different disciplines and a lot of different sciences and make this area a real outdoor teaching lab for a lot of the university," he said.
In future developments, the outdoor education center is to feature dinosaur trackways, lighting and geological rock models.
"One of the things we want to add is a wall that would show the different rock layers under the ground in Michigan so that people can get a sense of what the Earth looks like under their feet and what those layers are; how they were laid down and what the life forms were like at different times in the past when those rock layers formed," Petcovic said.
Even additional dinosaur models are expected. Funds have been raised for these developments but COVID has delayed installation, Petcovic said. Large improvements on the park are to be resumed next summer, with some minor constructions this summer.
The Department of Geological and Environmental Sciences aims to implement several other long term projects around campus in the future.
"We've also talked about putting in one of our buildings a really long, tall stairway so you could start at the top of the building, in the third floor of Rood hall, and as you went down the stairwell you would be going back in time seeing what the different rock layers were looking like, looking at examples," Petcovic said.
Petcovic notes the significance of the dino park and other projects from the Department of Geological and Environmental Sciences.
"Our basic vision is to have a lot of public information to get people more excited and aware of Earth sciences and geology and the importance of those things in our daily lives," she said.