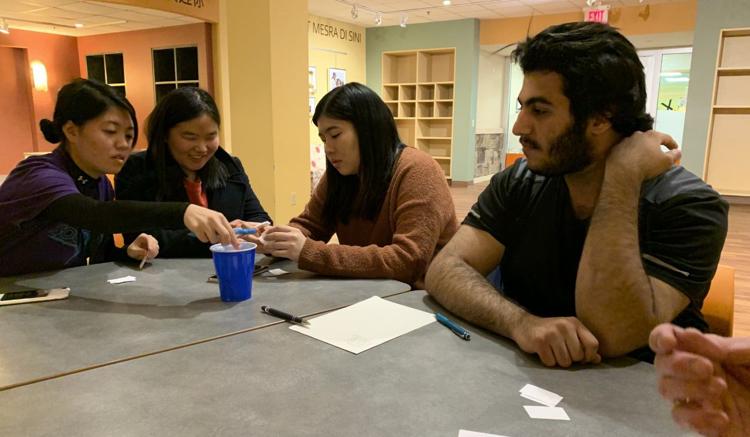 Students trickle into the dimly lit room, smiles and kind words are exchanged. The welcoming atmosphere makes everyone feel at ease. People of all ages, abilities, and nationalities surround a table in the center of the room to prepare for a discussion that will both challenge and enlighten them.
This is the CELCIS Conversation Circle.
The Center for English Language and Culture for International Students (CELCIS) is a program designed for foreign exchange students. Their goal is to help these students adapt to life at Western Michigan University and American culture in general. The Conversation Circle is one of the many ways in which CELCIS aids in the international student's transition from home to the U.S. They often conduct social activities amongst the group to improve their English. According to a group leader, Analise Forsgren, activities include playing games, talking about their favorite things to do from home, and having educated conversations about American culture. 
The group meets every Monday, Tuesday, and Wednesday from 1:30- 2:30 PM in the Bernhard Center Global Lounge. There are multiple teachers that take turns leading each meeting. Opportunities are available for WMU students to volunteer and assist the teachers. "It's a great opportunity to meet people from other countries, it helps them and helps you. It's not just a one-sided thing," said Forsgren.
A variety of international students attend the weekly meetings. Forsgren explained that the group consists of "multiple different countries [like] Japan, Omar, Saudi Arabia, [and] Malaysia." She also stated that they all come in with various degrees of knowledge about the English language. Rarely does anyone come in without knowing anything; there are a few that know quite a bit.
"I'm personally very passionate about meeting people from other countries and cultures, and getting to experience something outside of what you would experience on a regular day," Fosgren added at the conclusion of her interview.
WMU student Ryan Shubert volunteers weekly at the Conversation Circles. She highlighted the importance of the group by explaining how English is becoming more and more mainstream and is beneficial for many to know. The students who attend the Circles want to interact more with native English speakers. Ryan thinks this is important for the students because they are learning from "the one and only place". 
Ryan also shed light on how volunteers contribute to discussion and assist in correcting the students English language skills.
"We say things kind of slower and use words that are easier and then if they look kinda puzzled we use synonyms for certain words. So like one girl was really confused on the word annoying. So, we were just using like twenty different words to describe it," she said.
The job of a volunteer is simple, yet vital to helping international students learn English and adapt to American culture. Ryan also said that she could see improvement in the group's language skills. Overall, Ryan believes they are becoming more comfortable during conversations, which allows them to contribute more to discussions. 
The part of the Conversation Circles Ryan likes the most is the topics they talk about. She mentioned that they have talked about things like taking risks and skydiving. She also enjoys learning more about the exchange students, and their life at home.
Ryan added, "It's fun because it's students our age; it's like me and you talking, but I might just have a harder time getting my english out. But they're really cool, they have a lot of cool stuff to say."