Dr. Jennifer P. Bott, the provost and vice president for academic affairs, and Kristen R. Devries, the vice president for university advancement, got the ball rolling at WMU's second annual Night of Excellence by welcoming all of the alumni in attendance back to Kalamazoo and giving a short preview of the night's events.
"Tonight we are recognizing the accomplishments of outstanding broncos. In addition to our two Distinguished Alumni Award recipients, we are honoring fifteen additional impressive honorees from our colleges," Devries explained.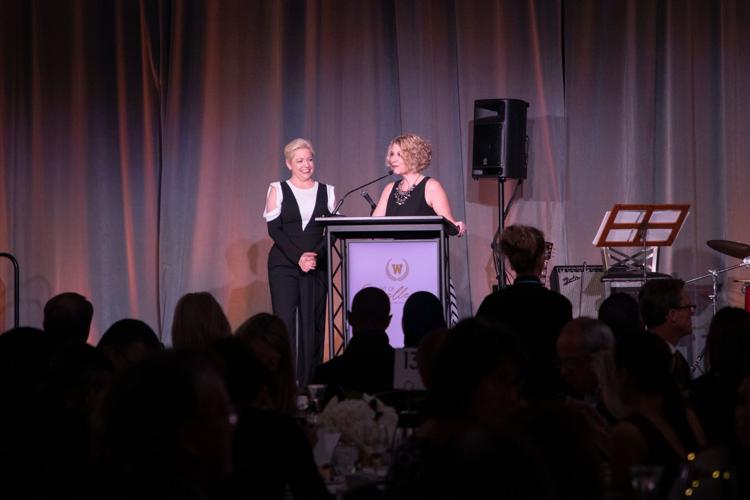 Dr. Edward Montgomery, the president of WMU, was not in attendance at the event; he was in Boston accepting his induction into the prestigious American Academy of Arts & Sciences. Although Montgomery could not be there, he was able to share a message with the audience thanks to the two video screens on stage.
"What a great night to be a bronco. We are tremendously proud to celebrate each of these honorees who exemplify the very best of WMU… To all of our award recipients, I am humbled by your collective accomplishments and proud that you are making an impact in your chosen fields and community," Montgomery said.
The next portion of the night gave the respective deans from each college at WMU the opportunity to honor a select amount of successful alumni that were brought to stage and given awards.
Devries then welcomed James Bolger, a WMU alumnus and the chair of the WMU board of trustees, to the stage. Bolger began his speech with a few kind words for the president of the university.
"We are truly blessed here at Western to have an outstanding president who is very visionary and has an action-oriented mentality to him. He sees something and he wants to get it done," he said.
Bolger also briefly touched on some of the challenges WMU has been facing, many of which were also mentioned at the state of the university address in September.
"Our enrollment rate, as with most universities, has declined. This can be explained by two simple facts. First of all, the birth rate in Michigan has gone down so we have a lot less high school graduates to draw from. The second is that a lot of kids decide to forgo college in favor of employment in this healthy economy of ours," he stated.
However, Bolger remains confident that the university is on a great trajectory. Behind his optimism lies WMU's newly announced "Think Big" initiative, which Bolger found the time to shed some light on.
"The Think Big experience was designed to create a student educational experience totally unique to Western. The core principle of this program is to provide our students with academic experiences that will prepare them for their chosen career," he said. "To accomplish this, we will strategically incorporate flexibility for our students to explore careers and change their majors while keeping them on track to graduate on time."
Bolger also mentioned that WMU will attempt to "blur the lines" between college and employment opportunities by collaborating with more organizations and businesses to give students a look at different careers and increase the number of internships available to students. 
Bolger finished by thanking all of the faithful bronco alumni in the crowd for coming back into town and extended his gratitude for the difference they are making in the world.
"As alumni, you are the greatest legacy for what it means to graduate from WMU. You are instrumental in elevating our student's experiences by the positive changes you make in the world. Thank you for being such great role models and leaders. Thank you for all you have done and all you continue to do to contribute to the future of our great university and the future generations of broncos," he said.
After Bolger exited the stage, Bott and Devries helped celebrate the Bronconess Wine Project, which involved more than 130 students working for over a year to determine if a cost driven and locally focused wine company could be successful in Michigan. Leadership and business strategy students at the Haworth College of Business, Megan Miller and Jason Olinger, spoke about the project.
"I can tell you it is has not been an easy journey, but it has been a rewarding one. It is an everyday learning experience being full-time students working full-time jobs and running a business. But it is the bronconess spirit that keeps us going," said Miller.
Following the recognition of the Bronconess Project, it was time to highlight the careers and accomplishments of the two Distinguished Alumni Award winners of the night.
"All of our past recipients have, through their personal and professional achievements, brought real distinction to WMU and tonight we get to honor Alessandro DiNello and Dr. Roger Steininger who will each receive the 56th Distinguished Alumni Award," Devries announced.
Greg Dobson and Lisa Williams, the chair and corner chair of the WMU Distinguished Alumni Award selection committee, were on hand to present the two awards to the recipients.
Mr. Alessandro DiNello was the first recipient to be honored. DiNello is is the chief executive officer of Flagstar Bank, a company that has over $20 billion dollars in assets and is the fifth largest bank mortgage originator nationally.
"It is a privilege to be here this evening and to introduce Alessandro DiNello and tell you a little about him," said Dobson. "Mr DiNello is a 1975 graduate of WMU's business school with a degree in accountancy. He has been with the same banking organization for over 40 years. In that role, Mr. DiNello led the bank through the tough times of 2008 and 2009 and eventually saw Flagstar bank flourish."
DiNello then took the stage and was quick to share his gratitude with the audience.
"I want to thank the board of trustees and the alumni association for selecting me for this honor... Western gave me the opportunity to do all of the things I have done in my life. Had I not come to Western, I would have never become the husband, father, and business person that I have become," DiNello said.
Lisa Williams had the honor of introducing the final Distinguished Alumni Award honoree of the evening, Dr. Roger Steininger.
"Steininger graduated from WMU with a bachelor of science in geology in 1964. After obtaining a master's in geology and a PhD in earth resources, Steininger went on to create his own consulting company focused on the exploration of geologic terrains and precious metals," she said.
Steininger has been credited with discovering one of the largest gold deposits in the state of Nevada, the notorious 20 million oz. "pipeline" mine. Steininger also co-founded the NuLegacy Gold Corporation in 2011, a leading gold exploration company. He retired in 2018 after discovering the "iceberg" gold deposit in Nevada.
"I am overwhelmed, thank you," said Steininger. "This recognition has caused me to reflect on my time here at Western in two aspects. One is, the solid quality education I received here. Not only in my major courses in geology and geography but also the supporting courses."
Steininger's second aspect of reflection involved one of his former professors and a founder of WMU's geography department, Dr. Lloyd Smoltz, for seeing something in him that even he couldn't recognize. "Lloyd got me on the path to build a solid educational foundation," he said.
Senior running back Levante Bellamy and safety Justin Tranquill of the WMU Football team were the last speakers of the night and were tasked with sharing their personal stories and reminding alumni to show their bronco pride during the big game against Miami (OH) the following afternoon.
"It's all about perspective," said Tranquill. "Realizing how fortunate we are and the blessings we have been given. I look in this room tonight and think how awesome it is that all of you have been able to come back to Western Michigan and enjoy a meal like this…When you really take a moment to think about what you have been given and what you have, it's hard not to take that for granted," Tranquill said.
Bellamy, who was the first college graduate in his family, spoke about what WMU and this community has provided for him
"When I came here, I didn't have a lot of friends, I didn't know a lot of people, and I didn't really know the coaching staff. Being a part of this community, and having friends and family along the way to help me out and to slap me on the back every once in a while, has meant a lot," he said.
WMU's second annual Night of Excellence concluded after Bott and Devrier took the stage once again to provide some closing remarks and to thank all of the students, faculty, and alumni that helped make the night a reality.