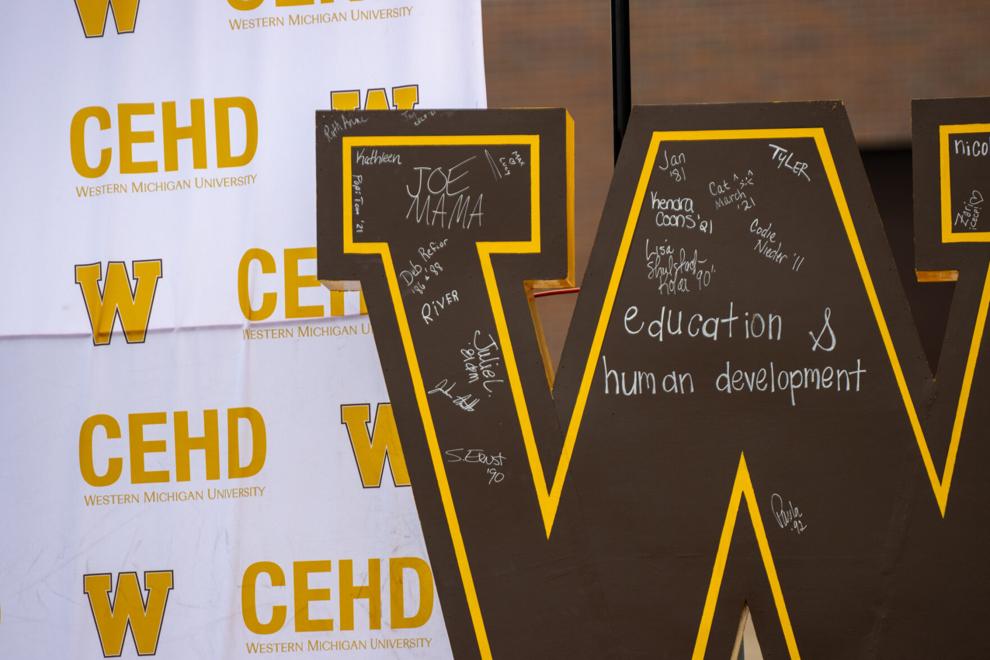 Western Michigan University's College of Education and Human Development recognized its graduates at an in-person drive-through event Saturday, May 1. 
The event gave graduates an opportunity to take photos, socialize and say goodbye to their time as a student. 
"I'm very excited and very thankful for the opportunity to do something on campus," said Olivia Reinoehl, a graduate of the College of Education and Human Development. 
Prior to last Saturday's event, WMU announced photography sessions would be hosted across campus. In collaboration with department chairs, the dean organized the drive-through celebration, as did many other colleges at WMU.
"Offering this opportunity to them has been awesome," said Amy Burns, executive assistant to the dean and building coordinator. "Students were excited to be back on this campus and proud to have something."
The circle behind Sangren Hall was the perfect spot to host a drive-up College of Education and Human Development, Dean Ming Li explained.
"We're located behind Sangren Hall and we have such a big parking lot, a lot of pace here," Li said. "So how can we make it more welcoming to students?"
Many students were excited to gather and celebrate in-person, even while observing safety precautions, such as masking and social distancing.
"There were a lot of fans and excitement," said Chelsey Conway. " I still enjoyed my very last semester, and hopefully I'll be back here to get my masters."
Li explained how they began planning the ceremony after learning students craved an in-person celebration to end the semester. Per Li, almost 30 faculty and staff members came to campus to host the event.
Faculty prepared 100 gift bags for students who chose to participate. By 11 a.m., fifty of the bags had been distributed.
"We have this event for our faculty and staff to see, to have a healing touch with our students by handing the gift to our students," Li said.
A full list of graduates can be found in the commencement program on WMU's website here: https://wmich.edu/commencement.