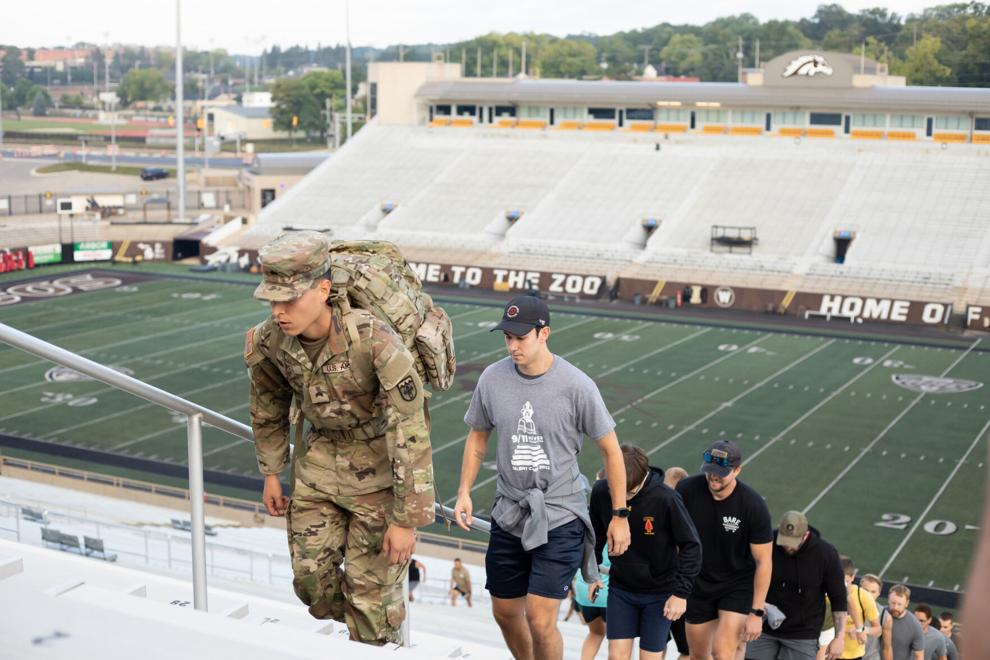 Western Michigan University students and Kalamazoo community members climbed the many steps of Waldo Stadium on Sept. 10 to commemorate the 21st anniversary of the 9/11 terrorist attacks. 
The Silent climb had three different climb lengths for participants to choose from with the longest climb consisting of over 2,000 steps.  
"The silent climbs are designed to emulate the number of steps that the firefighters climbed through the Trade Towers to the top," Event Co-Coordinator Billy Clayton said. 
Clayton was not only surprised by the number of people who participated, but also by how many young people came to climb the steps at Waldo, many of whom were not yet alive when the attacks occurred.  
"It really has impressed me, usually it's not the younger generation, it's more of the people who served during that time frame," Clayton said. "It's really nice to know that they come out to support this type of event."  
One of these younger attendees was Nolan Bernth, a WMU sophomore, who came to the event to pay his respects to those who lost their lives that day.
"It's good to remember those who sacrificed themselves in the two towers and those who died," Bernth said.  
Another student attendee, Dominic Loughman, a firefighter and international student from Australia, participated in the climb dressed in his firefighting gear to represent not just his own fire department but the firefighters who risked their lives on 9/11.  
"Day to day, everyone across the world experiences the ramifications of it (9/11) so it's important to keep up the history," Loughman said.  
WMU's Student Veterans of America (SVA) was also represented at the event with WMU SVA President Cyle Dyer being surprised by how many people still participate after 21 years.  
"Nowadays it's kind of concerning with how many people actually still care about it," Dyer said. "I'm really happy people that so many people still care about it and support those who died on that day." 
After finishing the climb, participants could grab food and refreshments provided by Kellogg's KVets and Supporters.